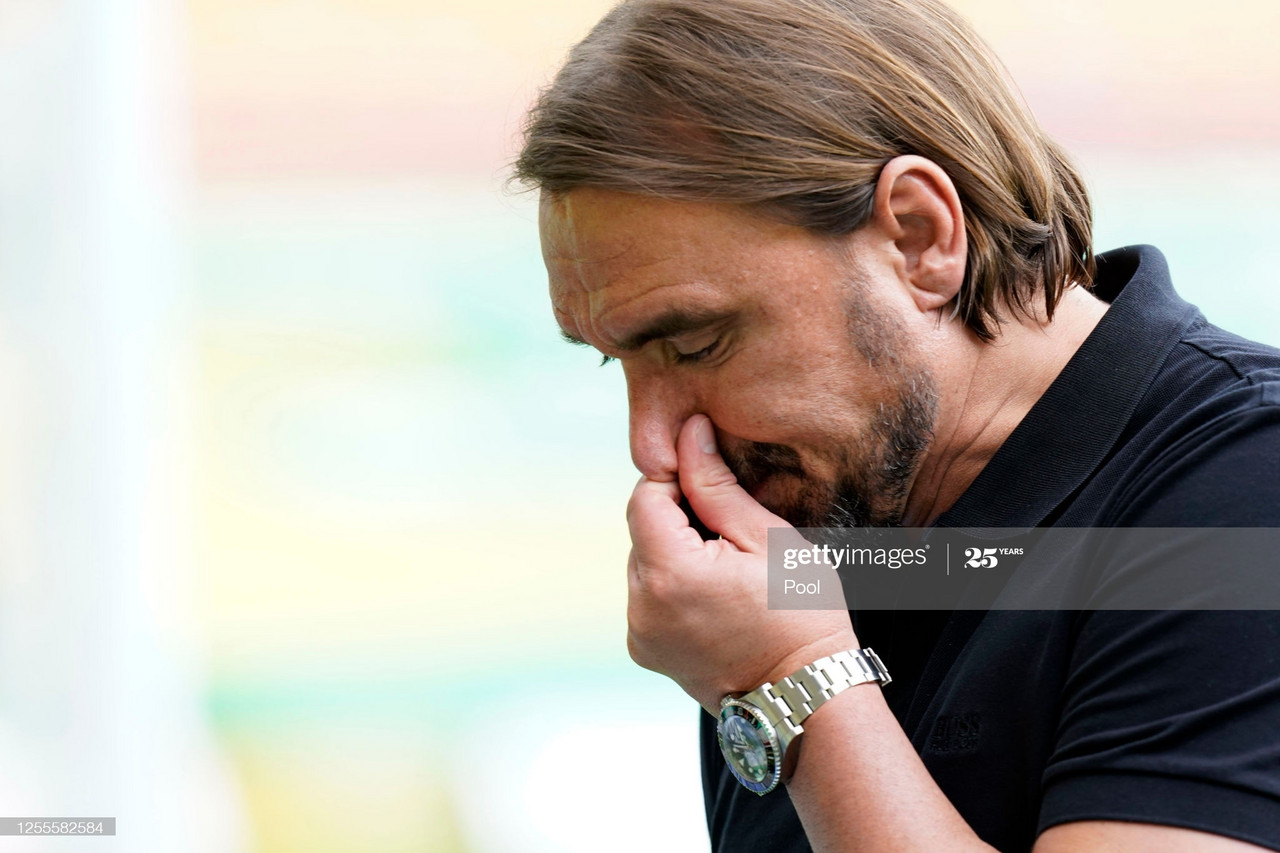 Norwich City will be back in the Championship next season after a disappointing campaign, their 21-point tally was the club's worst-ever, as they became the first team to be relegated from the Premier League five times.
Speaking to Canaries TV yesterday, Daniel Farke said his disappointment at the outcome of the season was difficult to hide, but that he remained loyal to the principles which saw his team promoted.
"We're disappointed with the general outcome, without a doubt. We wanted to stay in the best league in the world and we weren't capable of collecting enough points to earn the right to do this.
"After relegation it's not like you can name the three reasons why we were relegated. If it would be that easy we would have done this, without doubt.
"We knew that we were a possession-based side praised for our offensive style. We knew that there were two solutions. One was to forget about our style and principles and change everything, trying to park the bus and defend everything to get clean sheets and hope for God's help up front."
Farke accepted that throwing money at it to try and survive was not an option for the club in their first season after promotion from the Championship.
"If we wanted to do that we'd have to change our squad because we planned it with possession based players, not great, tall, physical defenders, but more technical players. To completely change your style, you need to invest a lot of money. That was no option for us.
"The second option to be successful is to add lots of quality to the squad, not just in numbers but that makes you better and improves your offense, that brings two top class defenders in for example. You need to bring defenders in who are used to defending on the top level and have better quality than they have in the offense. These types of transfers start in double figures and you have to invest ten or 15 million pounds in a player to get that quality.
"If you can't take one of those options, either to change completely the style of your squad or to bring top class quality in, it will always be a struggle in the first season. We knew that from the start and opted to stay solid."
"It was still an important and successful season"
Despite the on-pitch setbacks, the Canaries have invested heavily in their long-term future, investing £5 million into their Colney Training Ground and securing contracts for key players. Farke, who became City manager in 2017 following a two-year spell in charge of Borussia Dortmund II, has said that these efforts will help the club bounce back.
"In general, for the mid- and long-term future of the club, it was still an important and successful season because we were able to sort all our financial problems out.
"We were able to invest in the infrastructure, the training ground, the stadium, and at the beginning of the season were able to extend several contracts for our young lads. That protects our group and protects our best players or creates values. Some offers will come in or have already.
"Promotion can never come too soon. It was great for this club but of course we're all disappointed we couldn't stay in the league. We want to come back sooner rather than later."
"They will be much better prepared to come back"
Farke's debut season in the Premier League also saw much attention afforded to City's young talents, with Ben Godfrey, Max Aarons, Jamal Lewis and Todd Cantwell all impressing in their first season in the top flight. Fellow academy products Adam Idah and Josh Martin also made their Premier League debuts following the restart, but were unable to stop Norwich losing all nine of their remaining league games. However, Farke has heaped praise on the club's philosophy and his players, and has tipped them to make a return to the Premier League.
"I am full of praise for them. No other club on this level plays with as many homegrown players as we do. In the last few games, we had six or seven lads from our own academy in the squad of 18-20. It's remarkable and a credit to our way, to have so many potential talents in the squad.
"But we cannot forget how challenging and demanding this season is even for our best talents. Once we were promoted last season, we had top class talents who have proven this season they are capable of playing on the top level.
The Norwich boss is hopeful that having the experience of playing in the Premier League will be a big help to some of his players, should they play there again.
"It was their first season on this level, so it is not easy with all the demands and challenges. On the football pitch, you are prepared to play, but for several lads it was the first time there were setbacks or disappointments.
"I think they have done it in a brilliant way but they still have to learn. When they have had more games on this level they can come back more prepared to play with more consistency and efficiency. For some of them, promotion was too soon. It was still important for their development and they will be much better prepared to come back."
"It is important to be proactive"
Such talent has reportedly attracted the attention of top-flight clubs. Aarons has been linked with a £18.3 million move to German champions Bayern Munich by Sky Sports, as well as a host of Premier League sides, whilst Cantwell has been linked to Leicester City and Newcastle United.
Norwich have themselves already been busy in the transfer market, securing the signings of six players in the last fortnight, including Kieran Dowell from Everton and USA U20 striker Sebastian Soto.
"It is important to be proactive and not under pressure," Farke said.
"One key topic will be to keep our best players and we are in a good position because we don't have any financial problems at all. Our scouting and recruitment are always aware of young talent and it's important not to put too much pressure on them.
"We will give them the time, they will have a good stage in order to present themselves. We will create a surrounding where if they are hard working and fully focused, they have everything in order to grow, improve and develop.
"We also need to have some proper experienced signings with a bit higher guarantee that they deliver on the top class level.
"It's brilliant to have these young lads with potential, but it won't be enough to promote them."