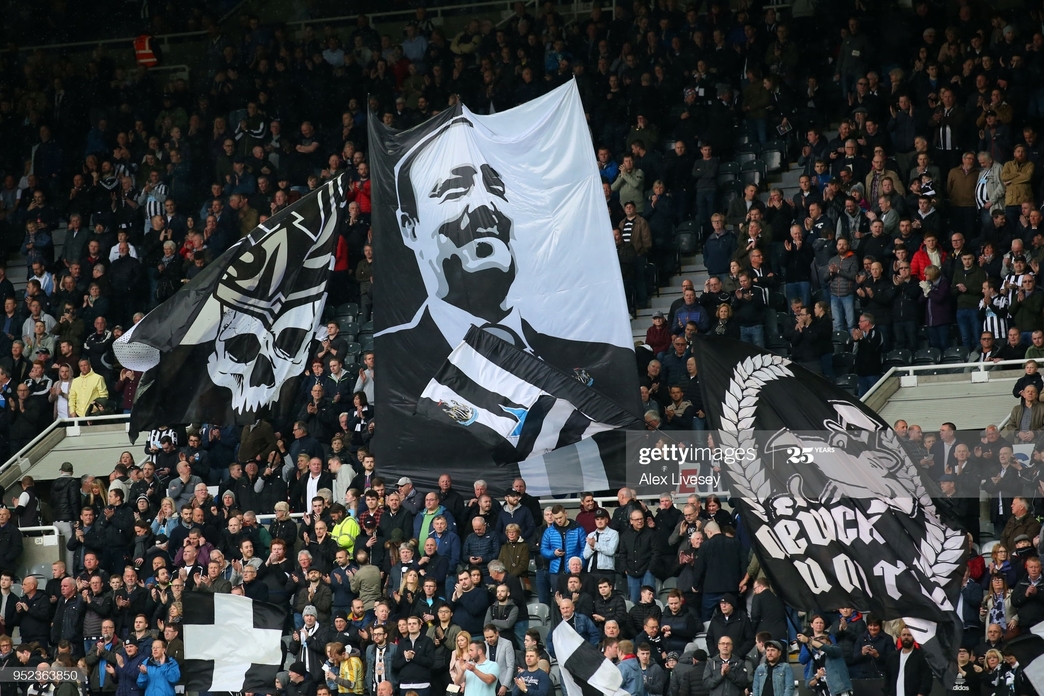 The team behind the Newcastle United Fans Food Bank, which raised over £20,000 this weekend thanks to a fan protest over Premier League pay-per-view matches, have said the amount raised over the weekend is a record for the foodbank.
The campaign was started to give the £14.95 fans would have spent on watching United's game against Manchester United on Saturday to Newcastle West End foodbank.
'It's a significant amount of money'
"Last weekend we were quietly confident that we'd beat the £5800 previous record" said Stuart Latimer, one of the volunteers who organises the link between the fans and the foodbank.
"They had to double-take and triple-check when they counted up £16,000. It didn't stop there and it's about £21,000 now" he added.
"Considering we say food banks can feed a family of 4 local people for £5, you can imagine how far this is going to go - it's a significant amount of money.
"The astonishing £21,000 amount raised is three times more than our best matchday collection previously."
The money raised could not have come at a better time
Newcastle West End Foodbank - which sits less than three miles from St James' Park - is the largest in the United Kingdom, feeding 1,000 people each week and the support from fans has been vital.
Since matchday collections begun in February 2017, over £400,000 has been donated by football fans.
With no fans able to attend matches, the lack of regular matchday collections have resulted in fewer donations. "We've been trying to replace that lost income which makes up 25% of The West End FoodBank's intake of food and money over a year," explained Latimer.
"[The donations] will have made up for a few very good collections and at the best time possible with winter approaching and the furlough scheme ending when demand of food will rise exponentially to higher levels than ever," the volunteer added.
The drive began as a direct result of a fan-led protest against the Premier League's pay per view matches in which fans are expected to pay £14.95 in addition to TV subscription services to watch individual matches. A number of Premier League clubs' supporters trusts have released statements against the additional payments.
When the Newcastle United vs Manchester United fixture was announced as a PPV fixture, fans began looking at ways to use a potential boycott for additional good.
Latimer continued: "When PPV was announced, there was immediate fan anger and our NUFC FoodBank WhatsApp group had been discussing it then we received a couple of messages from NUFC accounts on Twitter - Toon Polls and NE1's Game.
"Polls had suggested in a Tweet on the Friday night that people give it to the FoodBank instead which seemed a popular idea so we decided to roll with that. It all snowballed from there."
Support has also come from Alex Hurst, chair of the Newcastle United Supporters Trust, who added: "everyone at the Trust is amazed by the response of the Newcastle United community.
"The greed of the clubs and or broadcasters has been highlighted by the actions of ordinary fans and that should be applauded."
Looking forward, the group are hoping this support can continue while PPV remains a contentious issue: "Some fans have said they'll donate their £15 every game which would be great but we can't expect people to do that every time or hit £20,000 again but hopefully people will continue to support us" said Latimer.
"Looking ahead, we'll keep doing what we do, we're riding the wave of this campaign and look forward to the next one."