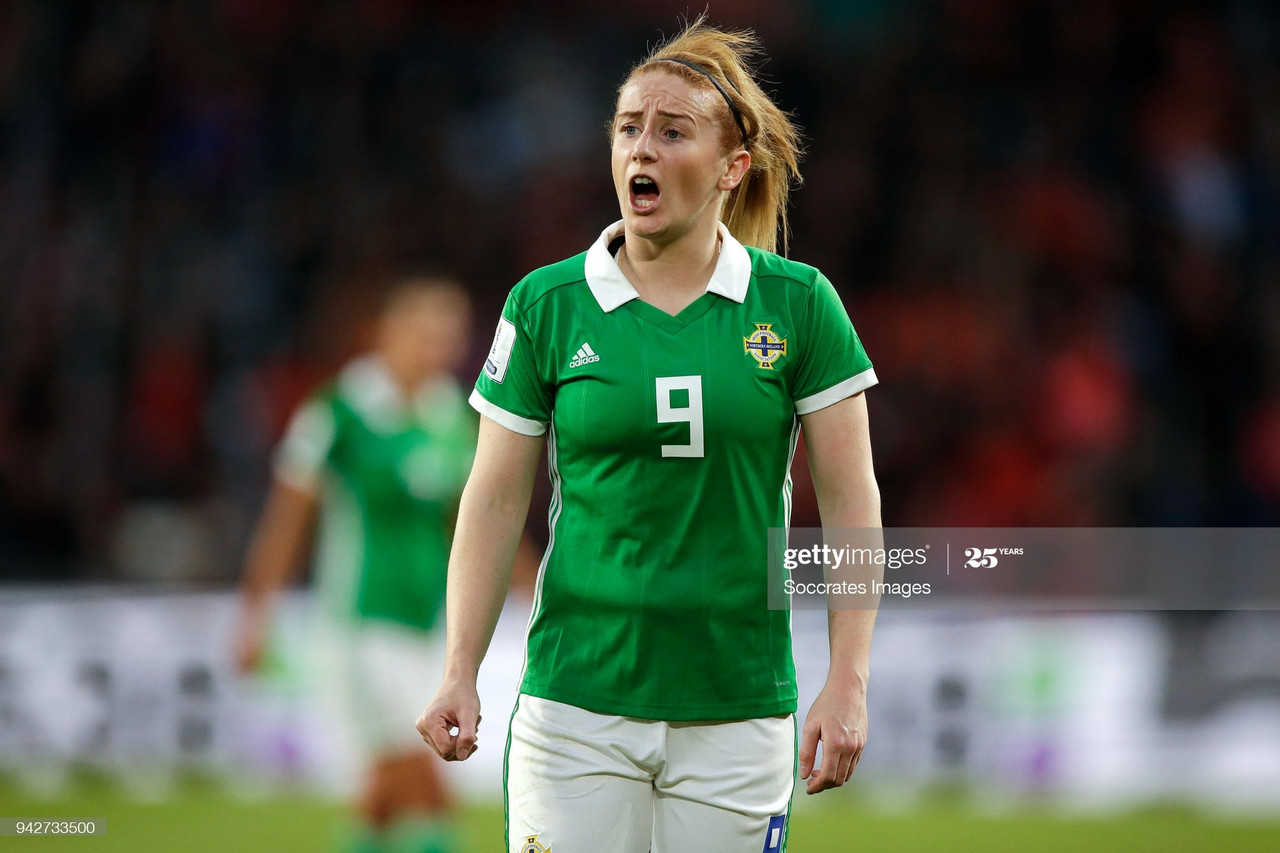 Kenny Shiels' Northern Ireland side have edged one step closer to earning themselves a place at the 2022 European Championships, with a perfect record from their remaining two games needed to see them earn a playoff spot.
The match
A first-half header from Liverpool's Rachel Furness was the decisive and only goal of the game, in a hard fought win for Northern Ireland, despite being reduced to 10 players for more than an hour of the game. Coupled with Norway beating Wales tonight, this means that NI are back in the driving seat with two games remaining in their quest for a playoff spot to qualify for the UEFA Women's Championship.

At the Dinamo Stadium in Minsk, against a backdrop of civil unrest and ongoing protests against the government in Belarus, the task was clear for Kenny Shiels' team. The sole objective was to win the game and then look on to Cardiff in the hope that group leaders Norway would also register a victory over their hosts. Mission accomplished.

NI produced a steely, resolute performance and were worthy winners of the game but they were made to work very hard for it. On 27 minutes, goalkeeper Jacqueline Burns saw red for a one on one collision with Belarus captain Shcherbachenia, although the attacker was heading away from goal.

The breakthrough came for the visitors on 42 minutes. A driven corner from the left side, struck by Demi Vance, was met at the far post with a towering header by Furness who then wheeled away in delight at her goal.

Throughout the second half, NI had to defend in what was a more contained and measured approach to the game, given the home side's numerical advantage. Chances came and went for both teams with Furness again posing a threat, this time her shot from the edge of the box kissed the top of the bar. At the other end, a goal kick from NI's replacement goalkeeper Becky Flaherty, on her return from injury, was quickly returned and a lob from the Belarus attacker was watched anxiously as it just evaded the underside of the bar and out to safety.
Euro dream continues
At the final whistle, relief and joy from Northern Ireland was apparent after a hard fought win. This was achieved through strength, leadership and application, displayed in abundance all over the pitch as they kept their Euro dream alive. Two home games now remain, with the return fixture against Belarus (27th November) followed up four days later with the visit of Faroe Islands (1st December).
Six points from the two games against Belarus and the Faroe Islands would see Northern Ireland earn a playoff spot to qualify for Euro 2022, which will take place in England and was pushed back by a year due to the COVID-19 pandemic.