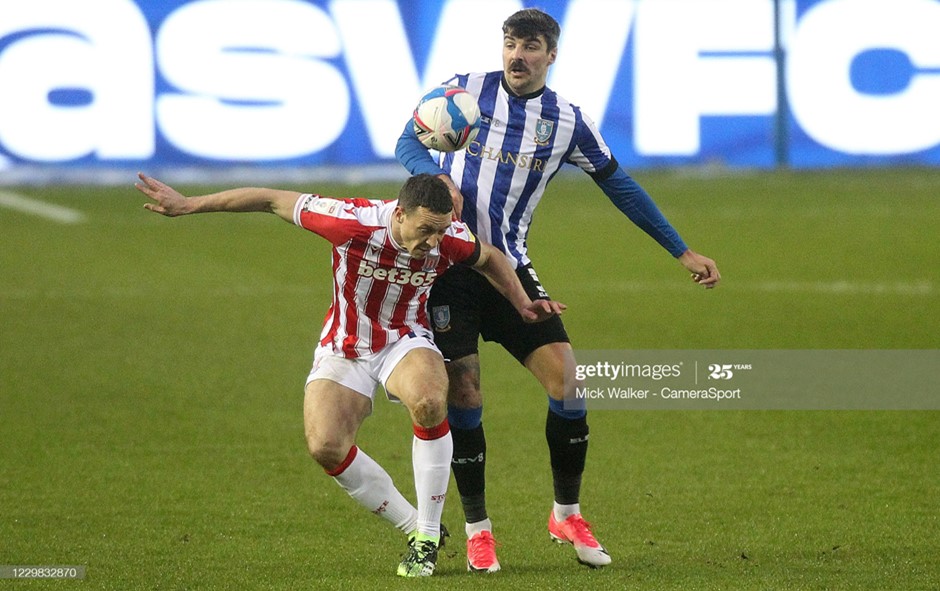 Sheffield Wednesday and Stoke City played out a dire goalless draw in the Championship.
Tony Pulis is yet to record a win since taking charge at Hillsborough and his side, who have now scored just two goals in their past eight matches, failed to register a shot on target.
With the hosts on the defensive, Stoke had plenty of possession, but they only forced two saves themselves in the entire match as it reached an inevitable goalless conclusion, keeping Michael O'Neill's side a point outside the play-offs.
Story of the match
Stoke came into the game as the second-highest scorers in the league and one of the leakiest sides at the back too, while Wednesday had scored just two goals in their past seven and were only becoming more defensive with the appointment of Pulis. It quickly became clear which team would have their way in terms of entertainment value.
Wednesday again set up in a 4-5-1 formation and invited the opposition to break them down, and Stoke found it a wearying task in a first half which didn't have a single shot on target for either team. The home side had the better attempts at goal, with Kadeem Harris, returning from suspension, having one long-distance drive fly just wide and another blocked by John Obi Mikel.
O'Neill's men, who had to change striker early when Lee Gregory's rare start was ended prematurely by a knock, dominated possession but could do very little with it, struggling to find the final pass around the defence with Danny Batth's header from a Sam Clucas corner the closest thing they had to a chance.
A goalkeeper finally had a save to make shortly after the restart, with Joe Wildsmith helping a Tyrese Campbell effort past his post before getting a touch on Sam Vokes' header from the resulting corner, but otherwise it remained an attritional spectacle.
When the match did begin to open up just a little in the closing quarter, both teams badly struggled to find the quality required to take advantage of their possession in the final third.
Only in injury time did a significant chance finally come along, but Vokes could not take the opportunity which fell into his hands as Wildsmith's stuck out a foot. Campbell struck a free kick over the bar with the less action to ensure a stalemate.
Takeaways
What it says on the tin
The reaction from Sheffield Wednesday fans to the appointment of Pulis was generally favourable, seen as the sensible hand required to see them through this season's relegation battle at the very least.
You generally know what you're going to get with the baseball cap-wearing boss, and if any Wednesday fans didn't appreciate quite what they were in for a fortnight ago, they do now.
Some leeway can be given with his opening game, when his team played the majority of the match with 10 men, but in draws at Swansea City and now against Stoke they defended deep, ceded control of the ball, and said 'come and break us down'.
One moment of skill saw them denied the win in Wales but, in his first game in charge of the club at Hillsborough, they were resolute and Stoke ultimately failed to rise to the challenge laid down.
If solidity is what you want, he's your man. But attacking flair will be in short supply. They didn't hit the target once here, and indeed have done so only twice in these three matches combined. Pulis will get around to driving some improvement in that department eventually, but it is not the first priority and Wednesday fans will have to get used to it.
Stoke fail to find a way
While a clean sheet will be seen as a positive for O'Neill when only six sides in the division have conceded more this season, they were given little to worry about at the back and would have been extremely disappointed to achieve any other defensive result.
It is in attack where the focus will be, and their inability to break down that resolute home rearguard.
There is no shortage of attacking quality in their ranks, with a trio of James McClean – returning from a period of self-isolation – Nick Powell and Tyrese Campbell capable of causing a range of problems for any defence.
It seems harsh to criticise when only one team had scored more goals in the Championship this season than Stoke heading into the weekend, but they have needed a lot of goals to win games so far in this campaign and any way in which their talents can be foiled will be noted with interest by other managers in the division.
Few teams will be able to set up quite like Pulis chooses to at Sheffield Wednesday, but future opponents will see how Stoke's tricky attacking stars struggled to threaten when denied space in the final third and look to adapt their own plans accordingly.
Man of the match: Danny Batth (Stoke)
Batth dealt with everything in a no-nonsense manner for Stoke and was one of the few players to come away with any credit.