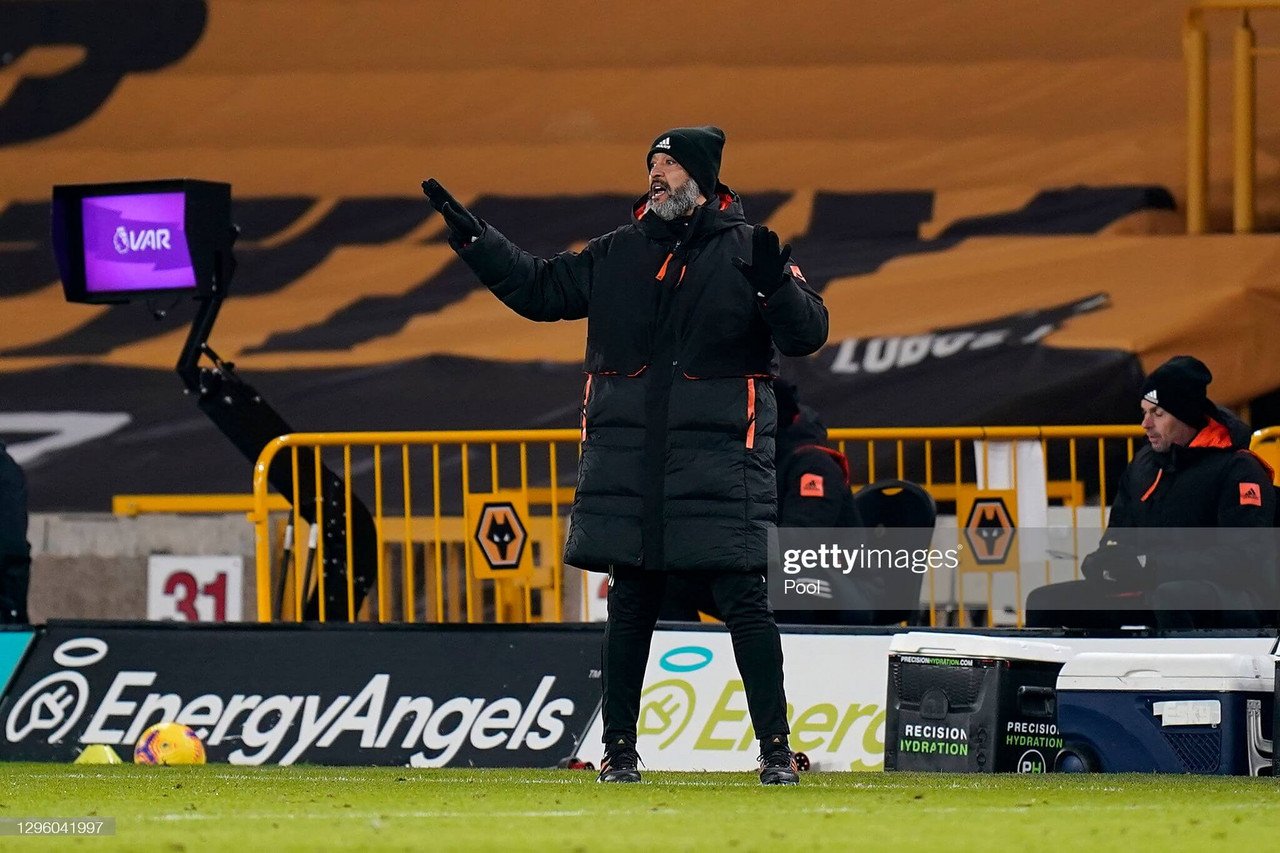 Wolverhampton Wanderers head to National League North side Chorley in the FA Cup on Friday evening as they look to progress after beating Crystal Palace at home last time out.
Nuno's men will be the ones with the pressure piled on them, with the history showing a poor run against the home team in the cup, losing 3-0 on their last meeting in 1986.
On a run of six games without a win, Wolves will be looking to find newfound confidence with a win on Friday.
The Wolves boss spoke to the media in a press conference ahead of the tie.
On how Wolves will approach the game
Nuno believes that no matter the division that a club is in or the difference in places amongst the two competing clubs, nothing is certain. Nuno's men will have it drilled into them to stay focused and not become complacent.
He said: "It will be the same approach, the same search for detail, the same preparation for the game, because difference in divisions doesn't assure you the game, so we have to compete and play.
He followed up "The last game they had was against Derby, and we analysed that game and took a good look at the team, the way they do things, and tomorrow we pass that information to the players in the meeting.
"The approach is exactly the same, no matter who you have in front of you, it's about what you do in the game, how you want to compete and how ready you are to compete."
On the importance of the FA cup
Nuno and Wolves will be looking to go as far as possible in the competition and knows how important the game is for both sets of players.
"We don't have to go much further behind, just recent history in football tells you that, especially in this competition, in the FA Cup, anything can happen and we have to be aware of the responsibility we have in this tie."
"I've been in football enough time to be on both sides of this situation. I'm aware of what it means for Chorley and what it means for us."
On bouncing back from West Brom defeat
Nuno's side slumped to a disappointing 2-3 loss to rivals West Bromwich Albion in their last Premier League outing and will be looking to bounce back in in the Cup.
"The next game is always the ideal opportunity to improve on what you did wrong before. It was not just another Premier League game, it was a tough moment, we all knew what it meant for all of us who are involved with Wolves, and we didn't achieve it, so of course we're disappointed.
"I know we can improve by working harder, maintaining the unity and work together to improve our performances."
Wolves have kept just two clean sheets since October, both being against their league opponents, Crystal Palace. Nuno is looking to fix this problem and hopes to start seeing less goals conceded by his side in the future.
"We're trying to find solutions. Since the beginning of everything, our shape, our consistency and trying to be as solid as possible has always been our foundation.
"We are not doing that, so that requires a bigger effort, trying to maintain our levels of focus throughout all the games, because we look at the games and situations that happened, especially in the beginning of the second halves of games, that really have punished us."
On conditions of the away pitch
Wolves are used to playing on a carpet like surface at Molineux and heading to a National League pitch will be a huge challenge for the players who are so used to pristine surfaces.
"We're going to find a pitch that is not in the best conditions. We already had photos taken of the pitch and we know that the FA has tried to preserve the pitch by covering.
"We are aware of all that, but we don't know the weather conditions. We cannot expect anything other than having a very difficult pitch to play football and we have to adapt to it."
"We have to be aware of how the pitch is going to be, how the game is going to start, how it will develop if it's raining and how the pitch is. We have all these in our minds, but always choosing the strongest team that we can do."