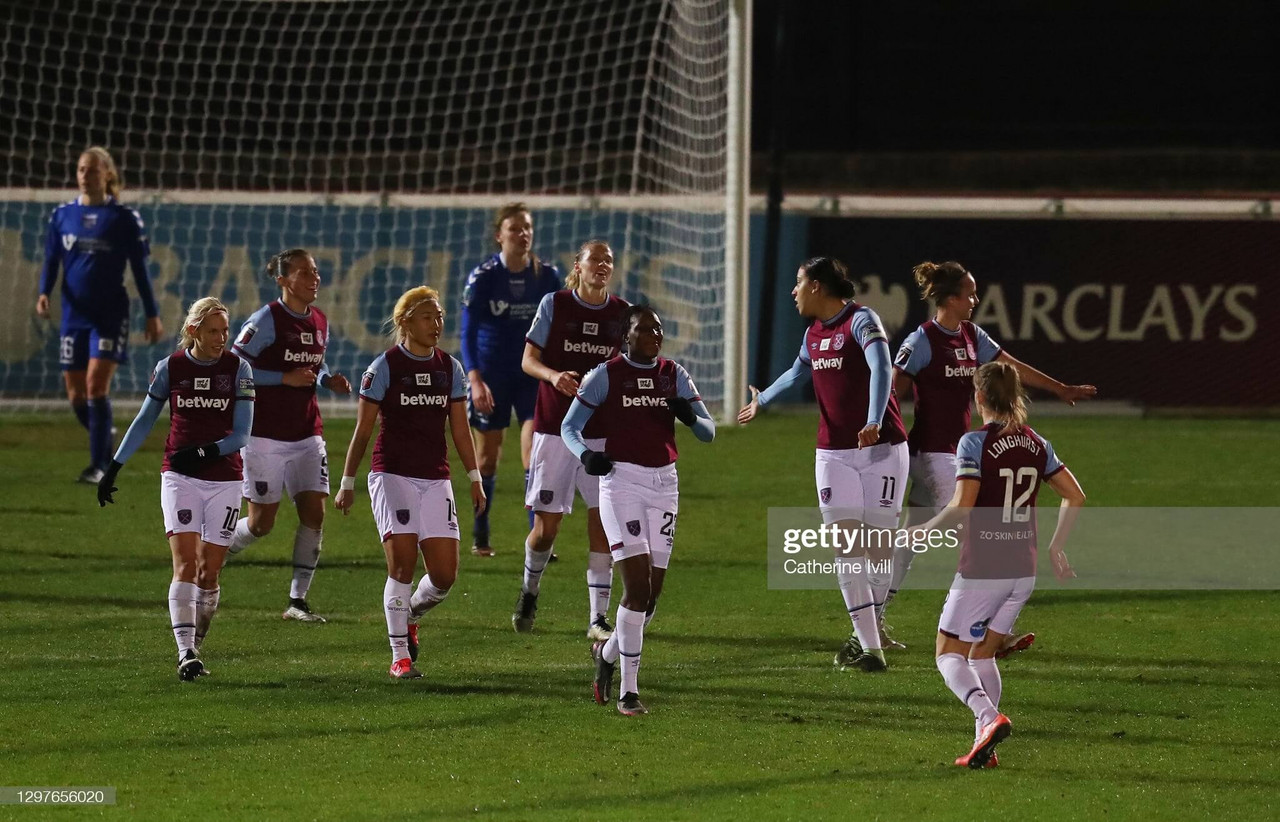 First-half goals from Emily van Egmond and Katerina Svitkova earned the home side a deserved lead before half-time. Substitute Hawa Cissoko netted a third of the goal, to book West Ham a place in the semi-finals, who they face cup holders Chelsea at Kingsmeadow.
The Irons lost to Tottenham Hotspur on Sunday, which was Harder's first competitive game in charge of West Ham.
Harder's side dominated most parts of that game but failed to capitalise during the early occasions. It proved not to be the case today and ran out comfortable winners in the end.
West Ham's converting chances into goals
West Ham's season has been defined as 'failing to take their chances' as we may have seen in many games in the past. It was the same scenario on Sunday, and the result did not reflect the performance. Harder's side was high up on the pitch by building up play and creating chances.
In today's performance, they were on the front foot, but Durham was ruthless, compact, and had a defensive shape to frustrate the home side. Before their opening goal, it was all for the taking. There was some potential for a cup upset. They continuously pushed for their first effort on target. The Irons knew that they had to be disciplined when they were out of possession.
Harder made some changes to the team, he started Maz Pacheco, who returned from injury. Pacheco had a good game as her attacking runs did pose a threat and brought a different dimension into the West Ham team today. Adriana Leon was also threatening down the left-hand side.
Two West Ham players who shined throughout was Van Egmond and Svitkova, as they built a strong partnership on the pitch. They're link-up play, being direct, pacey, and bursting runs into the Durham backline – causing all sorts of problems. We also cannot fault Laura Vetterlein's long crosses into the penalty box that were impactful and lead to some bursting attacking plays down the flanks.
It was evident about the new manager's high pressing and was hoping that his style of play will come to fruition and transform their season.
The most worrying part of West Ham's season has been their home form. They have not won at home in the FA Women's Super League.
But in the FA Continental League Cup, they have beaten Reading and Durham at home. Harder is aware of the alarming home form, and hoping to change in the coming weeks. He remains hopeful that his sides 3-0 win over Durham can be a building block, in terms of putting consistent performances for the rest of the season. There are not too many options as the West Ham squad is a little thin at this present moment. The 34-year-old remains optimistic that his side will get the home wins that they haven't got yet, during the second half of the season.
The Wildcats did come into this game as underdogs, are in the Women's Championship – aiming to secure promotion into the Women's Super League next season. They tasted their first defeat of the 2020/21 campaign. West Ham and Olli Harder were aware of their threat, particularly when his side were without the ball. Durham has been brilliant to exploit teams in the midfield, and breaking up play.
We must give credit to Lee Sanders' side, who stuck to their task throughout the first period, and their game plan was to disrupt West Ham's rhythm on the counter on many occasions. They were a hard proposition for West Ham.
Sanders' side reminded fans about their abilities upfront when Sarah Robson's long-range forced an acrobatic save by Mackenzie Arnold.
This game was a stern test about their credentials if they were to get promoted, and learned their lesson today.
West Ham will travel to Arsenal on Sunday, as they aim to climb up the league table, and puts some pressure on the sides around the table. Harder's side will face Chelsea in the semi-final of the Continental Cup next week. The next games will be huge for West Ham, and will define their season – a chance to crown their season with a trophy would be special.