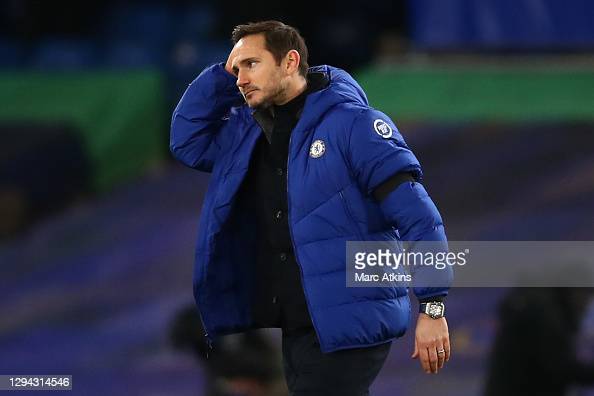 Frank Lampard has been sacked by Chelsea after just 18 months as head coach.
The former Blues midfielder earnt 'icon' status in his playing career at Stamford Bridge, and enjoyed a great first season in charge.
He took the club to the FA Cup final as well as securing qualification for the Champions League – securing a place in the knockout stages this term.
But after being given more than £200m to spend on new players in the summer, Chelsea find themselves ninth in the Premier League after 19 games, 11 points behind leaders Manchester United and five points off Liverpool in fourth spot.
The 42-year old took the side on a 17-game unbeaten run, but away defeats to Everton, Wolves, Arsenal and Leicester as well as a 3-1 home defeat to Manchester City seem to have cost him his job.
And Chelsea owner Roman Abramovich has said the decision to sack Lampard was 'very difficult' and that he will always remain an 'important icon' at the club.
In a club statement, Abramovich said: "This was a very difficult decision for the Club, not least because I have an excellent personal relationship with Frank and I have the utmost respect for him.
"He is a man of great integrity and has the highest of work ethics. However, under current circumstances we believe it is best to change managers.
"On behalf of everyone at the Club, the Board and personally, I would like to thank Frank for his as Head Coach and wish him every success in the future.
"He is an important icon of this great club and his status here remains undiminished. He will always be warmly welcomed back at Stamford Bridge."
The fact Abramovich has commented shows the respect Lampard has at Chelsea. The Russian has never made a public statement on any footballing matter under any previous manager during his tenure as owner.
It was supposed to be different this time for Chelsea. When the Blues appointed Lampard in the summer of 2019, the indication was they had moved to break their ruthless hire and fire cycle.
Following the sale of Eden Hazard and amid a transfer ban, the club – which had gone through 14 managerial changes in the 16 years leading to that point – were looking for a new direction.
It was time for a refresh, an overhaul, and the Chelsea hierarchy who have been so ruthless in the past with managers seemed willing to give time and space for their young, emerging squad to grow and develop.
And club legend Lampard seemed the perfect match to be the figurehead for the project. Whilst he was still learning the trade having done a great job at Derby County, he had that key knowledge of knowing the club inside and out, and knowing what these young players would have to go through to fulfil their potential.
But Chelsea have pulled the plug on the process, and Lampard has been sacked 18 months after his appointment. A poor recent run has left them 11 points off the top of the table, and now the Blues will need to rebuild quickly if they are to capture their early season form.