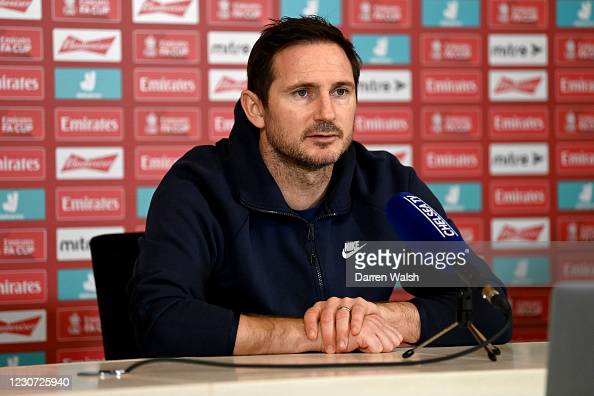 Chelsea welcome Championship side Luton Town to Stamford Bridge on Sunday lunchtime as they look to rediscover their winning form.
After a great start to the season, the Blues have won just three of their last ten matches in all competitions and boss Frank Lampard is hoping his young side can get through this tough period ahead of the Emirates FA Cup fourth round tie.
The Blues boss spoke to the media in a press conference ahead of Sunday's tie.
Recent form
Lampard is hoping his team can turn the corner after a disappointing defeat at Leicester City in midweek, with speculation growing on his managerial future.
"We want to win every game we play," said the Blues boss. "Luton are a good team, this is the FA Cup and all that comes with it, but the biggest thing is to try and win every game.
"Results and performances go hand in hand, but ultimately its results that you're measured on as a manager and recently we have not got as many points as we want."
Pressure
Having overseen five defeats from the Blues' last eight Premier League matches, the pressure continues to mount on club legend Lampard, whose team are now battling for a top-four spot just weeks after tipped as title contenders.
He said: "I don't listen to speculation, I'm not stupid, I know the pressures that come with managing a top football club. ­My career here was very successful and the link I have here with the fans and the support I get from them is fantastic. Wherever I work, I give my all.
"I can cope with the pressure. Obviously you're more happy when you're winning games, but pressure comes with the territory. For me, I have to just get on with the job.
"My concern isn't the pressure on me as I can deal with it, I understand how it goes. The pressure is on the players and we have to make that a positive thing.
"The players can make you a good or bad manager, so we have to direct that pressure onto the pitch."
FA Cup importance
Chelsea and the FA Cup have had a good relationship over the last few seasons, with the Blues reaching the final three times in the last four years – although they have only won it once in that period.
And Lampard is hoping that victory on Sunday can help his side turn the corner in their search for the form they showed earlier in the campaign.
"Getting through this round against Luton will be important for the club regardless of the run we've been on in the last month or so," he said. "Every game is an opportunity to turn that corner and it starts on Sunday."
Squad rotation
One aspect that Lampard has been questioned on has been the use of his squad – with people asking if they are being rotated too much.
Only goalkeeper Edouard Mendy and Mason Mount have been regular starters in recent weeks, but the Blues boss wants to see more hunger from his players to make their position their own.
"You have a squad, players have to make places their own," Lampard followed. "There have been other players at different times who have made positions their own besides Edouard (Mendy) and Mason (Mount). There are times when you utilise the squad, and times you want consistency.
"We were slow and sluggish against Leicester. One of the things that set us out last year was our energy.
"It's an aspect of the team that is important for us, but when I see it like that I have to call it out because we need to improve and as a group we need to get back to the energy we had when we were winning games."
Improving form
Lampard called on his side to show 'passion, desire and togetherness' ahead of this weekend's FA Cup fourth round tie.
Chelsea had only suffered one league defeat in their opening 11 Premier League fixtures before defeat at Everton in mid-December started a slump in form.
"I'm a fighter first and foremost, it's how I managed to make a career as a player," said Lampard. "I got back in to management with the desire to be successful. I knew there would be tough times, but I love the job.
"As a player, if there are tough times, then to get through them is the best feeling I found as a player. I don't think it's going to be formations that will win us games, it will be passion desire and togetherness in the team and that's the most important thing.
"As a player here, I wondered what tough times looked like, fortunately in the 18 months I have experienced the tough and the good times. You need to handle the pressure, and that's what I do."