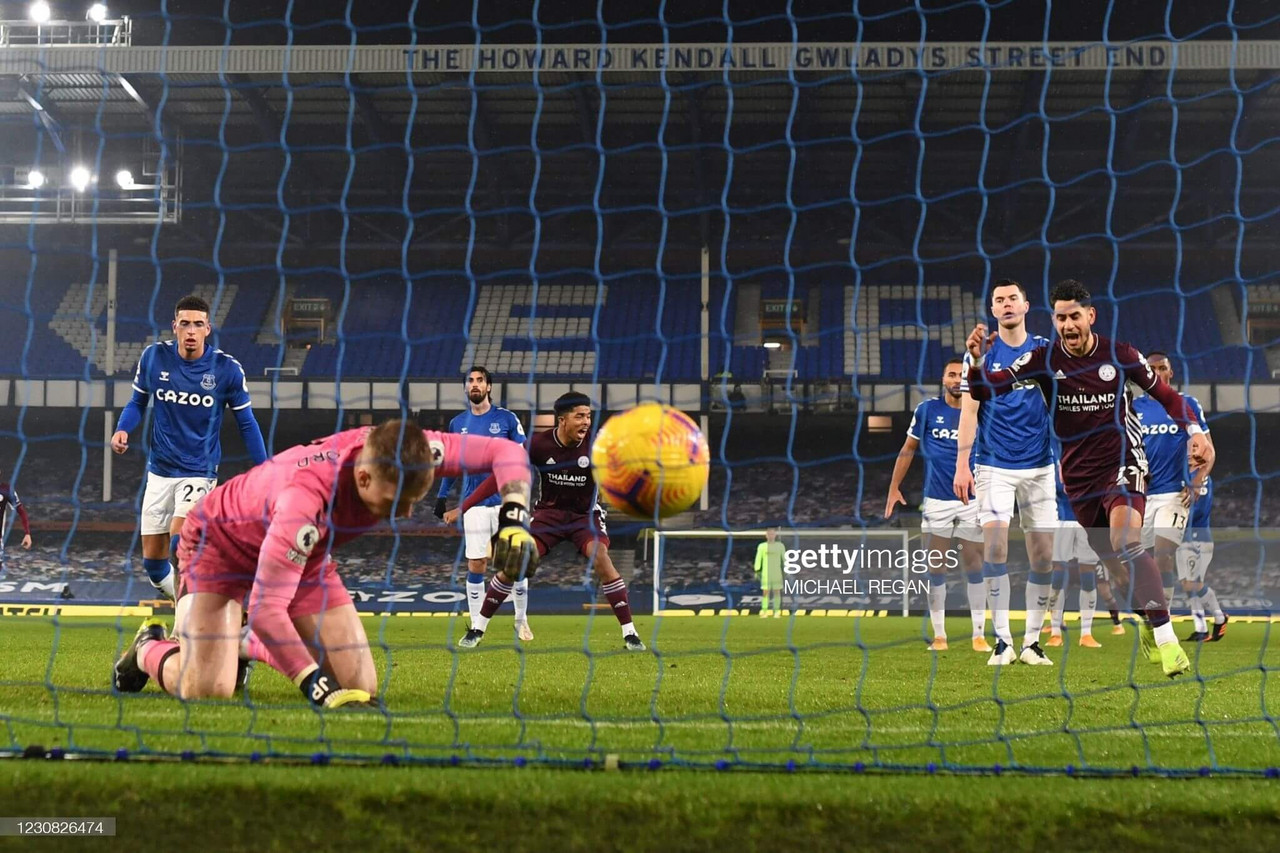 An untimely error from Jordan Pickford allowed Leicester City to leave Goodison Park with a point they very much deserved but were gifted by Everton's goalkeeper. Youri Tieleman's second-half goal cancelled out the first half lead that James Rodriguez's strike had brought Carlo Ancelotti's side.
The draw means that Leicester remain unbeaten in the Premier League since Everton beat them last month and maintain their position in third while Everton stay seventh but with games still in hand on the teams around them.
Story of the game
Leicester's piercing attack caused Everton's backline of four central defenders initial problems. The darting runs of James Maddison, Marc Albrighton and Harvey Barnes, however, only brought about a handful of charged-down shots and blocked free-kicks as the visitors settled the quicker.
Maddison's shot on 13 minutes didn't quite have enough dip on it as his right-footed swipe skimmed the top of Pickford's net.
There were growing signs of the home side feeling their way into the encounter, and a lot of Everton's attacking play came down the left and through Lucas Digne who was playing in left midfield - a position that he took well too, given his penchant for a well-timed delivery.
But it was a ball to the Frenchman from Andre Gomes that started the move that would see Everton take the lead on the half-hour. Digne only needed the one-touch to succinctly lay off James. The Colombian cut inside and took aim but Wesley Fofana's block presented him with another opportunity and this time James's shot flew goalwards and travelled in off Kasper Schmeichel's left post.
Everton managed out the rest of the half as Leicester felt the absence of top-scorer Jamie Vardy only too keenly. Ayoze Perez, his stand-in up-front, barely had a sniff. This was quite a different showing by Brendan Rodgers's side compared to when they tore threw Chelsea in their last league game.
The visitors did almost have Dominic Calvert-Lewin to thank early in the second half when the Everton striker header defending a Maddison free-kick only just cleared his own crossbar. Moments later a well-worked corner saw Pickford deny Timothy Castagne at the near post with James Justin guiding the rebound wide with his instep.
Leicester had more impetus and Everton's penalty area continued to be the hub of activity with the visitors having the territory but the home side's defence, with Digne now dropping back to make a back five, were quite content with sitting in and keeping their opponents at bay.
But Ancelotti's side were living dangerously, allowing Leicester to dictate terms so freely. That told in the 67th minute when Tielemans lined up a speculative attempt from 20 yards which was travelling straight at Pickford only for the Everton goalkeeper to push the shot into his net. It was a calamitous error from Pickford, but a goal that the visitors had warranted nonetheless.
With the game now level Everton's attack still appeared blunt with James's goal being their only shot on target in-game which saw them manage a mere 35 per cent possession. Leicester, meanwhile, were aggressive in their search for a second and Pickford had to punch away a Maddison effort at his near post.
Still, it was Everton who had the two clearest chances to clinch the win in the final knockings as Richarlison and Calvert-Lewin were both unmarked as they headed over and wide in successive attacks. They were left with heads in hands while Pickford did likewise having cost his side what would have been a valuable win.
Takeaways
Southgate has a decision to make
Gareth Southgate was sat in the main stand of Goodison Park, Pickford was in the penalty area. Southgate's face was behind a mask, Pickford's head was in his hands. Despite not being able to see Southgate's facial expression, his mind must have been mulling over the decision that he now has to make.
Pickford's latest aberration in the Everton goal was to shovel a tame shot from Tieleman's into his own net. It cost Everton a goal and also points against Leicester City. It is not the first time that Pickford's weak wrists or lack of concentration have ended in a calamity and it seems he is struggling to overcome them.
"The goal was difficult because the view of Jordan was not so good," Carlo Ancelotti said. "There were a lot of legs there and he had difficulties catching the ball. I didn't speak with him - there is no reason to."
Ancelotti has stuck by his No.1 goalkeeper, and so has Southgate, but had supporters of Everton been present for the recent collection of gaffes they would have left their waning confidence towards Pickford known.
This came on an evening that Burnley keeper Nick Pope, Pickford's deputy in the national team, put in another fine display featuring eight saves to ensure Burnley snatched victory over Aston Villa.
Southgate likes Pickford for his distribution and ability to play the ball at his feet, but there are only so many more mistakes that he can afford to make.
Leicester miss the impetus of Vardy
There was a moment in the second half when Maddison received the ball on the halfway line, spun around and looked up. He was looking for Jamie Vardy.
The problem was Vardy was not there to be released for a customary Leicester counter so Maddison turned around and had to play it through midfield instead.
Vardy is out for the next week or so due to a hernia operation and although the visitors had plenty of the ball and worked themselves into nice positions against Everton, they certainly lacked something without the threat of their top goalscorer.
Perez was quiet in the first half with most of Leicester's attacks stemming from runs by Maddison or Barnes. By midway, through the second half, it was becoming frustrating as Everton sat deep and their opponents found it difficult to break them down.
In the end, it came down to Tieleman's speculative effort from 18-yards out which gave Leicester a deserved point but with Vardy perhaps they could have got all three points.
"It's a big credit to our players that they were able to open Everton up," Rodgers said. "We have good players with a good mentality and I thought overall we were excellent in the game."