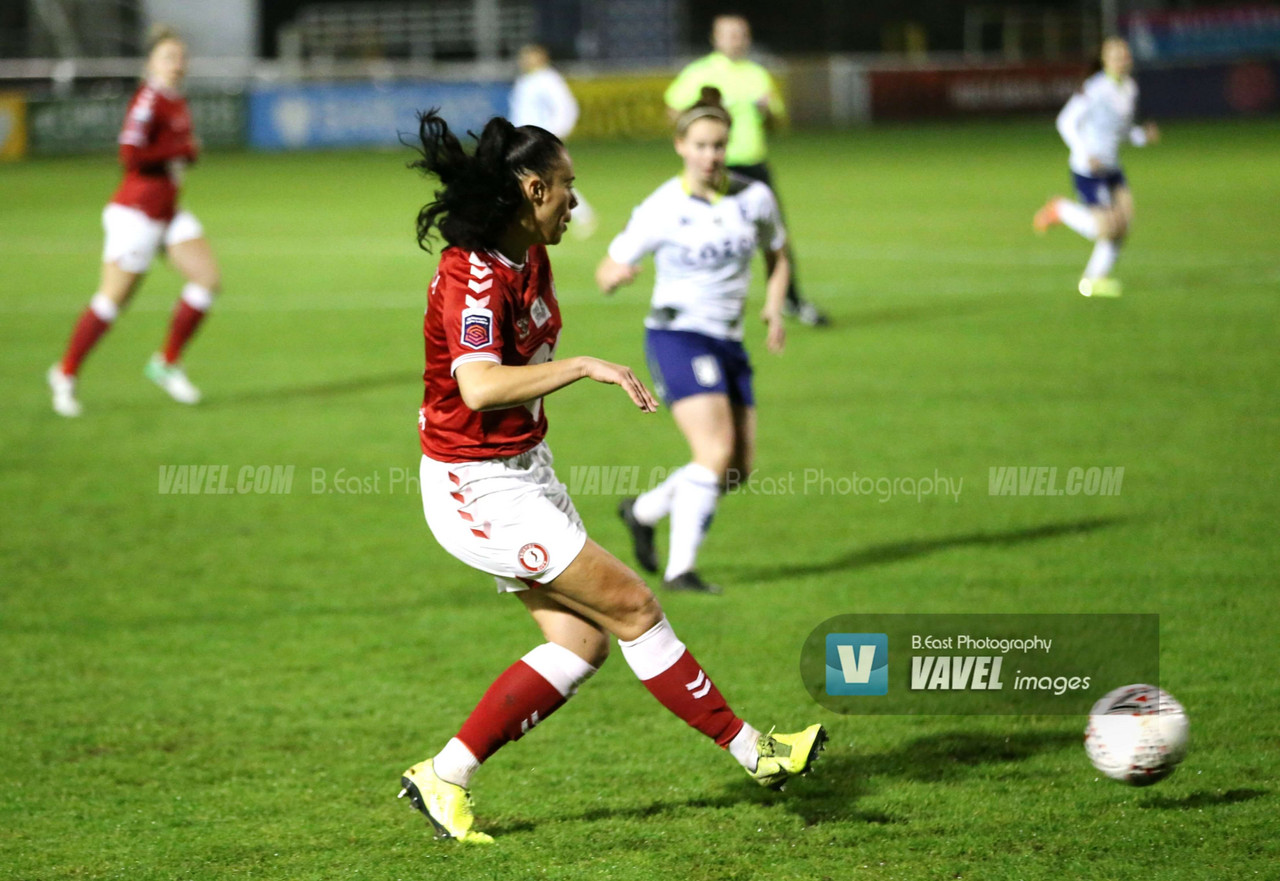 Footballer, NFL fan, entrepreneur and coach. Sounds a lot for one person but Laura Rafferty makes it work and claims before she turned pro 'it was a lot more' on her plate.
Rafferty has played for Chelsea, Brighton & Hove Albion and Bristol City Oxford United by 24 and has several plates spinning at once, she certainly has a wise head on young shoulders.
Despite her success both on and off the pitch though, she has never forgotten her roots and has her own academy set up in Southampton for young girls to practices, build their confidence and social skills. However, being a Norther Ireland international she's also part of the global Common Goal project where the defender donates 1% of her salary to a charity of her choice, SARI (Sport Against Racism in Ireland).
Important to give back to your roots
Rafferty spoke of her pride at being able to give back to the people which have enabled her to get to this position in her career and to help the people who see players as role models.
"I'm a big believer of giving up my time for people and to help.
"So, when I heard about the Common Goal platform I was interested straight away I was looking at what would be potentially the best way to put my one per cent share in where I could really help and make the players better and that was when I picked SARI (Sport Against Racism in Ireland) it allows people of all cultures to play football freely and totally non-judgemental. For me, that was the perfect way to really help the community and I feel really strong about it."
Rafferty understands the position she is in and acknowledges her privilege and wants to do nothing more than help the people who have been with her the whole way as well as the young girls aspiring to be like that.
The Women's game sees players 'more accessible than male players' and Rafferty thinks this is important so young girls understand they can aspire to be whatever they want, she said: "hopefully the young female players growing up can have a more hands-on experience and see their role models a lot closer. That's the thing for me because the support has been the biggest thing all through my career."
Helping the younger generation is a given for Rafferty
She would 'always put myself forward' to help others out as people did for her during her injury and earlier in her career to access the opportunities presented to herself to make it professional.
"Yeah, it's everything because I'm quite an emotional person and support is everything which I realised through the injury. I wouldn't have been able to get to where I am now without it.
"If I can help that one person to achieve something or enjoy their day then I'd always put myself forward for that."
The Bristol City defender spoke glowingly of her academy which is clearly an important thing to her as she couldn't stop grinning from ear-to-ear as she explained what it does for the next generation of footballers.
"For girls to come in and they all have their own teams and they and it's for girls of all abilities and all ages to just come in and kick a ball.
"They come in and they all have a ball each and basically just learning the basics. Not just me and the coaches teaching them the basics in football but it also gives them the freedom to try new things because it's just them and a ball.
"It's to make sure they're comfortable and able to make mistakes there, enjoy it, improve their fitness and obviously the social side of it is massive. I really enjoy coaching to and I enjoy being around people."
Football is such an important part of many people's lives, the fact it is being played during a global pandemic says it all. It's now much more than the 'working man's game' and is a global business for players and clubs.
'Look good, feel good'
Players have their own clothing brands (Jesse Lingard), appear in songs (Thiago Silva and Alisha Lehman) and they receive sponsorships to wear brands clothing and talk about how good they are.
This is a dream come true for Rafferty who has always been a 'look good, feel good' person and recently received clothing from PrettyLittleThing which she showcased on her Instagram.
It's something which allows players to flex their knowledge of designer brands, what's hot and what's not as well as being able to show off who they are away from the pitch to the anger of many male pundits, no names (Graeme Souness).
It should be embraced like PSG have done with their Jordan collaboration and have kits, training gear and trainers which highlight the magnitude that fashion and football are incredibly intertwined. Something Rafferty was has always been a huge advocate for.
"For me, it was a look good, feel-good thing. Now all-over social media a lot more brands and sponsor are getting involved.
"It was always before that I've always liked to dress up and sometimes just look different in a sense have something that nobody else has got."
There's something about trainers which gets 'sneakerheads' alike giddy like a child on Christmas Eve. Being in an exclusive club when you win a raffle to buy the new Yeezy 350s or if you were lucky the Dior Converse which Rafferty enjoys to flaunt from time-to-time.
Fashion and football are two constants in Rafferty's life
Trainers are such an important item of clothing and can make or break an entire outfit which is why people have such strong opinions on the footwear someone wears, as Rafferty is all too familiar with.
"I have these massive fear of God green trainers which everyone was like 'They're disgusting' but I would say you don't know what they are. I've always enjoyed fashion since I can remember so it's not a new thing for me."
During a long and enjoyable chat between two people in love with their trainers and fashion, Rafferty revealed something words can't explain as she told spoke her true feelings on the infamous Dior high tops.
"Yeah, well they weren't the comfiest when I first wore them and I lived in them for a while, to be honest."
One of the hottest trainers of 2020, a pair which had thousands of people clambering around for as they were treated like gold dust, and costs almost as much. However, she did admit 'They're definitely one of my favourites' which will have redeemed her credit within the sneaker world.
Setting up ventures outside of football
Not content with just being a footballer, coach and former banking consultant Rafferty is set to make her splash into the fashion industry with a new line of hoodies with some of her closest teammates and agent (best friend). She tells people to watch out for the exciting drop later this year:
"In the comeback video I did (on Instagram) we've got these hoodies which had comeback labelled on them. So, myself, my agent and a few members of the team are going to produce them for everyone to buy.
"They're going to be different types of ones and we're also doing a YouTube channel as well and in the process of storyboarding it all. There'll be different ones (hoodies) like comeback and intermediary ones so keep your eyes open for that."
The 24-year old has been active her whole life and recalls the times before signing a professional contract which seems a mile away from the level Rafferty is at now. However, it's a lot closer than many would believe and has moulded her mindset.
"I've never known any other way to do it. So, before I signed pro at Chelsea I was working at a bank as a banking consultant for Halifax.
"I'd finish there at four and travel two hours to train at Chelsea from 8-10 and then travel back two hours home and do that every day. I might seem quite full-on now but back then it was a lot more."

Rafferty paid homage to the bank she worked at before turning pro and taught her vital lessons in life which she still carries to this day, she added: "Take nothing away from the bank though I learned a lot there but it definitely wasn't what I wanted to do, that's not my purpose in life I don't think."
Becoming a Bengals fan
Back to football but not as you may know it, and certainly not as Rafferty knew it. During her time on the sidelines, she explored a different kind of football and became an adopted Cincinnati Bengals fan.
During the 2019 London NFL games, Rafferty went pitch side and met several famous faces but what really took her by surprise and has left a lasting memory was the atmosphere.
An NFL game could not be further away from your average WSL match. The tailgating, music, commercial intervals and stoppages drive many people mad who don't understand the sport.
However, Rafferty was understandably sceptical but couldn't recommend the experience to anyone: "The actual atmosphere of the NFL is so different from football it was unreal, I had never experienced anything like it.
"The constant music, games going on, the cheering, the cheerleaders and the smoke everywhere it was just unbelievable. I would definitely encourage anyone to go if they can."
A surreal experience in every aspect
Despite being a huge success in the WSL, Rafferty has seemingly pulled the short straw with hr NFL team as the Bengals have finished bottom of their division for the three seasons. They've also only won six games in the last two seasons combined.
Rafferty is happy to be a proud Bengals fan and continues to watch them on Sunday nights and can't wait to get back and watch them.
"I don't know if they're too good or know much but they were the most generous team as they gave me their jackets, hats and everything so it's the Bengals. The players were really nice and they did okay (they got beat 24-10 by the LA Rams).
"If I ever managed to get tickets for it again I'd be straight there it's brilliant."