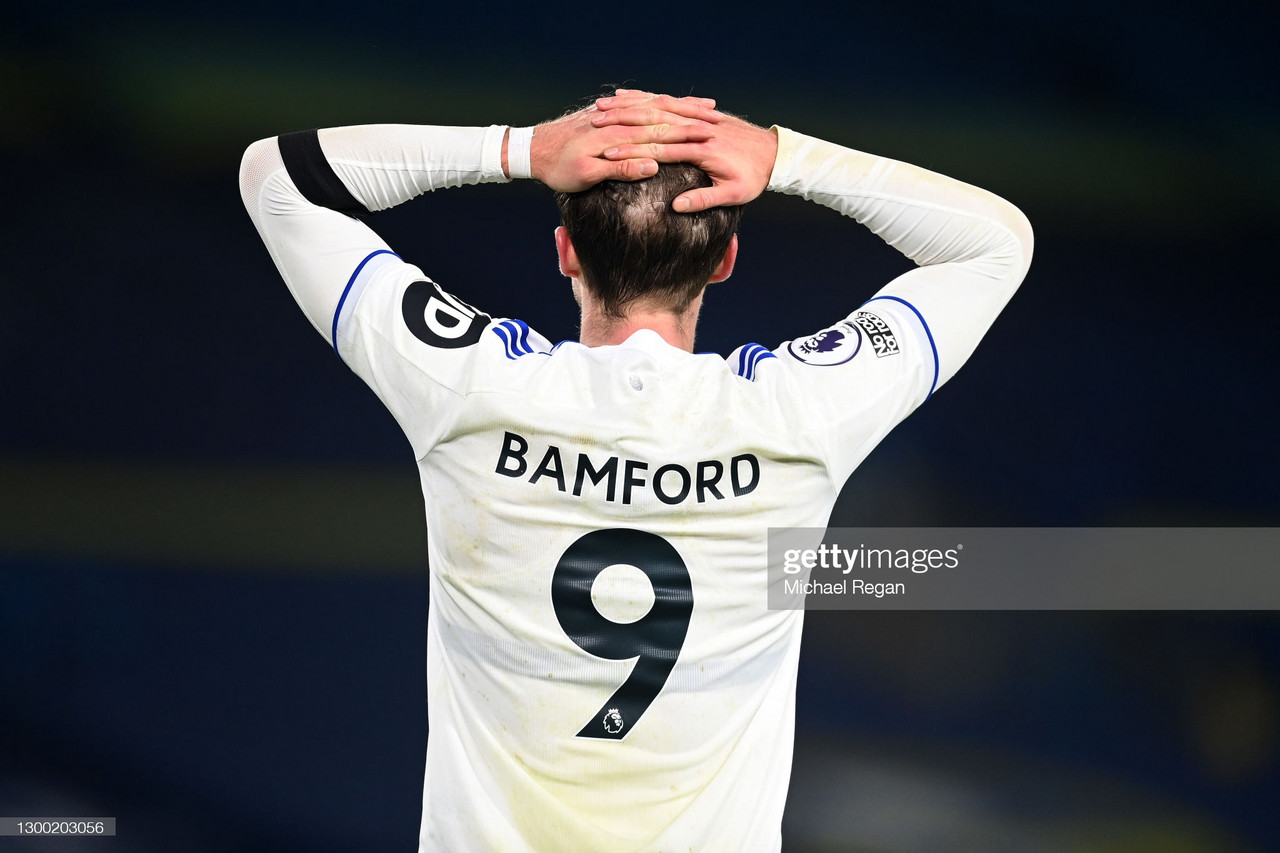 Two first-half defensive errors saw Everton punish Marcelo Bielsa's leaky Leeds United backline as Gyfli Sigurdsson and Dominic Calvert Lewin were both on target in West Yorkshire for the Toffees.
Just three minutes into the second half, Leeds hit back through the super consistent, Raphinha, but the Whites were unable to find an equaliser despite dominating large parts of the second period.
The result for Leeds means they stay put in 11th place on 29 points and still 15 points clear of the relegation zone.
• Another early blow
Of the 38 goals that Leeds have conceded so far this season, ten of them have come within the opening 20 minutes of games.
An early blow almost gives the opposition a headstart and the majority of early goals that Leeds have conceded are almost definitely avoidable.
Just nine minutes into yesterday's clash, Sigurdsson opened the scoring with a decently placed finish, but it was another prime example of a goal that could have been easily avoided for Leeds.
Full-back, Luke Ayling had bombed forward for Leeds, which left his space widely open, and Everton Left-back Lucas Digne looked to drive into the space that Ayling had left on the left flank.
As a standard with Leeds United's man-marking system, left-midfielder, Raphinha was there to track Digne's run and initially, there didn't seem to be much danger.
Digne looked to have run out of space as Raphinha closed in on him but he managed to fire in a low driven cross into the Leeds penalty area.
Next comes the avoidable part.
It almost looked like the two Leeds center-halves, Liam Cooper and Pascal Struijk had froze. The ball was close enough to Struijk for him to get a foot to it if he tried but he just stood there.
As a result, the ball zipped past him and into the onrushing Sigurdsson, who was allowed to run freely with no pressure or marker as Cooper too, just stood watching.
It looked like Struijk could have had a call from Cooper to leave it, but even then, the Leeds captain should take charge and deal with the danger. His awareness of not clocking on to Sigurdsson's run made it such a simple goal for the Evertonians.
To avoid that needless early blow, either Kalvin Phillips (as Sigurdsson's marker) has to be switched on enough to track the Icelandic's run or Struijk just has to clear his lines in a better safe than sorry type of way.
In the Premier League, top teams punish errors, so if Leeds can somehow find a way of lessening their number of errors, they could start posing an even greater challenge on the teams above them.
• How good is Raphinha?
Leeds United's final signing of the summer transfer window was the highly-rated 24-year-old Brazillian, Raphinha. He cost Leeds, £17 Million and he is proving to be a real bargain.
So far this campaign, Raphinha has made 13 league starts, scoring four goals and turning provider on another four.
The left-winger was on target again in yesterday's game, scoring in the 48th minute with a perfectly placed side-footed finish that found the bottom right corner.
His goal gave Leeds a huge lift and almost a whole half to try and get something from the game but unfortunately, it wasn't to be.
Going forward, everything good came through Raphinha, he was extremely direct and always prioritised going forward.
Whether it was dribbling past Digne or whipping dangerous balls into the Everton 18-yard box, Raphinha was the one who looked like he could create something for Leeds.
His silky footwork, ball control, decision making and quality in the final third constantly caused Everton problems and he was Leeds' main threat throughout.
Raphinha completed the most dribbles out of every player in yesterday's game, along with having three shots, 85 touches and putting in nine crosses.
In the 63rd minute, the Leeds number 18 could have had his second of the game but some outstanding goalkeeping from Everton's, Robin Olsen denied him.
Raphinha is certainly turning into a fan favourite and his performances deserve plenty of praise. If he stays fit, Leeds will have no issues with creating and scoring plenty of goals in the second half of the season.
• New turf
After Leeds United's last home game against Brighton & Hove Albion, because of weather conditions and usage, the Elland Road turf was looking torrid.
The pitch was all cut up, it looked heavy and seemed to prevent Leeds from playing their usual attacking style.
So, low and behold, Whites Chairman Andrea Radrizzani had it ripped up and replaced. He had just over two weeks to get it sorted and ready for their clash with Everton when it was put to the test.
The new turf looked much better, it looked shorter, it wasn't cutting up and seemed to be back to its usual quality but one noticeable thing was that a lot of players were slipping.
Before most games, Elland Road is extremely well-watered and yesterday would have been no different but maybe it was too wet.
The players looked a little wary of the turf but it can only get better the longer it gets to set and it is a short-term solution until the end of the season when it is likely the pitch will get fully re-structured.
Next up for Leeds, they welcome Crystal Palace to Elland Road as they look to get back to winning ways and pick up three important points.