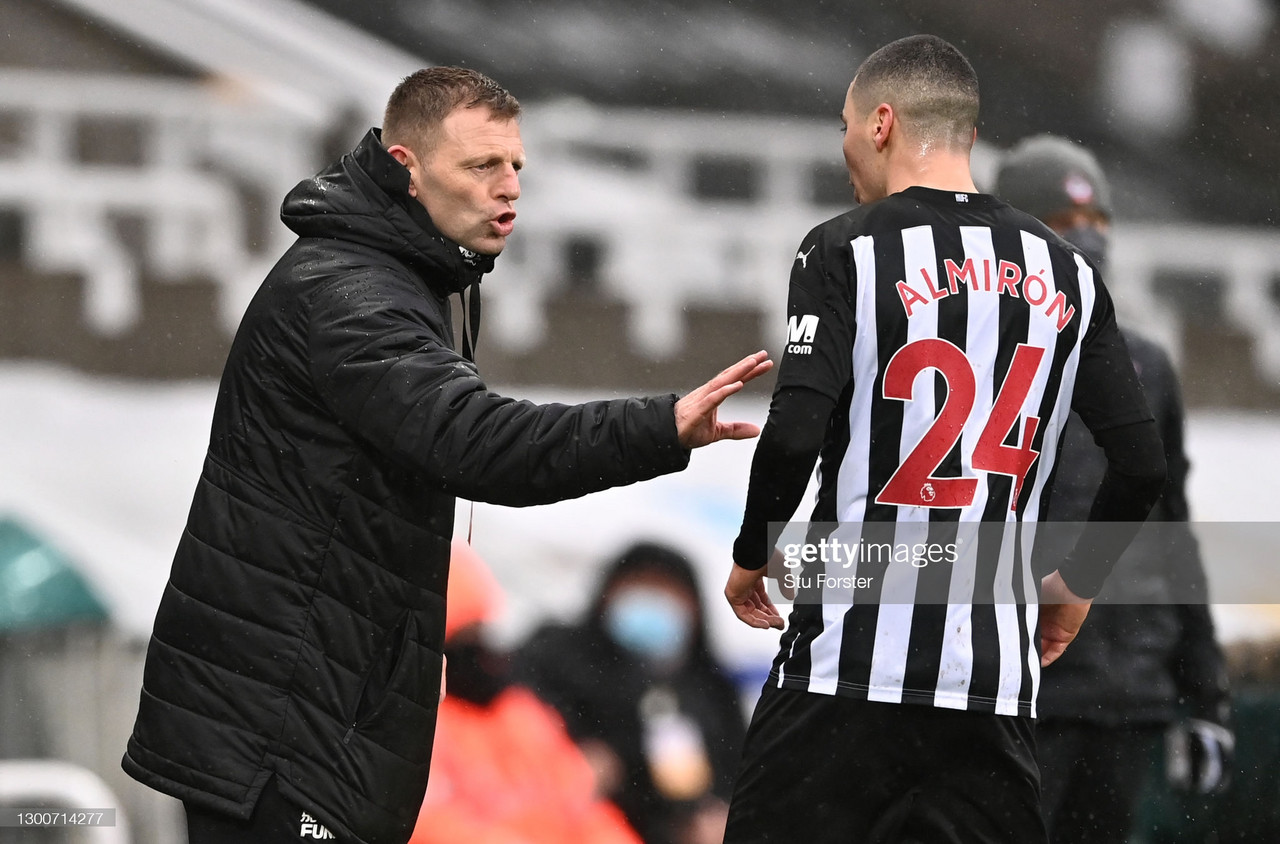 Newcastle United have shown vast improvement of late following a change in system that means they are more aggressive in their approach.
In the three games since the change of tact, the Magpies have picked up six points with wins over Everton and Southampton and they could consider themselves unlucky not to get more against Crystal Palace.
There have been much needed improvements in almost every area of Newcastle's game and as such the club's survival hopes have been given a big boost.
Chelsea away presents a different challenge and the embarrassment of riches that the Blues have in their squad when it comes to attacking players may tempt Steve Bruce to revert the type and lineup with a flat back five.
However, he should not be intimidated by the task ahead but instead look for inspiration in the performance at Goodison Park against a side just two points worse off than Chelsea in the Premier League table.
What is the new system and how does it compare
The difference in the way the Magpies have set out in recent weeks is almost the polar opposite to the way they have been playing for most of the Bruce era.
Firstly, Newcastle had previously been incredibly easy to play against because of how deep they sat and how little they pressed.
This meant that the opposition had time to get comfortable on the ball before springing and games often turned into a kind of training drill with attack v defence.
The answer to this problem is relatively straight forward; operate a much higher line of engagement which doesn't allow the opposition to have complete control.
Miguel Almiron reaped the rewards of the new high press, winning the ball from Jan Bednarek before scoring United's third against Southampton.
In contrast, by sitting back and soaking up the pressure, Newcastle do not force the error that allows the chance.
In the previous game against the Saints in November, Bruce's men could only muster four shots all game with only two on target and this time around they scored three in the first half, which is surely a sign that this is the way to go for the long term.
In terms of shape, it is a 4-3-3/4-4-2diamond formation that Newcastle have used of late.
It is hard to pin it to one formation as a result of the freedom being awarded to the front three which means that they're much more fluid approach to their play.
Changing system is not akin to pressing a magic button that automatically turns United from relegation strugglers to a side fighting at the other end of the table, Newcastle still need to find a balance.
This was best shown in the defeat to Crystal Palace were a naive five minutes saw them go on to lose a game that they had seemed completely in control of.
Teething problems are to be expected and the Palace game was exactly that.
There are many reasons why Bruce, Jones and co should keep the new system rather than reverting to type.
The back five simply does not work
Newcastle United have become synonymous for playing with a back five.
Playing three central defenders with two wing backs does not have to be overly passive or defensive (example: the way Chelsea have started life under Thomas Tuchel) but for some reason when United choose to lineup in this way, it is very clear that it is a flat back five which invites immense amount of pressure on the team.
Six of the seven games played before the triumph on Merseyside, Newcastle lined up with a back five and the results show why the magpies shouldn't return to it in a hurry.
In those six games; United picked up just one point from a possible 18, scored just twice and shipping nine goals.
The system was clearly having a detrimental effect on the side going forward as they had just 15 shots on target across all six games, an average of just two and a half per game.
In contrast, Newcastle have had 12 in their last three, which shows a notable improvement.
It wasn't as if Newcastle were benefiting from having a flat back five defensively either and they have conceded fewer goals per game since changing things up for Everton.
In summary, Newcastle have scored more and conceded less since taking a new approach.
Granted its a small sample size but the early signs are very positive.
Why Bruce might be tempted to revert to type
The difference of results and performances is there for all to see but Bruce may still be tempted to revert to type.
Why? The undeniable talent throughout Chelsea's squad will undoubtedly make Bruce think about his selection.
Chelsea have an expensively assembled side that has incredible attacking qualities whilst also offering threat through wing backs from two of Reece James, Marcos Alonso, Ben Chilwell or Callum Hudson-Odoi.
Chelsea have been impressive in their first four Premier League games under the stewardship of Tuchel, picking up ten points from a possible 12 and conceding just one goal in the process.
They have added a balance to their game that had previously been lacking and Steve Bruce will be aware of this and he may look to follow the footprint set by Wolverhampton Wanderers when they were able to frustrate the Blues and hold on for a goalless draw.
A free hit
Now Newcastle have managed to pick up a few wins, there is far less pressure on the team and they should treat the trip to Stamford Bridge as the free hit that it is.
A trip to Chelsea will never define Newcastle United's season.
United now have a 10 point cushion between themselves and 18th placed Fulham, which should allow them to play with a bit of freedom in the capital.
Not even the most optimistic Toon fan is expecting their side to get anything from the game but if they press high up the pitch and are aggressive in their play, there won't be too many complaints regardless of the result.