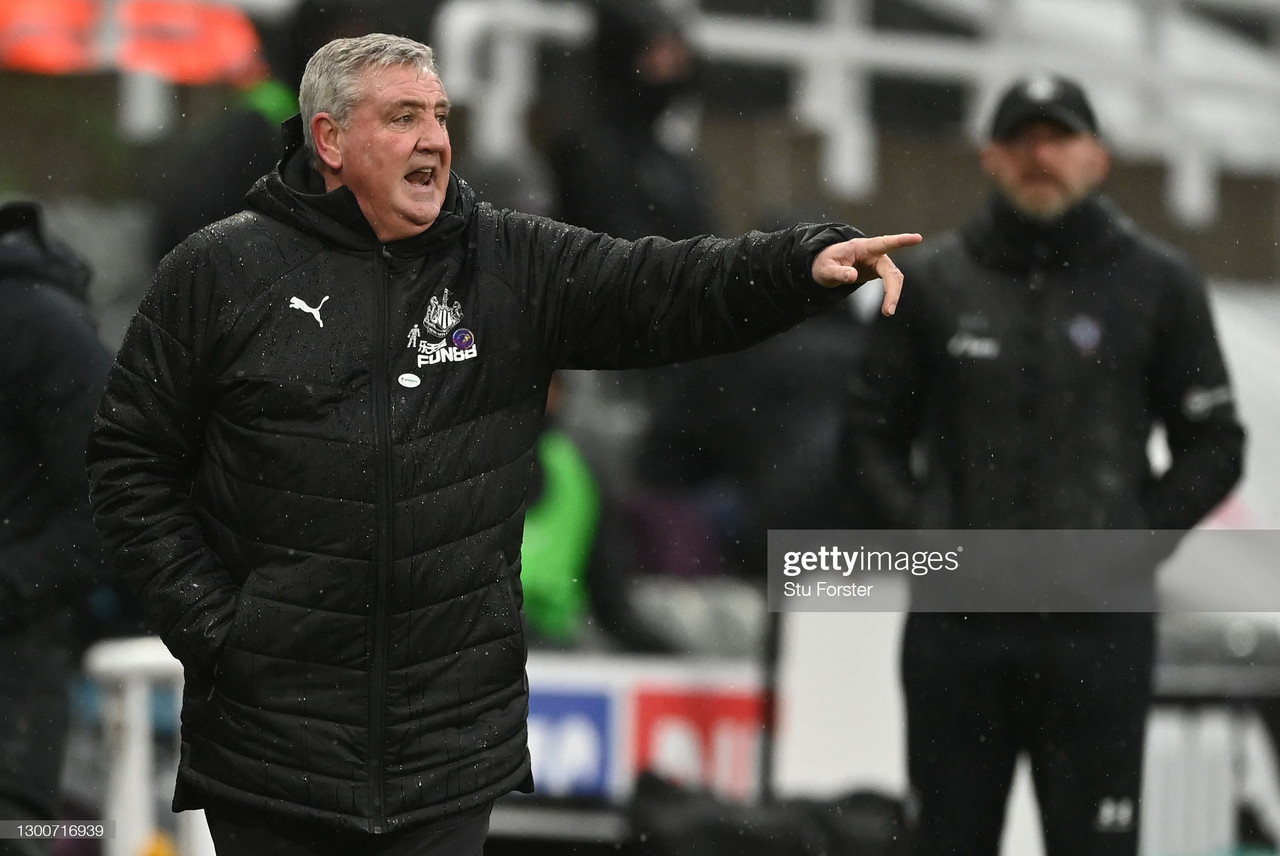 A spirited display by Newcastle United saw them hold on to claim a vital three points despite being reduced to nine men.
A debut goal for Joe Willock and a brace from Miguel Almiron saw United go into the break 3-1 up, with Takumi Minamino scoring for the Southampton.
However early on in the second half, Newcastle made life difficult for themselves with Jonjo Shelvey missing a sitter moments before James Ward-Prowse brought the deficit back down to one and Jeff Hendrick rounding off the first five minutes of the second half by picking up a second yellow card.
Despite appearing to have pressed the self destruct button, Newcastle got men behind the ball and defended exceptionally even after they were later reduced to nine men with Fabian Schar having to be taken off injured.
It was a monumental effort from the depleted magpies side and Steve Bruce spoke about his feelings of the game to the press post game:
Change of formation and Miguel Almiron
Newcastle have changed things and up lately and have been much improved as a result, with one man benefiting hugely from the change of system.
Miguel Almiron was again immense for the Magpies and made sure there was no debate as to who was man of the match.
"With the change in formation & system, the one person who's benefited from it all, basically, is Almiron.
"He's been terrific. He's a great pro, a joy to work with."
Bruce is spot on in his assessment of the pacey Paraguayan.
Almiron looks so much more comfortable higher up the pitch and the brace scored today shows he know has a confidence in his end product that had been lacking before.
Something as simple as pushing higher up the pitch has had a huge impact on the team and Almiron is surely the first name on the team sheet now as a result.
The crazy start to the second half
In true Newcastle United style, they made sure they won the hard way.
Thoughts of a comfortable victory were gone after Shelvey somehow managed to screw his effort wide from close range and Ward-Prowse scored a trademark free kick.
"We had a big chance to make it 4-1, and within two minutes we've lost a player, & Ward-Prowse has come up with one of his trademark free-kicks."
At 4-1 the game would have surely been over and yet moments later Southampton found themselves very much in the game.
Having missed a sitter early on in the second half and almost immediately paying the price after; Newcastle were then summed up their early second half performance when Hendrick picked up a second yellow card.
In the days before VAR, Hendrick would have got away with it with the referee initially showing the caution to Willock.
A daft pull of the shirt and Hendrick could have no complaints about being sent for an early bath and this is what his manager thought of it:
"Jeff will know better."
"He'll know that he's committed a silly foul, and probably knows it straight away. It caused us a difficult afternoon. Certainly, he'll be disappointed."
The Republic of Ireland international will now serve a one match suspension and with the plethora of central midfielders Newcastle have in their ranks, it may be a while before we see him in the side again.
Newcastle's vital win did come at a big price; with injuries to three of United's key players.
Unfortunately, it seems that Javier Manquillo and Fabian Schar are set for a lengthy spell on the sideline, adding to the big injury problems to defensive players.
"That's the disappointing thing. For too long we've had people missing with illness and injury. We've been desperate at times.
"Unfortunately, It looks as if we've picked up an awful injury with Manquillo. It looks as if Fab Schar has a bad knee injury. And, of course, Callum Wilson has a hamstring too."
Newcastle fans will no doubt be nervously waiting to hear the extent of Wilson's hamstring injury but the way he walked relatively freely off the pitch may gave the magpies early hope that they won't be without their top scorer for too long.
Fantastic spirit and the crazy nature of the club
Steve Bruce was rightly delighted with the spirit, heart and dedication he saw from his side against Southampton.
"I think we played half an hour with 10, 20 minutes with nine, we know how difficult that is – Southampton shipped in goal after goal the other night.
"They were terrific in their defending, their attitude – and their application to get a result was pretty evident."
In recent weeks a criticism that had been levelled at this Newcastle side is that they lacked effort and commitment to the badge but that couldn't be further from the truth following the win against Saints.
Bruce makes a good comparison to how Ralph Hassenhuttl's side dealt with going to nine, really highlighting the achievement to manage to hold on and win.
Bruce also added: "I think I've been at the club 18 months, and it's a health hazard. Just as we're going along nicely, we get a great chance to make it four – and within two minutes they're scoring and we're down to 10 men."
Newcastle United being a health hazard is no doubt something that all Toon fans will agree with after a nail-biting second half at St. James' Park.