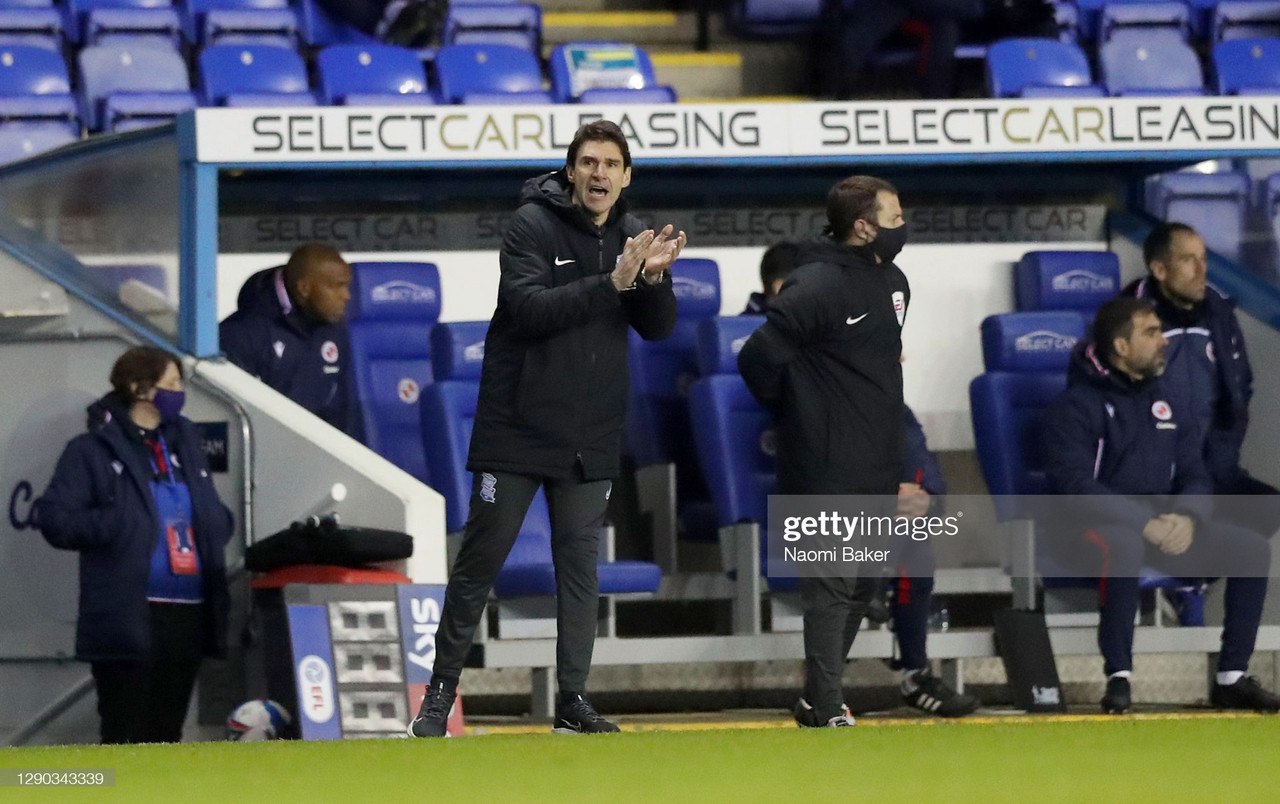 When Aitor Karanka arrived through the door at Birmingham City there was a sense of optimism that had not been felt for a number of years - and that the club would finally be moving in the right direction.
He came into St Andrew's with a SkyBet Championship promotion on his CV from his time at Middlesbrough in 2016. Whilst his promoted side struggled massively in the top flight, he was able to conjure a way out of the Championship - in the right direction.
After his departure from Middlesbrough during the Premier League season he joined Nottingham Forest in January 2018. That summer he was able to put together a squad together which saw the club break their transfer record on João Carvalho from Benfica for £13.2m.
He appeared to be leading Forest into the play-offs that season but he would not see the season out. He departed the City Ground in January 2019, with the club in seventh.
18 months later, he was announced the new Birmingham boss, with CEO Xuandong Ren confirming he finally got his target - whom he previously tried to hire in the past. Karanka rejected on that occasion and the club appointed Steve Cotterill. Ren boasted a three-year project with Karanka at the helm but it has not gone according to plan. Along with every other plan this board has had at the club under their stewardship.
Birmingham fans, along with many neutrals were excited to see what Karanka could do at a club which had been going through one of the worst periods in its history.
The club was in a dark place when he took over. Post-lockdown they were almost relegated but survived on the final day (again).
Then here came a manager who had been promoted from this division in the past. A manager who had set Forest on the right track, he will surely be the man to finally turn Birmingham around.
He added 11 players to his squad in the summer and others since yet the football has been just as bad as it was last year.
Tinkering
This season felt like the second coming of the 'Tinkerman', a nickname famously given to Claudio Ranieri during his time at Chelsea. For a large part of the season Karanka never had a settled system or lineup. Nobody could predict who was going to play and what shape they would play in from one game to the next.
Everyone knew the strain the congested fixture schedule would have on this season as a result of the COVID-19 pandemic but it seemed like Birmingham were the only club struggling with it. Most sides fielded similar lineups in successive matches. It did not make sense as to why Karanka was constantly switching from four defenders, to three defenders, to five defenders game by game.
This constant tinkering prevented his players from getting accustomed to a system as well as who they were playing with on the pitch. There is no rhythm in this side because the lineups and formations have been so inconsistent that there is zero confidence and not even a chance of the side being able to build momentum.
For example, Birmingham achieved two excellent successive away victories in December over Bristol City and Reading. For the first time, Karanka adopted the same shape and limited alterations to the lineup. The team performed excellently in both fixtures and were well-deserving of their six points.
Since then, they have one win in 13 and sit second-bottom in the league. Their away form has been better than their home form with two out of their six wins coming at St Andrew's. Their form this season has been inexcusable and the side do not look like they are going to pick up any wins in the near future. Right now, the club seem headed for League One.
Baffling selections and substitutions
The Spaniard has been guilty of holding on to the past this season. It started when he signed his old friends from Middlesbrough, George Friend and Adam Clayton.
Both players added to his squad in their 30's and far past their prime, Clayton especially.
He has been one of the club's worst players when he has featured this season - and having zero effect on the team. He has been sluggish, off the pace and completely unaware of what was around him. Yet, for a lot of games this season, Karanka could not help himself from starting the veteran midfielder.
Clayton was once a very good player in this league but he is nowhere near the level he played at Middlesbrough.
Another disappointing signing has been Mikel San José. The former Spanish international arrived with an impressive CV but has been one of the biggest under-performers in the Blues side. He has also been a player that Karanka has tried to fit into all his lineups whether that be a defender in a back three, a back five or in midfield. He did start off well but like a lot of the players, have progressively worsened.
He was at fault for the first goal in the recent defeat to Millwall, after playing such a poor pass to his goalkeeper.
Karanka's substitutions have constantly raised eyebrows. For example, when he leaves his best attacking players Jérémie Bela and Ivan Sánchez, he introduces them into games for the wrong players. When Lukas Jutkiewicz or Scott Hogan are crying out for crosses it is they who seem to be sacrificed for the wingers when Birmingham are chasing a goal.
Basic errors
Finally, this season has seen Birmingham concede many goals as a result of their own mistakes and dealing with threatening situations.
The errors have been happening far too often and does beg the question of what is Karanka doing with them in the week?
Nothing seems to get fixed. The team continually struggle to keep clean sheets and they also struggle to score goals. There can be no arguments as to why they are where they are in the table.
Karanka has ultimately failed at Birmingham and his early actions this season could plunge the club into the third division.