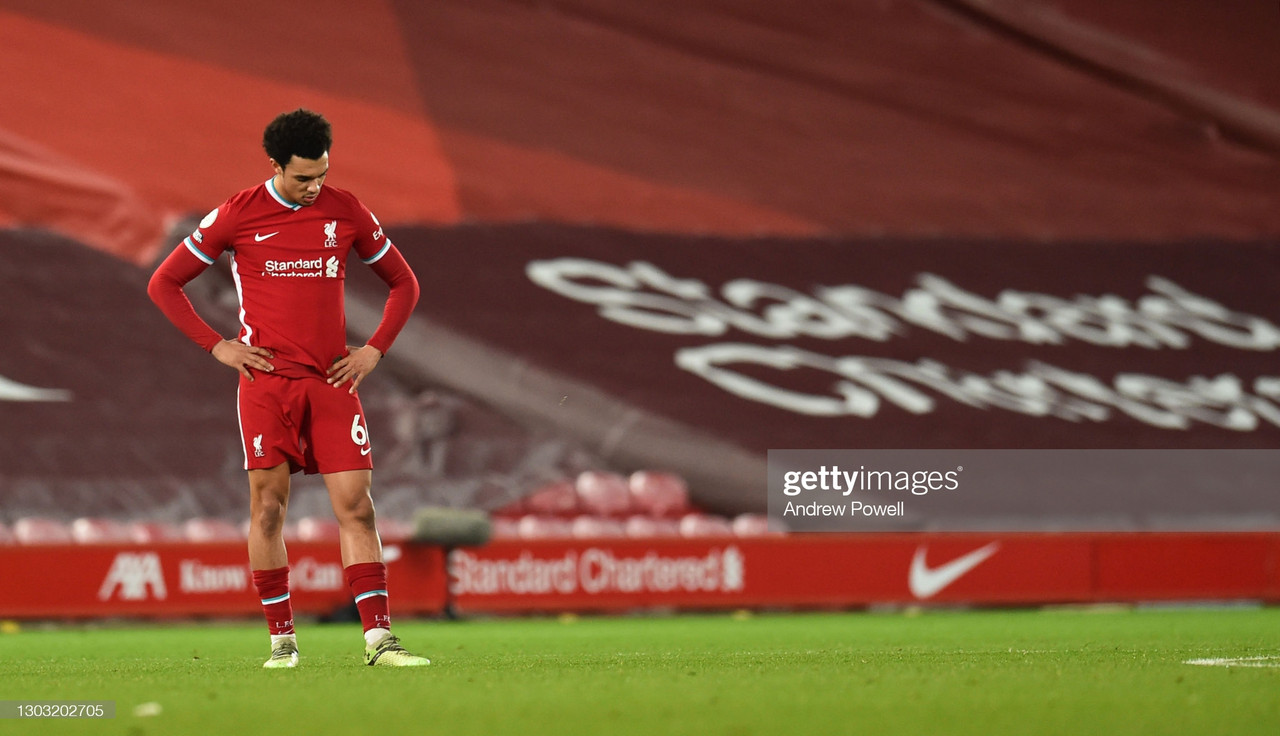 The tag often harnessed by this Liverpool side throughout Jurgen Klopp's reign has been justified. 'Mentality monsters' was the aphorism that the Reds took control of and won games in different manners.
This model of fast-flowing, consistent and highly demanding football has hit a major bump along its course. Struck with a horrendous hand of injuries and seized upon by various oppositions.
The feeling of despair
The Merseyside derby pretty much summed up what every Liverpool fan had been feeling all season. One of despair, struggle and relentless knockout blows where you are expected to get back up from.
That is just what it feels like watching this season from afar. From the television with various pundits and commentators trying to sell you the Premier League product, that, in fact, isn't the same product at all.
But imagine playing in it. This continuous run of never-ending fixtures coinciding with a never-ending breakdown of injuries. How can it go from bad to worse? The captain goes down and is out for a month.
Suddenly you are forced into your 18th centre back partnership of the season in February. Something that no side in history has heard of. Suddenly, players are looking around an empty soulless Anfield and not having the same connection with new signings and back-ups for backups drafted in.
Meanwhile, your up against the clubs biggest rivals, who are thriving on the opportunity of taking full advantage of the soulless stadium, and the injury-ravaged Liverpool side.
Bouncing back
Its the Liverpool way to bounce back in the face of adversity. But will this current situation be asking a stretch too much?
The injury crisis has led to a severe impact on the patterns of play this Liverpool side have developed. The Robertson/Mane left side has become a real talking point whereby neither have been as fluid with the ball, pressuring the opposition with the overlaps and cutbacks we once saw regularly in matches.
Trent Alexander Arnold looked like a player who knew what the Merseyside derby meant to him. Perhaps the only one at times on Saturday. But his place at right-back restricts him and therefore didn't allow him to try and take control of the game through emotion. Something Steven Gerrard would do superbly but from midfield.
The hunger this side possessed in abundance seems to have been sucked out of them and through no fault of their own. To borrow the phrase, 'bad champions', which has been used recently, should be re-evaluated in 3 years, when this side has been through its peak years, suffered knockbacks, and come out the other side.
It is not hard to figure out why Liverpool have suffered this season. Instead, it isn't easy to nitpick the reasons why they haven't.
The next chapter for Jurgen Klopp has been pushed back until the summer of 2021, when a new mindset and narrative will see the start of next season on full-scale attack mode.
Perhaps the development and rebirth of positions throughout the squad will occur, and the reinforcement will have to be ready to activate.
The ending of this horrific chapter in the middle of a wonderful tale could still end with a good outcome. The European cup offers escapism for Liverpool fans, away from the continual league campaign and a renewed sense of belief.