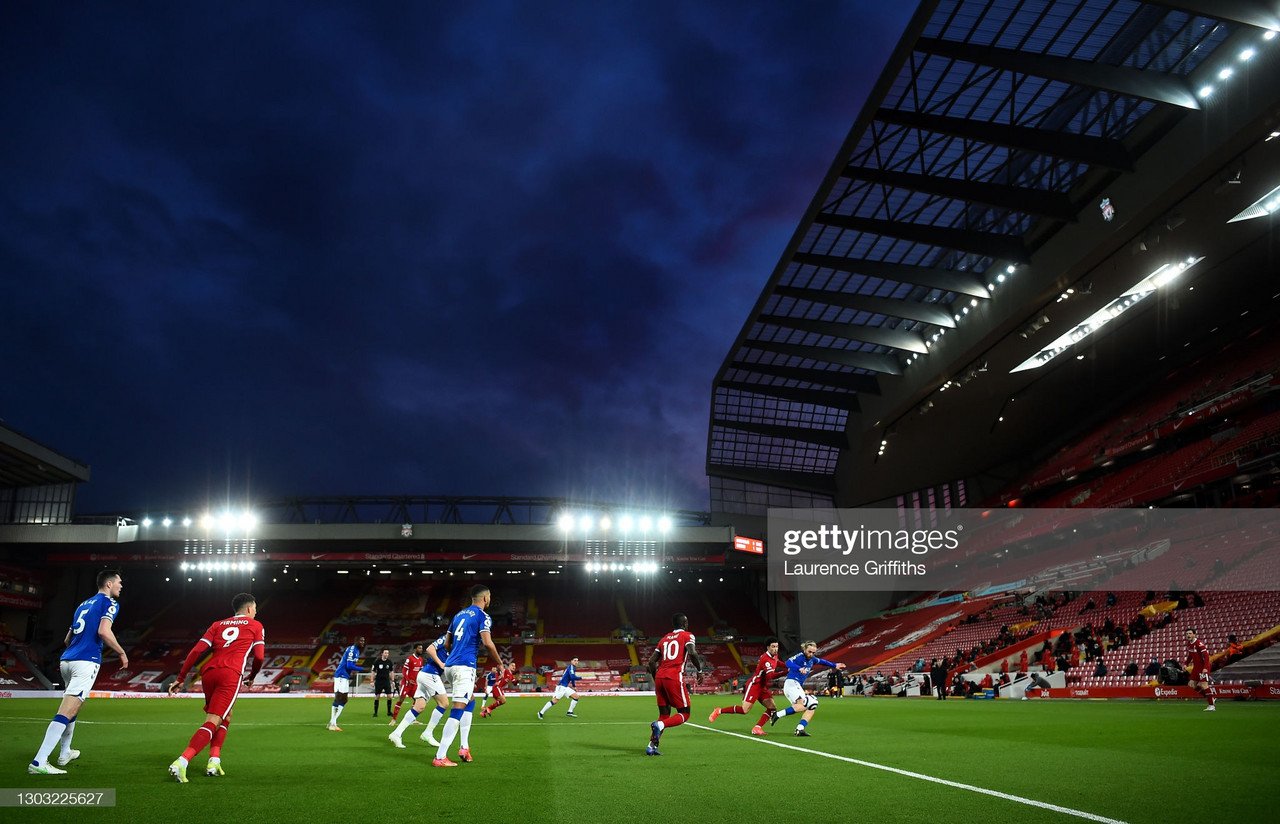 You'd think it couldn't get any worse for Liverpool. The Premier League champions defending their title after losing all their senior centre backs. Think again. For the first time this century, they lost to Merseyside rival Everton at home in the Premier League.
A 2-0 defeat put Liverpool in further turmoil. This agonising season continues.
It was a strong and unchanged team from the one that won in Budapest against RB Leipzig in the Champions League on Tuesday night. But the team simply did not turn up.
The home side found themselves a goal down after only three minutes. It was a shaky start for Liverpool, who conceded a corner within the first 20 seconds of the game. They failed to get a grip of the game and cost the price early on.
James Rodriguez picked up the ball in the final third and delivered a precise through ball to Richarlison who beat Alisson. It was calm and collected play from Everton and poor defending from Liverpool. New signing Ozan Kabak was mostly at fault for the goal, positionally making it easy for Richarlison to make his run and stay ahead of the defender.
It was a poor goal to concede but there was no sign of the mentality monsters in this game. It looked inevitable that Liverpool would lose the game after conceding the goal. Liverpool had no spark and never truly threatened the Everton goal. Despite controlling possession, the Reds never looked like they would score.
Things went from bad to worse for Liverpool, when Jordan Henderson was forced to come off injured in the 30th minute. Nat Phillips replaced the skipper who felt what looked like a groin injury. Phillips became a part of the 17th centre back partnership that Liverpool have fielded this season. For whatever reason, perhaps more unluckiness than anything else, Liverpool simply have not been able to have two central defenders fit for long enough to build any kind of partnership all season.
With all things being said, Phillips did play well and was considerably better than Kabak who struggled in this game. On several occasions he misjudged the impact of the wind on Everton's long passes and was lucky that Liverpool only conceded one through is errors.
However, Liverpool certainly did miss Henderson's leadership. If it isn't good defensive work that he offers playing in defence, then his voice was certainly missed. The Reds missed authority and leadership, ultimately looking like a team that were playing their sixth and seventh best centre backs.
Liverpool controlled possession but not the game. Their build-up play was good but ultimately, they failed to muster too many goal-scoring opportunities. Roberto Firmino had the best chances of the night. The Brazilian had a couple of efforts but failed to test Jordan Pickford who it has to be said played exceptionally well.
Carlo Ancelotti's side were compact and did not allow Liverpool the space that they need to created dangerous chances. It was a good performance from his side who celebrated beating Liverpool for the first time in 11 years.
There of course was still time for VAR and the referees to have their say on the game. A penalty was awarded to Everton in the 83rd minute. Substitute Dominic Calvert-Lewin saw his one-on-one shot saved by Alisson but then fell over Trent Alexander-Arnold who had tried to block the initial shot.
The penalty looked innocuous but none the less was given and converted by Gylfi Sigurdsson.
Phillips slotted in well
Despite another disappointing result for Liverpool, one positive that can be taken is how well Phillips performed.
Coming on for Henderson in the 30th minute, he adapted to the game well and did everything that was asked of him. With Henderson's injury status unknown but a lengthy time out seems inevitable, Phillips could be in line to see regular football.
During the season, he has done an admirable job in defence and in recent performances looked solid at the back.
Jurgen Klopp will certainly have to consider playing him, potentially allowing Fabinho to move back into midfield when is fit in the coming week.
Another disappointing result for the Reds
After Liverpool's win midweek, it seemed perfectly set-up for them to win the Merseyside derby and get their season back on track. That obviously was not the case.
Another game, another injury. What can you do?
Liverpool are now without all three senior centre backs and their two best midfielders who have to play at centre back. Another huge blow for Klopp.
It would be easy to say that Liverpool's poor form is the product of injuries. And maybe it is. But it has to be said that yet again the Reds did not play well and looked toothless.
Liverpool need to do their best for the remainder of the season and regroup for next year. Only time will tell where they finish in the league.