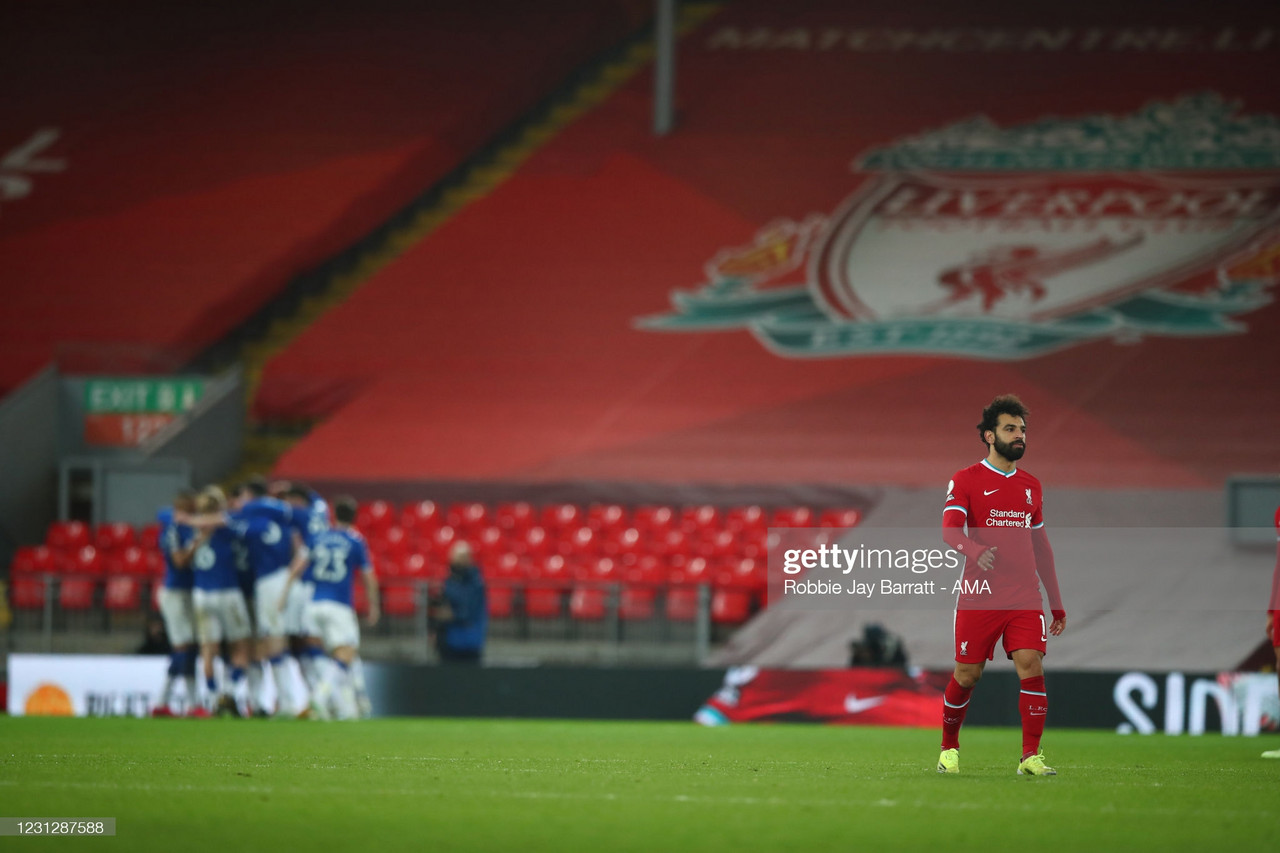 Liverpool looked set to be back on the road to recovery after a confident win against RB Leipzig in the Champions League on Tuesday.
But despite all their momentum going into the Merseyside derby, it only took Jurgen Klopp's side three minutes to concede at Anfield to neighbours Everton.
The Reds had a lethargic start to the match and it was a simple through ball from James Rodriguez which would slice them open. Richarlison skipped past a flat-footed Ozan Kabak and fired a right-footed shot past Alisson to give the Toffees an early lead.
Problems suddenly went from bad to worse for Liverpool. Minutes later captain Jordan Henderson pulled up with an injury and limped off the pitch.
The home side pushed for an equaliser creating some golden opportunities but, despite their best efforts, they failed to find a finishing touch. Something that has become a regular theme in their performances.
The same could not be said for Everton. After being substituted, Dominic Clavert-Lewin won his side a controversial penalty. The English striker toppled over Trent Alexander-Arnold who, after missing his slide-tackle, was left with his back to the play sitting stationary on the pitch.
Gylfi Sigurdsson converted from the spot and gave Everton their first Anfield win since 1999. This loss also marked Liverpool's fourth defeat in a row at Anfield, the first time this has happened to a Liverpool side since 1923.
The injury crisis continues
It took Henderson a few games to become accustomed to playing at centre back but, the Liverpool skipper had begun to look like a solid temporary option for the defence.
After keeping a clean-sheet with his new partner Kabak in midweek, Liverpool looked like they had finally patched up their depleted backline. But, as the story of the season has gone, Henderson limped off the pitch with yet another injury to add to the never-ending list.
No defensive partnership has lasted more than three games for the Reds this season.
It looks like Henderson will be missing a similar period out on the sidelines to Fabinho, who is yet to return to training, and Klopp is once again asked who will be the next centre back partnership?
Whilst he replaced Henderson with Nat Philips against Everton, Klopp still has a big decision to make with who he partners up next. The German has eight days to work out the best-suited duo before next week's trip to bottom of the table Sheffield United.
Kabak will most likely start next week after starting the last three matches. That leaves either Philips or Liverpool's other January signing, Ben Davies, to partner next to the Turkey international. Davies is yet to make an appearance for Liverpool and was out of favour when Henderson needed replacing, possibly hinting that the player has not found his feet in the squad yet.
Another goalless home game
Liverpool have become incredibly familiar in recent seasons with teams arriving at Anfield with the intention of putting 11 players behind the ball for 90 minutes. However, this season they have struggled immensely with this challenge and after scoring early on, Everton repeated this trend.
Klopp's men have scored one goal in their last five league games at Anfield, with that goal being Mohamed Salah's penalty against Manchester City. This means Liverpool haven't scored a goal from open play in their last 5 home games.
Liverpool are missing the poacher's instinct that they had so much of last season. The absence of Diogo Jota has been a huge loss and a big factor to their lack of goals. The Portuguese winger has nine goals in 15 games in both the Premier League and Champions League this season. He also provides an impact off the bench, something which Divock Origi and Xherdan Shaqiri have failed to do in Liverpool's rough patch, including the Merseyside derby.
Whilst players on the bench have been failing to provide an impact when coming on, it is the players on the field who have been failing to score for Liverpool.
During the match, Roberto Firmino, Sadio Mane and Mo Salah were all gifted golden opportunities to score however, they all lacked that vital finishing touch. Firmino lacked any vigour in his shots whilst Salah and Mane both shot directly at goalkeeper Jordan Pickford. This is most likely down to a lack of confidence however, as current league champions they need to erase this doubt quickly if they want to secure a top-four finish.
Where do Liverpool's priorities lie?
The Reds now sit sixth, five points off of the top four. But with Everton and Aston Villa still with games in hand, Liverpool could drop as low as ninth.
After worrying about challenging for the title only a couple weeks ago, Liverpool are now faced with a much more daunting thought of missing out on a top-four spot. Missing out on the Champions League would have a magnitude of implications to the team. They would face a huge financial loss which comes with finishing in the top four. They would also lose the attraction of playing in Europe's most coveted competition for future signings as well as potentially losing some of their own players.
With all these factors in mind Liverpool must priorities Champions League football next season over anything else. Whether this means forgetting about the league and focussing on winning the Champions League or vice-versa, it is pivotal they play in Europe next season.
Despite this atrocious form there is till plenty of time to turn the season around for Liverpool. With 13 games left and the likes of Chelsea and Manchester United still to play there is no reason, Klopp's men can not finish off the season positively.