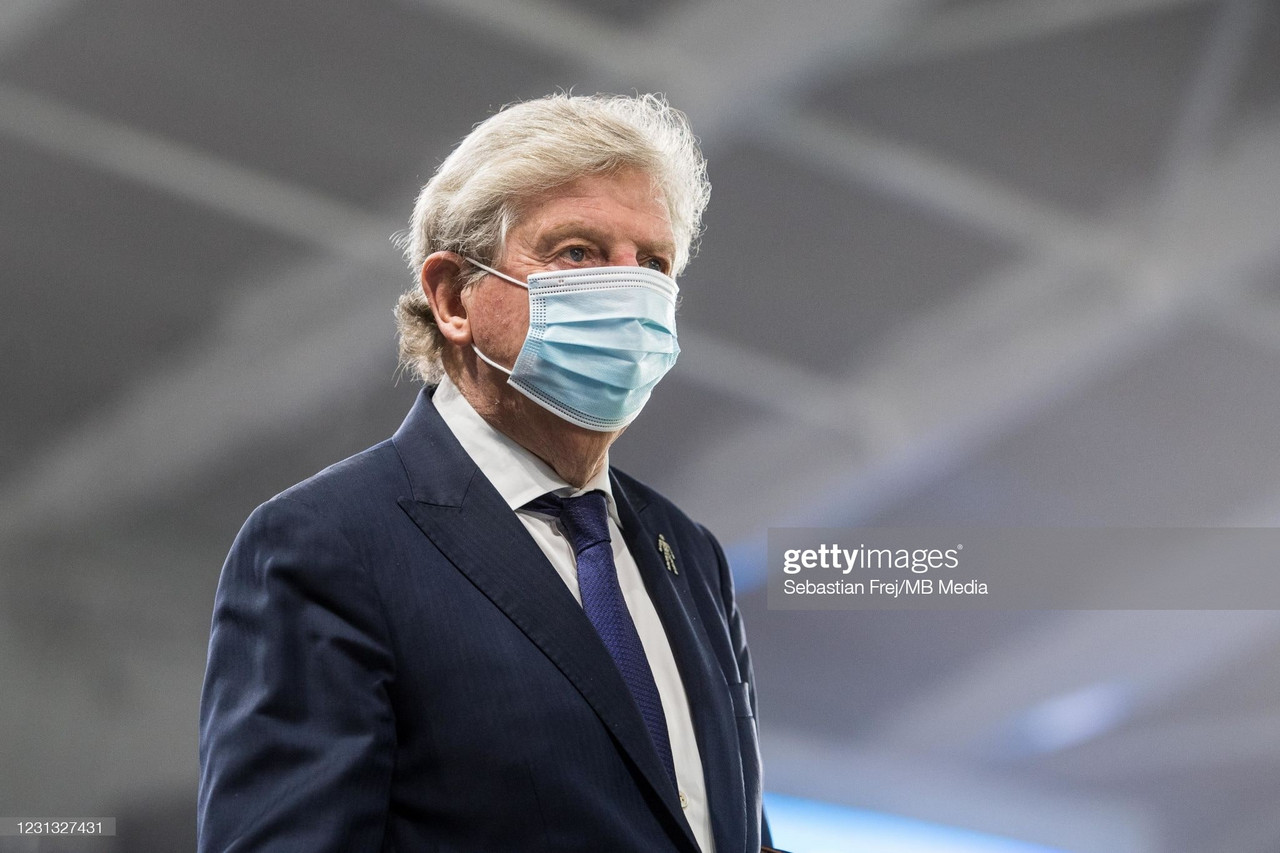 When Crystal Palace kick off against Fulham on Sunday afternoon, it signals a week of football that will see the south Londoners play three games in the space of seven days, with Manchester United at home and Tottenham Hotspur away to follow.
In his pre-match press conference, Roy Hodgson touched on the topic, acknowledging that his decimated squad, which has been ravaged by injuries, is set to brave another barrage of intense games, as the Eagles look to secure their ninth consecutive season in the Premier League.
Palace have fielded the oldest team in the top-flight this season, with an average age of around 29-years-old. However, when asked whether the experience, which is the core value of the squad, should be cast aside in the near future, Hodgson said, "No, it shouldn't. I don't know that when people refer to us as an older side, it's so much as a criticism, but an observation of a fact; we are. We have a lot of players who were not young when I came here four years ago; they were probably in their best years between 26 – 29, but four years on, of course, time takes its toll."
He continued, "Although they do have four more years of slogging through the battles that we have to fight every year to stay in the league, there is no doubt that we would have benefitted, and the club will benefit hopefully, from some rejuvenation because, in an ideal football team, you have a balance between youth and experience. If you look at the very top teams in the league at the moment, very few of them have the average starting age that we have.

"I do appreciate the experience (of the squad). I certainly really appreciate what these players have done during these last four years, while I have been at the club, to try and keep us in the league and our heads above water.
"There is no doubt that they are going to need some help going forward with some younger players, because these games take their toll, and unfortunately, you can't expect a 33, 34, 35-year-old to be as spritely as a 22-year-old."
The contract conundrum
Whilst Steve Parish and Dougie Freedman are the driving forces behind the summer rebuild, when asked if the ex-England and Liverpool manager had made his recommendations for who he believed deserved to stay or depart Palace come the end of June, Hodgson said, "There have not been discussions yet."
Hodgson continued, "I am certain, that when the day comes, I'm pretty certain that the club are informing the players of their intentions in terms of when they really intend to sit down and discuss seriously what the next step is."
He added, "There is a third of the season still to go; these players are under contract. It's not unfair for us to ask those players to keep giving their best, to keep playing at the absolute top level of their ability, in order to earn the money we're paying them. But there will come a time when they will want to know, 'What is my future? Is it still here with you? Or am I going to be allowed to leave?' because they will be looking to find other clubs if they don't get the contract here.
"I know that the chairman and the sporting director are fully aware of that. But I think sometimes, it's not a good thing, if very early on, you let players know that you don't want them anymore at a time we are depending so heavily on them."
He added, "There will no doubt be some of that 11 (players) who don't necessarily get a new contract, and I think the further we can push that conversation with them down the road, and the decision that has been made, down the road, the better it will be for the club, and the better it will be for us in the next few weeks to try and get the extra points we need to stay in the league.
"Don't forget, it's all very well talking about players' futures, but this club's future is important too. These players, who I have been working with this year, they really should only really have one clear goal in their minds at the moment, and that is to make certain they earn their money and do the things they have been asked to do to keep the club in the league. Their long-term futures? Well, that's something they will have to deal with when the time is right."

All three point from Sunday's game could see the Eagles move up to 11th in the Premier League, should other results go their way.