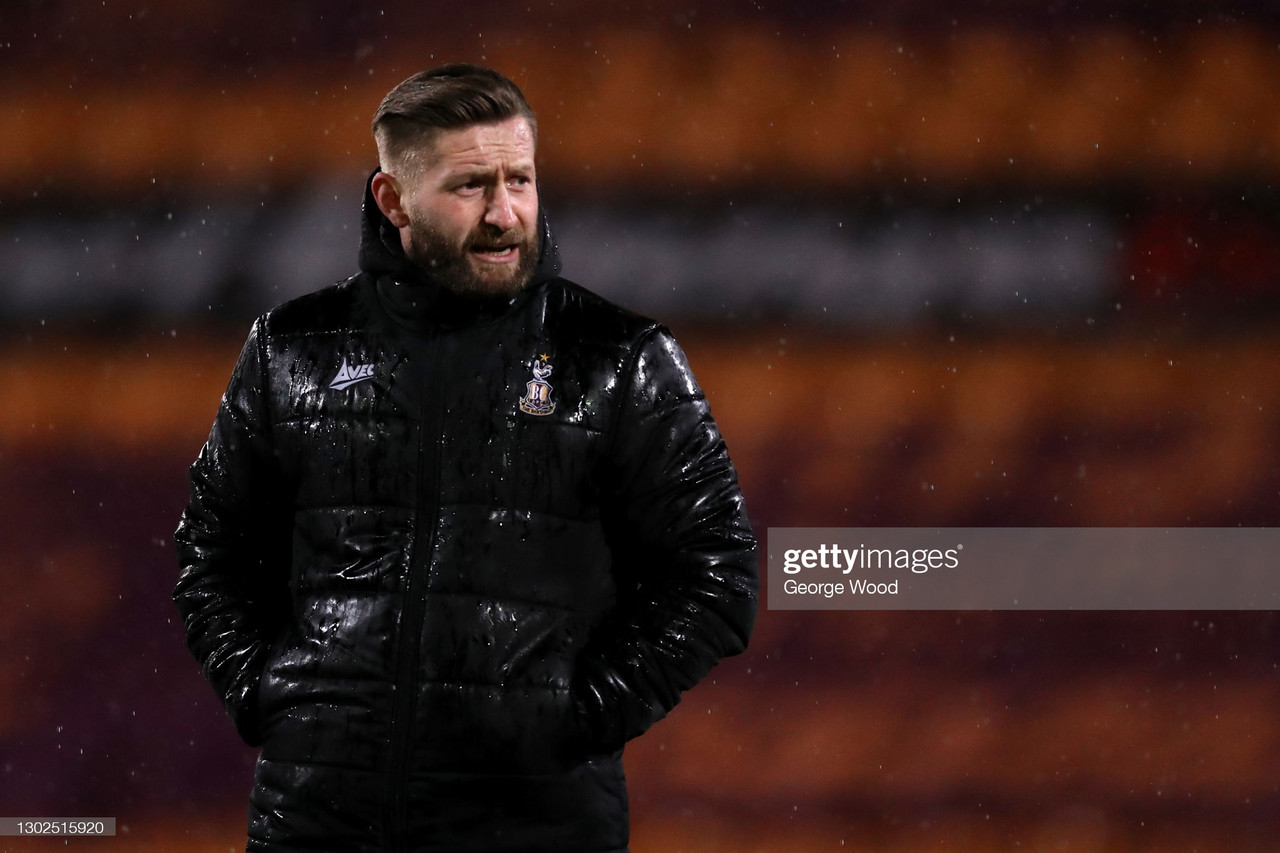 A heroic brace from Bradford City forward Andy Cook was enough to prevent Cheltenham Town from extending their impressive unbeaten run to nine.
Prior to kick-off, Bantams interim manager described the Robins as 'the best in League Two', but was not phased by the daunting task of facing the club challenging for the title.
Bradford named an unchanged side from their dramatic victory over Morecambe on Tuesday night, whilst Cheltenham made the single change with Lewis Freestone replacing the injured Will Boyle. Callum Wright and Sam Smith also made their home debuts.
Cheltenham Town: Griffiths; Raglan, Tozer, Freestone, Blair, Thomas, Wright, Azaz, Hussey, Smith, May.
Bradford City: Hornby; A O'Connor, P O'Connor, Canavan, Wood, Watt, Sutton, Vernam, Cooke, Evans, Cook.
It was the Bantams who had the opening opportunity seven minutes in, when some nice, slick football from Charles Vernam, Gareth Evans and Connor Wood ended up with Levi Sutton on the edge, but his spinning half volley was blazed over.
And just a few minutes later, Trueman's side took charge of the game with the breakthrough, courtesy of Mansfield Town loanee Cook. An inswinging corner from Callum Cooke evaded the outstretching arms of Joshua Griffiths, and found an unmarked Cook at the back post who could calmly nod into the empty net, marking his first goal for the club.
An excellent deep cross from Charlie Raglan found Leicester City loanee Callum Wright in the box, but his header was valiantly smothered by Sam Hornby.
The Robins once again pondered the idea of an equaliser, as an impressive free-kick routine including Connor Thomas was powered towards goal by Alfie May, who recently scored against Manchester City, but it phased wide of the target.
Chris Hussey, whose free-kick's had been an ever-present danger for Bradford, delivered the ball from a narrow angle which struck the face of the crossbar before bobbling clear.
But heading into the second half, and Cook was once again the hero as he doubled the Bantams lead. Despite being against the run of play, an outstanding through ball from Cooke was chested past Ben Tozer by Cook, who barged his way around Griffiths to bundle the ball into the empty net, before wheeling away in jubilance.
Cheltenham looked to immediately respond, as May took the ball into his stride and burst past Paudie O'Connor, but could only drag his shot needlessly wide.
Bradford also had an immediate chance of their own, as the Cheltenham defender flicked his header accidentally into the path of Vernam, but his strike was scuffed wide to spare the Robins blushes.
Elliot Watt made the Cheltenham defence wince as he struck a ferocious effort from 30-yards out and stung the gloves of Griffiths, who could only parry the audacious effort over the bar.
City continued to hunt their third as they broke from a Cheltenham corner, with Gareth Evans playing the ball through to Cooke, but he could only direct his shot wide.
As the clock neared its end, Bradford had one final chance as substitute Ollie Crankshaw attempted a hopeful volley towards goal, but it could only dribble wide.
With some valiant defending and passionate leadership at the back, Bradford withstood the late Cheltenham pressure to leave Gloucestershire with three points and put an end to an impressive unbeaten league run for the Robins.
Prior to kick off, Bradford interim manager Trueman described Cheltenham as 'the best in League Two', so this three points will feel even more sweeter for the Bantams.
Cheltenham were unlucky not to get a goal in this game, but did not do enough to deserve a point against a Bradford side who played a fluid, counter-attacking game. City just sat back and soaked up the constant Cheltenham pressure, but with defenders as talented as Anthony O'Connor, Niall Canavan, Connor Wood and P O'Connor, it would always be a difficult task. With some courageous defending, each defender congratulated one another after every tackle- which just shows the immense team chemistry in the Bradford camp right now.
Meanwhile, a first and second goal for Andy Cook up top will be a major confidence boost for a striker who slightly lost his way whilst at Mansfield. He showed composure and remained clinical, taking his chances and having the calmness to round Griffiths and place it into the net. With Danny Rowe and Lee Novak soon available for competition, it's crucial Cook takes his chances.
The Robins seemed to lose their head a little towards the end, so it'll be interesting to see how Michael Duff rejuvenates his side following an unusual defeat, as it is something they are not used to. A slight dent in their title hopes, but something they will look to put right immediately.
Whilst Cook is the immediate favourite for his immense brace and vigorous work rate, his attacking partner Cooke (with an E) was impeccable today. Not only did he assist both Cook goals, but also was a constant nuisance for the Cheltenham defence and on numerous occasions split play with a delicate through ball or a quick turn that kept Cheltenham on their toes.