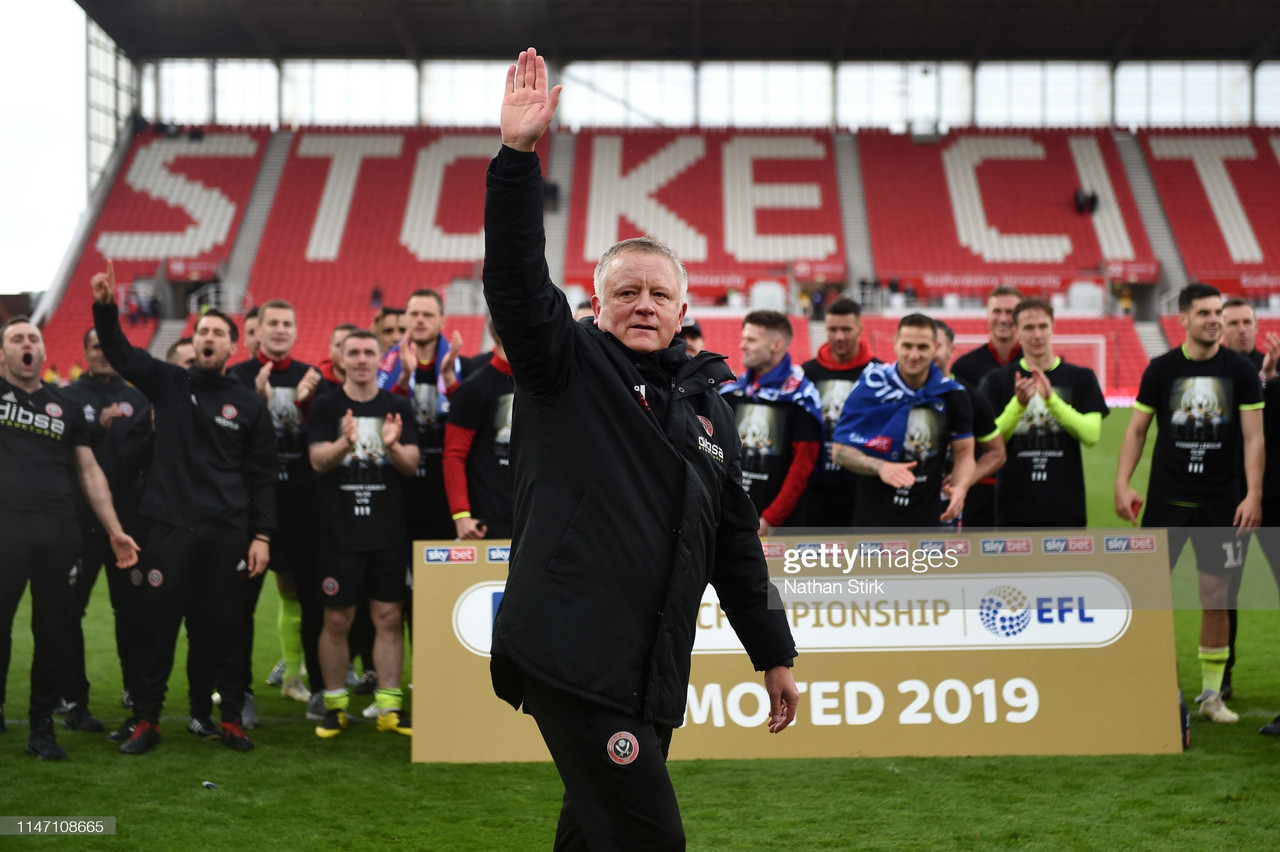 May 2016, Sheffield United had just slumped to an 11th place finish in England's third division under the guidance of Nigel Adkins. As The Blades geared up for their sixth consecutive season in League One they appointed Northampton Town manager and Blades fan, Chris Wilder, no fan would have been able to foresee the rollercoaster ride they were about to embark on.
Nearly five years on from his appointment and United have soared up the divisions under his leadership, and even had a brief flirt with European football on their return to the top flight last season.
Just eight months after he secured their their impressive top-half finish, the fairytale looks to be all but over in the Steel city, after a breakdown in the relationship between himself and the board according to the Daily Mirror.
VAVEL spoke to the editor of the Dem Blades fanzine, David Taylor, season ticket holder Nat Baker and commentator Callum Cheswick to reflect on Wilder's five years at Bramall Lane.
How much of a blow is this for Sheffield United's near future?
David: "Our near future is pretty wrapped up: we'll almost definitely be playing in the Championship next season. Hopefully any results hangover will be confined to the season-long hangover we've suffered so far in 20/21, and the team can start afresh in August. These are professional footballers, so you'd hope that they can continue to work hard for a new manager, but the impact on the fanbase is something that will arguably be longer-lasting. After all, Chris is a Blade who has been living our collective dream."
Nat: "A huge blow would be an understatement, everyone knows we are going down this season and I think everyone has come to terms with it, especially the way this season has gone with injuries and the absence of fans. But most of the fan base were optimistic ahead of next season, with a lot of the players being proven Championship players and with Wilder's experience in that division, It felt like there was no one man to take us back up. You only have to look at Norwich's patience, in sticking by Daniel Farke and how that has paid off – as they look destined for an immediate return to the Premier League.
"What worries me most is that these players have done so well because they have been drilled into Wilder's favoured 3-5-2 system, and when everyone is fit, it's proven to be successful. But whoever replaces Wilder will probably want to change the formation and philosophy, which I do not think will be easy for the current squad."
Callum: "It's massive blow, simple as that. We know we're down and yet everyone I know wants Wilder to stay, I think that says a lot. Having to work on a tight wage budget, with a group of players he has bought up the divisions and respect him, multiple promotions, and his background of knowing the club inside and out. He was the perfect man to bring us back up from the Championship.
"Whoever the board bring in, they'll be expected to get play offs at least. But whoever does come in will want to chop-and-change players I'm sure and potentially change shape and the patterns of play. The only way I believe we could've really thrived next season, was with Wilder in charge. Now, we have to start all over again next campaign."
Does Wilder have reasons to be frustrated with those above him?
David: "Absolutely. By no means is Chris absolved of any blame - there have been moments of stubbornness and confusing recruitment choices - but much of his reaction has been due to the words of those above him. Granted, we're not privy to what's really gone on, and significant money has been spent, but there's been a feeling for a while that something doesn't quite tally up. It's perhaps a case of the board promising too much and playing the PR game too well. Wilder, above all, loves Sheffield United - he wants what's best for the Club."
Nat: "Wilder has every right to be frustrated. Since his time managing at Bramall Lane there have been issues at the board level – none more notable than the lengthy court case over the club's ownership. When United got promoted to the Premier league Wilder stated that the training facilities needed upgrading as they were up to a Premier League standard and nearly two years later there have been no upgrades.
"With lack of backing from the board this forced the manager down the route of spending his (limited) funds on young players such as Rhian Brewster and Aaron Ramsdale. In the hope of developing them himself, and potentially selling them at a profit later down the line."
Callum: "Yeah, I think he does. Obviously, the team hasn't done great this season and I can somewhat see why the board didn't want to bring in any players in January. To try and put a director of football into the club, especially while everyone around it is vulnerable at the moment is quite a poor move, it looks like you don't trust Wilder really. And while I'm sure he would be the first to say some of his signings haven't worked out, especially this season, but doesn't every manager make bad signings? There was a compromise to be met along the lines of recruitment and the management staff, but it seems they've decided it is better for both parties if they went their separate ways."
Has Wilder become a victim of his own success?
David: "Any manager who has developed and pushed forward a team of players of this calibre and a club set-up of this level so quickly would be fighting a losing battle. There's only so far you can take a club in a short period of time, and in five years Chris and assistant Alan Knill have taken United further than anyone thought possible. It's a series of magnificent achievements that will cement their place in United's history.
"One could argue that this was a challenge too far, but I would have expected them to bring us immediately back up and continue to work on our consolidation in the Premier League. Their departure is a deeply concerning moment for Sheffield United."
Nat: "I personally think the club got promoted to the Premier League too quickly, as this meant that the wage structure wasn't given time not develop.
"Wilder achieved miracles with the budget and squad that he had at his disposal and when we got promoted from the Championship the fanbase did not care how well we did, it was a journey, and everyone wanted Wilder to stay no matter what happened. With the club finishing 9th in their first season back in the top-flight, I think everyone including the owners became disillusioned and expected miracles to continue happening."
Callum: "There's a lot of other factors which have certainly gone against him, with fans not being in the grounds, the Covid-19 situation as a whole and not being able to bring in his first choice targets. It's amazing how much difference a year can make, around this time last year we were watching the Blades beat Norwich to extend our European hopes, fast forward to now, we've lost our best ever manager and about to get relegated. Where is our hope?
"I certainly think Wilder has certainly been held to higher standards due to his success. And while yes, hold high standards, but with how things have been at the club both on and off the field, to expect him to pull off the same miracle. Back him and you'll see an unreal manager, put a lot of doubt in the public eye and well, you can see what's happened."
Are there any managers you'd like to come in, or does the public spat with the owners make it a job to avoid?
David: "The job feels almost insurmountable: get fans onside, get results, manage the boardroom. Coming in now is like bringing your new girlfriend to Christmas Dinner after divorcing your universally-loved wife of twenty years in November. Whoever it is, they have a herculean job in store, both on the pitch and in the stands."
Nat: "Personally, I think if we get a manager as half as good as Wilder to come in that would be considered an extremely successful appointment, no one could ever replicate what he did. He is the easily the best manger Sheffield United have had in my lifetime. I genuinely cannot think of a manger that I would want, not even Eddie Howe, perhaps Rafa Benitez, but that's unrealistic.
"I can see the club bringing in a 'yes' man, and perhaps going abroad for an unknown manger, which I can't see being a good choice, as I don't think the new manager would have a lot of time to prove himself amongst the fans, off the back of Wilder's unwanted departure."
Callum: "I think it's still early days to think about who to come in, personally no one sticks out in my mind who I want to replace CW. I'd expect the board take their time with this next appointment, as it is probably one of, if not the biggest in the club's history now. We'll either sink or do we swim.
"There's no need to rush the appointment, we're basically down, wait it out until the end of the season, do your research, see who fits the club's philosophy and go from there. Although names getting banded about such as Neil Lennon and Danny Cowley, while they might have good ideas in their own right, pretty uninspiring in my opinion."
And finally, what was your favourite moment under Wilder?
David: "It all feels like one long, happy experience, but if I have to narrow it down, it's probably his impassioned, authentic - and drunk - radio interview during celebrations after promotion from League One. Say 'every three weeks I need me hair cuttin' to any Blade, and a smile will erupt on their face. What a ride it's been."
Nat: "It's so hard to think of one, as there's been so many wonderful memories which will be had to ever beat. But the one moment for me is when he is getting interviewed during the League One celebrations and he is talking about getting his hair cut. The interview just shows he is one of us and how much he loves this club, which makes it even sadder to know he is leaving.
"Another honourable mention would be during those celebrations when he almost fell and dropped the trophy off the bus, which was so funny watching it live."
Callum: "There's a few. The celebrations after our promotions from League One and the Championship. The passion and care he shows in his interviews. But one in particular is from when I used to work in the club shop, and there was a staff party after our promotion from League One. I remember going up to him to grab a photo and thank him for giving me my love of football back, to which he shook my hand and had that like half a hug. We were both a few beers down at that point, but I'll always remember it."