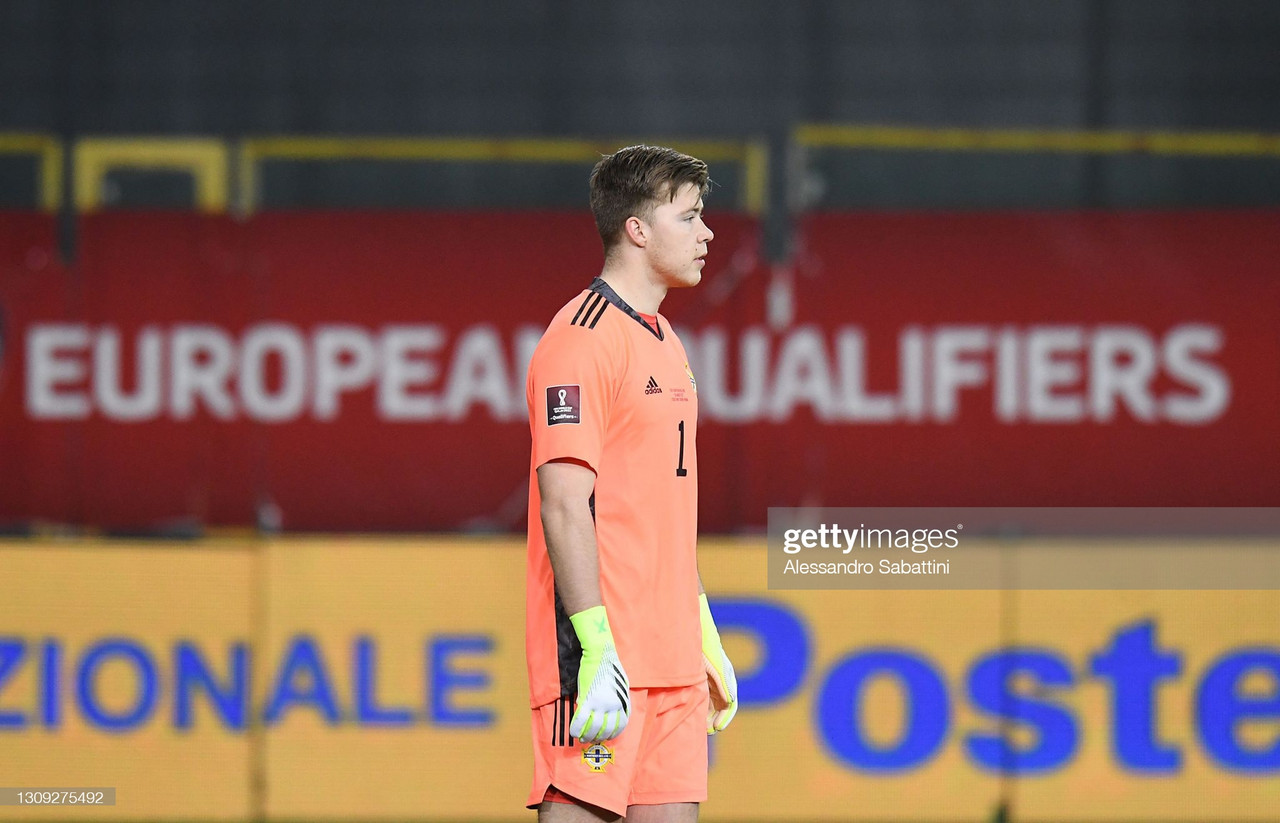 Nick Pope has established himself as one of the best goalkeepers in the Premier League with 35 clean sheets in his 101 games for Burnley.
That has left very little room for Bailey Peacock-Farrell to make an impression since his move from Leeds United in 2019.
Despite only making five appearances in all competitions, the Northern Ireland number one has conceded 10 goals.
That includes five at Manchester City earlier this season in what was his first and only league appearance to date.
And this lack of playing experience has affected Peacock-Farrell according to his international manager, after Domenico Berardi beat the 'keeper at his near post for Italy in the 2-0 defeat on Thursday.
"It is tough, he's a young player and he's inexperienced at times to deal with situations where he is not playing regularly.
"I think more-experienced players can deal with that a bit better but it is the situation it is.
"He has pulled off some smart saves and he is building that experience," said Ian Baraclough, Northern Ireland manager.
So, what can the goalkeeper do to kickstart his career?
Time to move on for good
Unfortunately, this seems to be the most realistic way to go for Peacock-Farrell as his Clarets career has not got off the ground.
He was a bright talent at Elland Road before making his move to East Lancashire and is extremely young in goalkeeping terms at just 24.
This gives him plenty of time to get going again, by moving on to a team that will actually need him.
Bournemouth and Watford are two sides looking to bounce back to the Premier League after relegation's last season, and both have an aging goalkeeper's union.
The Cherries have Asmir Begovic who could be on his way out if they stay in the second tier, so first team football would be guaranteed there if they fail to get promotion.
Ahead of the 2022 World Cup, Peacock-Farrell needs to be playing regularly to be ready in Qatar if his country manages to qualify out of their qualifying group.
He wouldn't command a massive fee as he just hasn't played enough to justify as such, so it would be a shrewd move for a Championship side looking to progress.
Prove himself on loan
Plenty of Championship clubs will be eager to get a quality goalkeeper in their ranks for the 2021/22 season, and Peacock-Farrell could make the most of the loan market.
Teams coming into the second tier would benefit hugely from someone who has been a success at that level before and has experience playing at a higher level.
Should Sunderland or Hull City earn promotion, they could go in for the 'keeper to make sure they remain in the second tier, where they belong.
Other teams in the division that could benefit from a season of Peacock-Farrell are Queen's Park Rangers, Millwall and Preston North End.
A loan keeps him playing at a good level and would set him up for a return to Burnley or a move elsewhere the summer after.
He could stay at Turf Moor
Yes, leaving may be his wisest move, but Peacock-Farrell could stick it out at the club.
Pope has been a stalwart for Sean Dyche over recent years which has meant he has earned himself many admirers.
Tottenham Hotspur have been linked to the current England number one this season and could be in the market in the summer if Hugo Lloris ends up leaving.
That opens the door for Peacock-Farrell to go grab his chance in the top-flight.
Burnley aren't known to be big spenders and would probably have to dip into the EFL if they were to sign a replacement.
Any money made from a sale for Pope should be reinvested into the outfield squad, as injuries have really shown how threadbare the team is.
This is obviously a massive gamble and not one that is guaranteed to come off but, if it does materialise over the next few months, it would give him a great opportunity at the highest level.
It would also give him two or three months of consistent football ahead of the World Cup should the Northern Irish team qualify.
All three options are plausible for Peacock-Farrell, it's down to him to decide which is best.