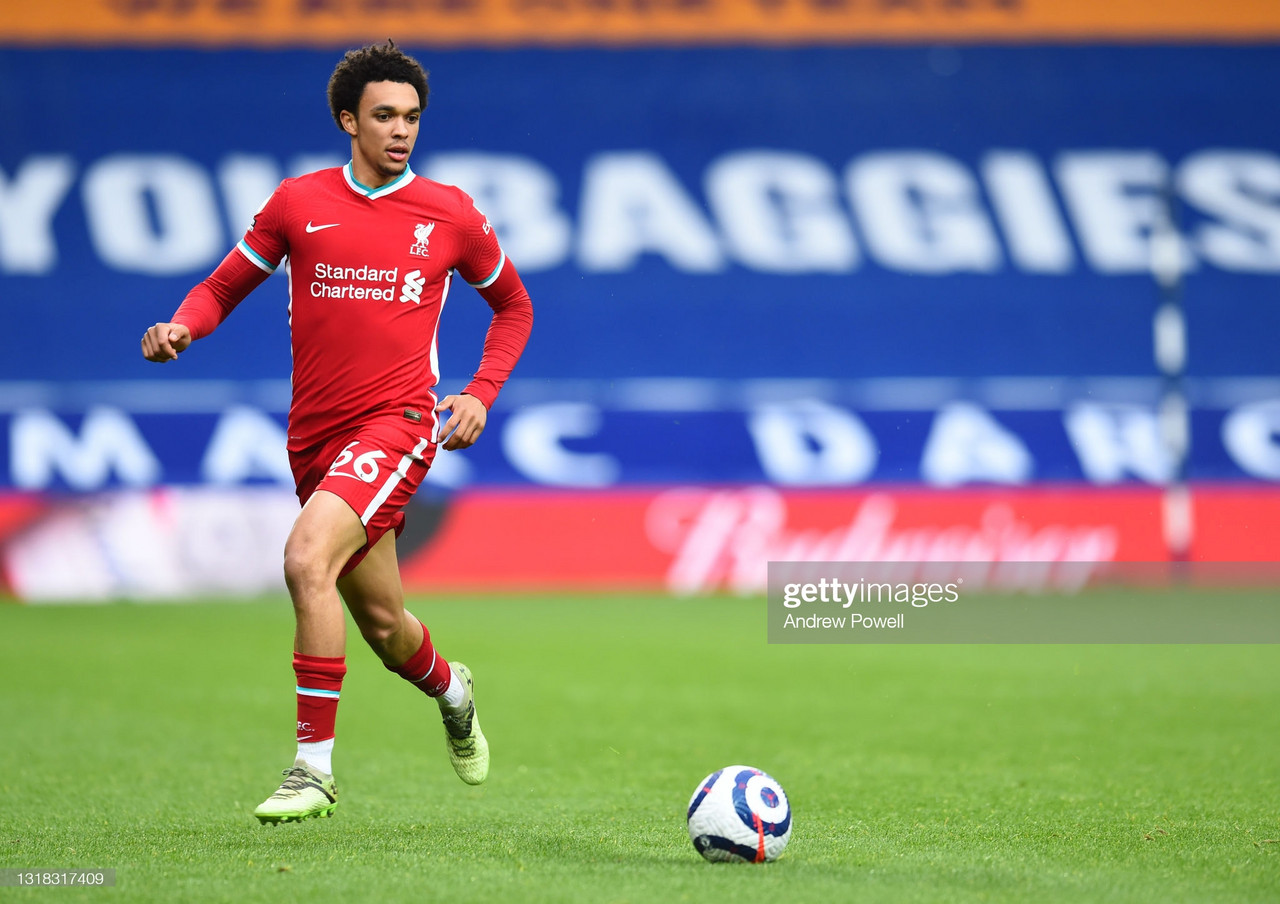 Jurgen Klopp has heaped praise on Trent Alexander-Arnold as he expressed his delight at the full-back recently making "big steps" in his career. It has been a whirlwind season for the 22-year-old who has seemingly become the victim of his own recent success, which saw him rise to international and continental stardom so early in his senior career.
However, this season hasn't been plain sailing for Alexander-Arnold, his pre-season was disrupted due to catching Covid-19 later followed by a calf injury sustained in Liverpool's draw with Manchester City at the Etihad in November. His return from injury cumulated in the final few weeks before Liverpool's season began to decay due to an unprecedented injury crisis.
The New Year saw Klopp's men spiral down the table as they slumped to six straight Premier League defeats for the first time in the club's history.
Inexperienced trio Nat Phillips, Rhys Williams, and Ozan Kabak were all used as Liverpool tried to stop the Anfield rot and salvage their season. Jordan Henderson and Fabinho were also used as make-shift defenders as the Reds looked to somehow fill the Virgil Van Dijk-sized gap that had been left.
The decision for Klopp to use his two most trusted midfielders upset Liverpool's rhythm and balance, as Alexander-Arnold and Andy Robertson were starved of their upfield protection. Something that made the duo, especially Alexander-Arnold, obvious targets for any chancers fancying their hand at taking maximum points from the champions.
A rotten run of form saw Liverpool's No.66 dropped from Gareth Southgate's squad for the March internationals, as the England manager insisted "he's not played at the level he's been at during the last few years".
Either by the recent sustainability of Liverpool's defence or in reaction to Southgate's comments, Alexander-Arnold has since reclaimed the majestic form that led him to him being an enormous figure in Liverpool's recent success; highlighted by the remarkable events that took place at The Hawthorns on Sunday afternoon. When his faultless delivery assisted Alisson Becker's remarkable header to win it late for the Reds. Somehow, keeping their top-four hopes flickering when they looked destined to be extinguished.
Not only has he being contributing with vital goals and assists, but he's been Liverpool's most experienced defensive figure, tasked with marshalling his colleagues in the absence of Van Dijk, Joe Gomez and Joel Matip. Klopp explained how the leadership role has come naturally to him, something that the Liverpool boss suggested was the next step in his career.
What has been said?
When asked about how impressed he has been with Alexander-Arnold's leadership, Klopp explained that he had come naturally to the Liverpool academy graduate, something that signalled a massive stride in the youngster's career.
"It was clear that it had to come with the quality and skills of Trent and the potential he has it must be for him the next step, that was always clear. I'm not sure we were working on that but we were talking about that already for a while, and it must be completely natural and it looked natural," Klopp revealed.
"Robbo and Trent in this team are very, very, very important players and they have to behave, especially in tough moments like that (WBA Corner), they have to be aware of that and they are so that's good and it's very helpful. Trent made another big step in his career, definitely. Anyway, it was clear that it would come because the basis he has is exceptional good and it was always clear he would make the next steps and now he's made them."
What about his season so far?
Earlier in the press conference, Klopp was asked how he assessed Alexander-Arnold's season so far.
He replied: "Trent's had a good season. He had 20 odd different CB partners. So he has a bigger influence on organising. A world-class talent to an organiser is a big step but he did. In a good moment, long may it continue."
Touching on his inch-perfect delivery in Liverpool's last outing, Klopp couldn't speak highly enough of Alexander-Arnold's composure to produce such a perfect delivery in a time of need.
"This was a world-class corner from Trent, not the first or last. Phillips could have scored, Sadio was in position too. We shouldn't take that for granted. World-class players in decisive moments can deliver an average set-piece because of pressure. His corner made it."