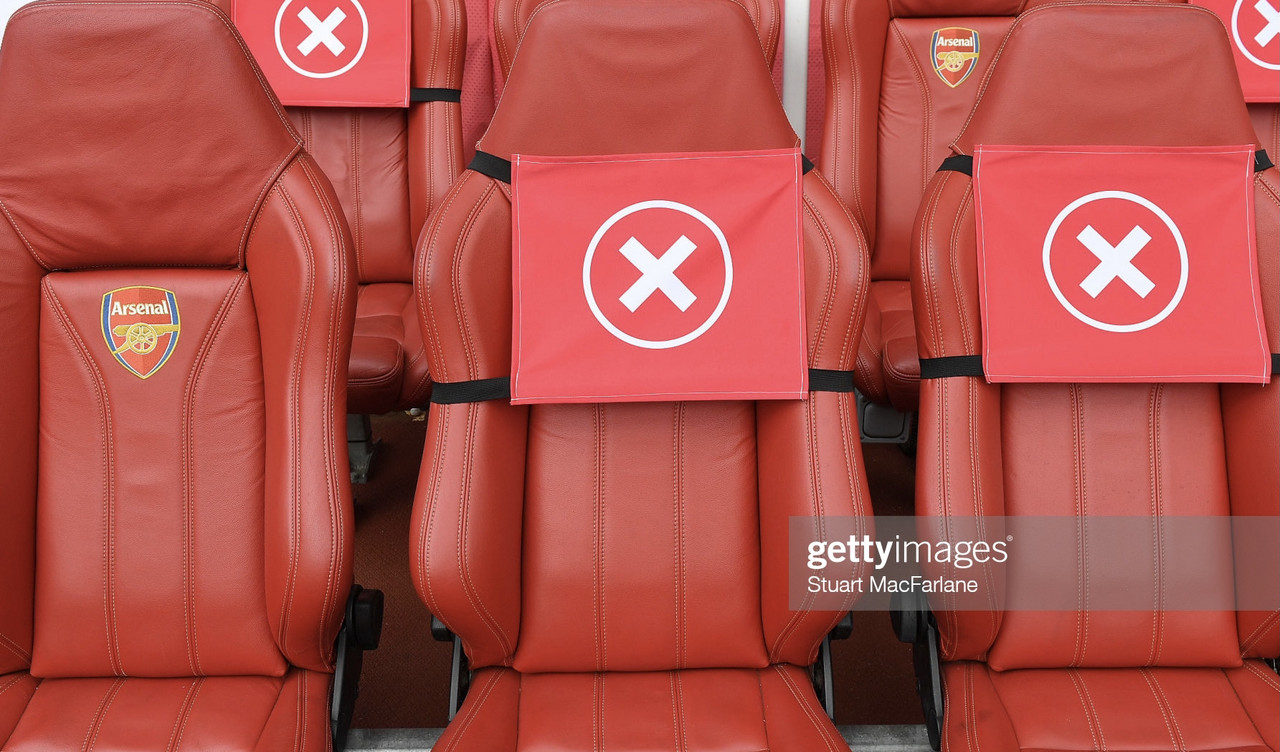 According to multiple reports emerging, Arsenal will have another 'clear out' following the conclusion of the season.
KSE (Kroenke Sports and Entertainment) have declared they will back manager Mikel Arteta over the summer transfer window but will need to raise the funds through selling players in order for Arteta to try and lure his transfer targets to the Emirates next season.
David Luiz, Dani Ceballos, Ainsley Maitland-Niles, Hector Bellerin, Sead Kolasinac, Alex Runarsson, Joe Willock, Eddie Nketiah and Alexandre Lacazette could all leave for the right price in the window.
Here is a look at the most significant potential departures and what effects they may have on the team next year...
With 17 goals, Alex Lacazette is the Gunners' top scorer in all competitions this season, making his potential departure an unattractive prospect for a lot of Arsenal fans.
But with only one year left on his contract, earning around £182,000 per week a move in the summer could bolster the clubs pockets in the hunt for new stars to acquire.
According to Football.London clubs from Italy, Spain and France have all made contact with the strikers' representatives. The in-form Frenchman could well angle himself for a move away from the club if he wants guaranteed European football next year.
Equally, being valued at around £30 Million pounds would garner vital funds for Arteta to bring in a big-money player.
However, as previously mentioned, being the club's top goalscorer makes Lacazette a vital commodity for the Gunners and potentially saved the managers job this season.
With Pierre Emerick Aubameyang not looking likely to rediscover his record breaking form any time soon, the team could greatly suffer at the hands of 'Laca's' absence next year.
Joe Willock is an extremely sought after player at the moment due to his current rich vein of form. Newcastle United (The club he is on loan to) have expressed their desire to sign him on a permanent basis this summer, after picking him up on loan in January.
The original deal benefited both parties as the Magpies needed to strengthen their thin squad with the Arsenal youngster, who was out of favour and not playing games under Arteta.
However the 21 year old has morphed into a record breaking attacking midfielder since finding his feet at St James' Park. Last week he broke the record for the youngest player to score in six consecutive Premier League matches, heading hard and accurately into the Sheffield United net.
Newcastle could sign the Hale End graduate for around £20 Million in the summer, with his departure potentially allowing room for another player to come in.
However, With midfielders Ceballos, Guendouzi and Torreira all leaving the club in the summer, Arteta would only have Partey, Elneny and Xhaka as central midfield options.
If Arsenal don't manage to meet Brighton Hove Albion's hefty £40 Million price tag for Yves Bissouma, the club could be left with serious issues regarding midfield backup.
Hector Bellerin is the clubs longest surviving player from the days of Arsene Wenger. The spaniard is also a Hale End graduate and has played 239 games for the club.
However his time at Arsenal could be coming to an end as the club seek to raise funds to make Martin Ødegaard a full time Gunner.
Although the full-back's contract doesn't run out until June 2023, he has been out of favour in the team as Arteta has picked Cedric Souares at right back on multiple occasions this season.
The defender is already rumoured to have agreed to join Ligue 1 giants Paris Saint Germain in the summer. With the Parisians known to easily fund their transfer business, the north-Londoners could bargain a high price for the player.
If sold, Arsenal will only have Cedric and Calum Chambers as right back options and may need to implement some more youth into the defensive positions as Ainsley Maitland-Niles looks set to also leave the club.
The Gunners' are likely to bring one or two big name players to the Emirates in the summer as they do every year to maintain their 'big club' status, but that unfortunately wont fix squad depth issues in the squad if a lot of players leave the club.
If theoretically Arsenal go out and buy Yves Bissouma (their most heavily linked player at £40 Million) and sign Martin Ødegaard on a permanent deal, the club will be already looking at nearly £90 Million spent, and therefore surely wont have any remaining funds to buy backup players to help squad depth.
The Gunners' have only spent over £100 Million in one transfer window twice in the last six years in and aren't exactly in the best financial position to spend that money this summer.