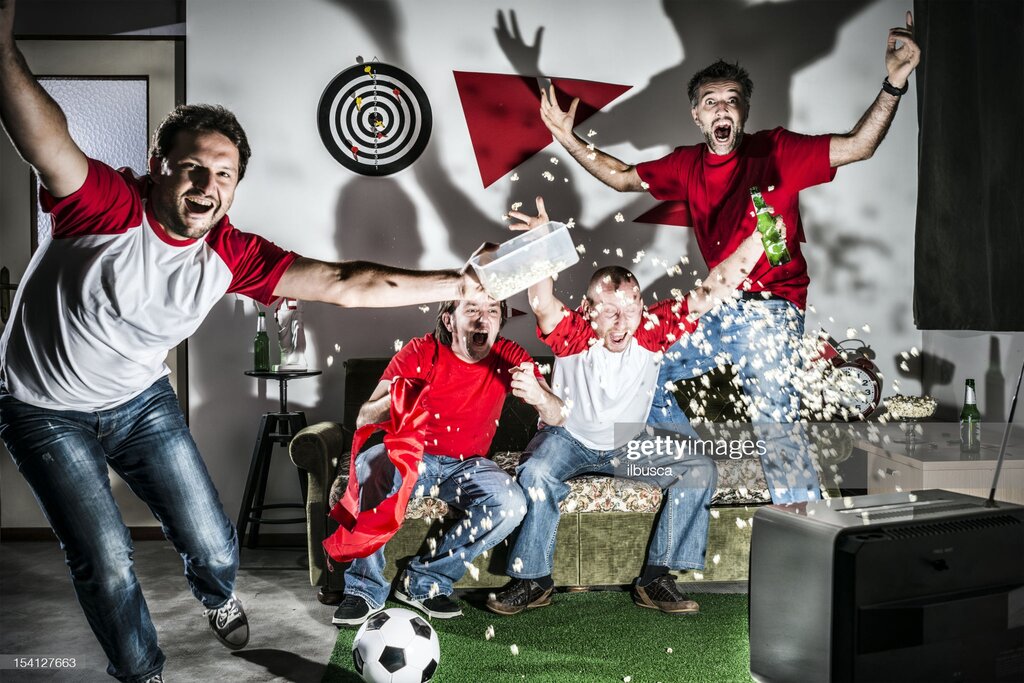 In this day and age, football fans are hungry for real-time content, alongside any extra footage they can get their hands on of their favourite teams and players.
Behind the scenes footage, training videos, and press conferences have all formed a large part of the media approach employed by clubs and national teams across the world.
Long gone are the days where fans who did not attend fixtures had to follow their football in the paper or at home using Teletext, fixated on a screen that displayed just the scorers and red cards for 90 minutes.
The modern game has evolved alongside technology to ramp up the match-day experience for non-stadium-going fans.
A prime example would be the FA Cup final experience, throughout the '70s and '80s, when coverage began early in the morning and lasted till late in the evening.
Football has become very accessible to the average fan, and till recently - before the mass commercialisation of the sport - it was also very affordable.
Not too long ago, England friendlies and European competitions - such as the Champions League and Europa League - were free to air, till the likes of BT Sport and Sky Sports acquired the rights to broadcast.
These expensive broadcast packages have created a huge industry of illegal streams as fans seek cheaper alternatives to the expensive monthly payments demanded by Sky and BT.
As these broadcast deals make up huge amounts of club revenue, allowing them to invest in their squad and facilities, it is unlikely they will be rivalled due to the global appeal they have successfully created.
Marketability is a large factor of these broadcast deals, and as they have worldwide reach, it is a great opportunity for teams to attract sponsorships, partnerships, and investment.
This is something the lower league sides and grassroots academies have noticed and are aiming to emulate.
The quality of non-league, youth football, and Sunday League football has increased consistently over the past few years.
With the competitive element and raw nature appealing to more fans in this digital age, consumption of content at these levels are at an all-time high and likely to continue to grow.
A combination of football, music, and comedy has seen clubs such as SE Dons, Rising Ballers, and Hashtag United amass hundreds of thousands of followers around the world.
Since the likes of Palmers FC paved the way for Sunday League from 2014 onwards, the industry has become a hot topic and continues to exceed expectations.
Footage from the games is uploaded onto their respective YouTube platforms on a regular schedule, often weekly, showcasing the highly anticipated highlights from league games.
In such a market with great potential to further its growth, alternatives have to be found, and technological advances must be used to keep up with the rest of the industry.
Live streaming could become the new normal in YouTube football, helping it to expand to yet another level and become an additional way to create revenues on top of already existing sponsorships and merchandise.
For those supporters who aren't local, so cannot attend games but feel strongly about these clubs, a virtual ticket could be the answer allowing them to follow their team in real-time.
A regular live stream across these leagues would also allow clubs to maximise sponsorship deals of local businesses and also global brands such as Football Manager who sponsor Hashtag United.
With fans now able to return to live games following the pandemic, the focus will be on welcoming them back to Sunday League football.
It will only be a matter of time, however, till we start to see major advancements in the streaming world for these clubs.
The Norwegian-based company, Joymo, has entered the UK Live Streaming market relatively recently to provide affordable broadcasts for clubs up and down the country.
A key selling point for Joymo is their ability to allow clubs to maintain full ownership of their content and data once it has been uploaded via the app, unlike some other platforms we see clubs use.
Neil Mosley, who is head of Sports Partnerships at Joymo, has formed relationships with semi-professional teams in both the Essex League and the Northumberland Football League.
He spoke of how the traditional methods involving filming crews and fixed cameras didn't provide live footage while also costing clubs more than it was worth.
Their partnership with Robert Kasanga's Hackney Wick FC has allowed the club to monetise adverts with club sponsors 'GAFFER' and Noble Solicitors.
The Wickers aim to make positive social change in their local area through providing opportunities, hosting tournaments, and giving insight into different aspects of life. They are also looking to fundraise for the construction of a stadium in the London borough of Hackney.
Joymo TV's affordable live stream enables the club to funnel in revenue by encouraging supporters to purchase the stream, and this will help the team reach financial goals sooner.
Live streaming with Joymo also enables players to have access to their footage and save their most memorable memories despite not being on the grandest of stages.
Mosley predicts the market will fragment in the near future, as live streaming becomes adopted at all levels up and down the country. This means clubs that begin now are most likely to reap the rewards as they joined earlier on.
When asked about the process, the CEO of Joymo, Mike Emery, had this to say:
"Live streaming content is a massive opportunity for grassroots sport. Sustaining grassroots teams and clubs is challenging at the best of times, but our technology enables them to generate revenues by simply using a device that everyone owns - a mobile phone. It's so simple to operate but can have a huge impact. It means people who can't attend matches in person can watch live or on-demand anytime, anywhere."
"Clubs set the access fee, which can be pay-per-view or a longer-term season ticket, with the proceeds going back directly to the teams. It really is a win-win, and we are seeing a huge amount of interest as grassroots sport returns post-pandemic and clubs are looking to find ways to fundraise and engage player and fans."
Rising stars are growing in popularity due to their presence on social media from a young age, and these players are put on a pedestal early in their careers and expected to flourish despite all the pressure on their shoulders.
While clubs are spending more than ever before, talent such as Phil Foden, Mason Greenwood, and Bukayo Saka are still breaking through and grabbing headlines.
Through social media accounts, such as Rising Ballers and The Secret Scout, the progress of youngsters is easier to track, and this has excited fans who are attempting to spot their club's next gem.
Live streaming has become a common feature at this level for clubs such as Crystal Palace, with many more set to follow suit.
Whether it be to allow friends and family to support, to broadcast talent to supporters from such a young age, or to increase exposure, the team are always benefitting from this technology.
Especially with the disruption COVID-19 has caused over the past year or so, fans have missed a lot of development amongst their youth and will be eager to consume as much content as possible.
On the topic of Covid, scouting has been extremely difficult to carry out while in Lockdown, agents and Talent ID staff have had to improvise in order to keep tabs on promising talent.
Footage of games across the ages is stored in the archives, forming a portfolio for the athletes, often coming to the front when players make debuts, score memorable goals, or participate in memorable moments.
Live streaming across the ages would create more opportunities for younger players, as scouts would be able to tune in across the world, regardless of location.
Greater exposure would mean there is a greater opportunity for players to make noise and showcase their ability.
At a time where Brexit regulations have forced clubs to look more at talent within the country, live streaming youth games would support the production of homegrown talent, especially in areas scouts don't particularly tend to attend regularly.
A world where every football match is live-streamed and available to watch does not feel far away, this is something fans of 'smaller' teams will welcome as they often get overlooked when it comes to the TV broadcasts.
The entrance of live streaming giants Amazon certainly had a huge impact on the Premier League, showing the future does not certainly remain only on TV broadcast deals.
There is a great possibility that Amazon will continue to acquire the rights to more fixtures across the season and offer its own sports broadcast package separate from Prime.
Businesses such as DAZN are also growing in the market and will look to enter the Premier League market, having already grown their hold on Serie A in Italy.
With the number of grassroots academies trying to give young players the platform to earn professional contacts on the rise, there is an opportunity for live streaming deals across all levels of the sport.
How soon change occurs and how great the change is, remains to be seen. However, one thing that can be said for sure is that change is coming.