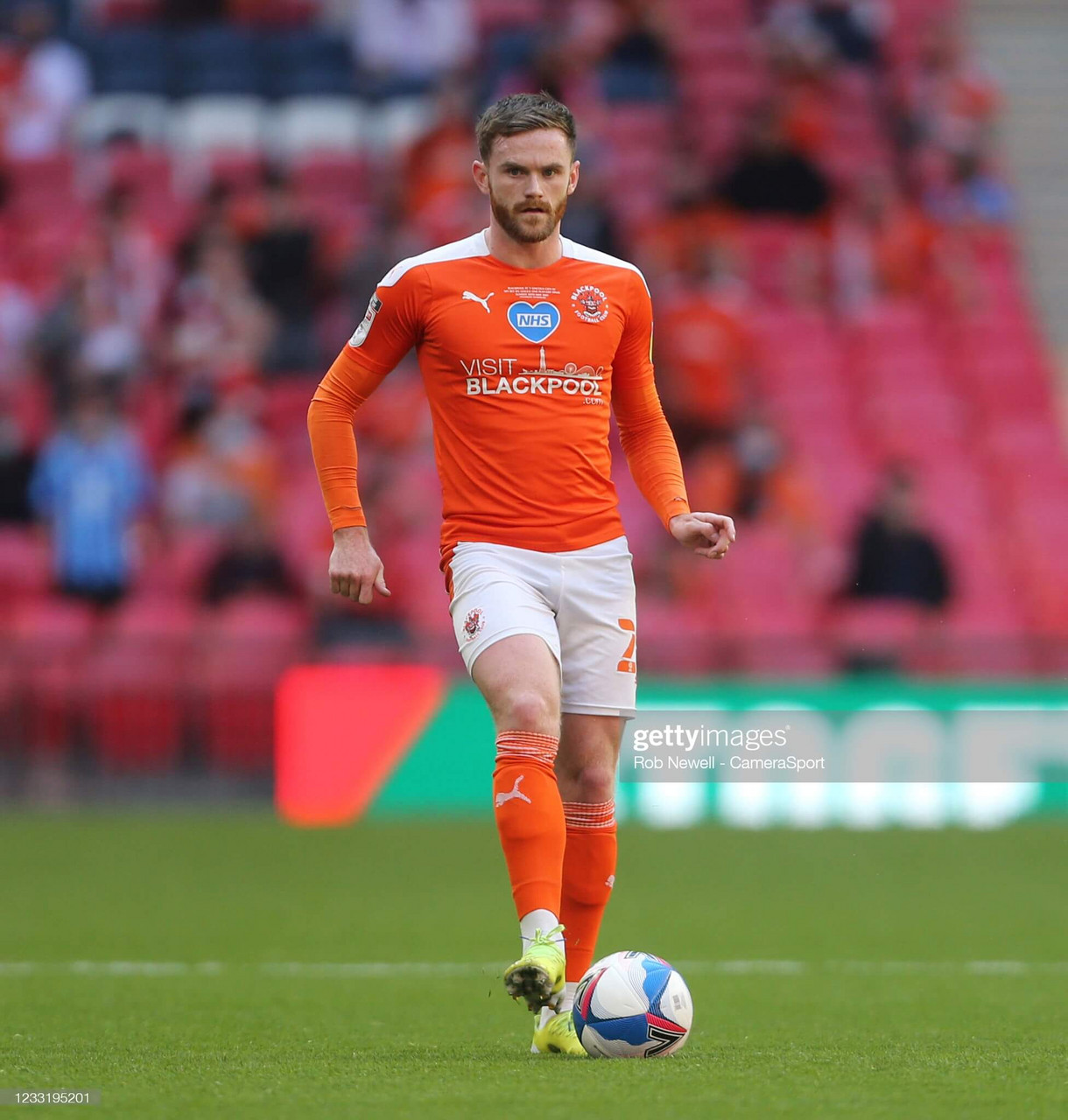 Huddersfield Town continued their lively start to the summer transfer window yesterday, completing the signing of versatile right-back Ollie Turton on a free transfer from newly-promoted Blackpool.
The 28-year-old will join the Terriers as a free agent on 1 July and will prove to be a much-needed addition for the West Yorkshire side.
So with the transfer officially announced and Turton confirmed as a Huddersfield Town player for next season, it felt necessary to take a closer look at what the former Crewe Alexandra defender will bring to the John Smith's Stadium.
Much-needed cover at right-back
After Huddersfield announced that Demecaco Duhaney would be released at the end of his contract last month, it became vitally important that the Championship side brought in a right-back to provide backup to the first-choice Pipa over the summer.
That's what makes the signing of Turton this early into the summer so impressive, as Carlos Corberan's side have upgraded on their previous backup while snapping up a player at the expense of a team who will be a rival of theirs in the Championship next season, in Blackpool.
While Turton is undoubtedly signing for Huddersfield as the second choice, opportunities will almost certainly arise for the Manchester-born defender over the course of next season. Like his new teammate Pipa, Turton is versatile and can play in a handful of different roles and there's no reason why the duo can't start games together next season.
Versatility will be key for both him and Huddersfield
Staying on the topic of versatility, the 28-year-old's compatibility to play in a handful of different positions alongside right-back, such as midfield and as a centre-back, will prove to be beneficial for both him and his new team next season.
His predecessor in the role, Demeaco Duhaney, couldn't provide the same skills in a variety of different positions for the Terriers and that's ultimately the reason why he was restricted to just 20 league outings during his two and a half year stint in West Yorkshire.
The early indication from Huddersfield's first cluster of recruits this summer is that they're aiming to sign players with more versatility, as revealed by the addition of Turton and the equally versatile Matty Pearson earlier on in the window. So if Pipa once again shines next season for Huddersfield and avoids injuries, all hope isn't lost for Turton who could be called upon in other areas of the pitch, as mentioned above.
Much-needed experience
What will have made Turton such an attractive option for Huddersfield is the wealth of experience he has amassed since bursting onto the scene with Crewe Alexandra nearly a decade ago.
With a bit more experience, perhaps Turton's forebearer Duhaney would've made the cut under Carlos Corberan and the Terriers wouldn't have entered the market for a right-back this summer.
With Turton, Huddersfield will feel reassured knowing they have a player with undoubted experience in a senior career that started over 10 years ago. So while Turton admittedly doesn't have any prior experience in the Championship, he has experience nonetheless of senior football and a significant amount of it at that. So should Pipa be unavailable at any point next season, Carlos Corberan can be reassured knowing they have experienced cover in the form of Turton.
Conclusion
So to wrap up this article, Huddersfield Town's transfer committee can give themselves a pat on the back, after completing the capture of Ollie Turton.
Very much like fellow new signing Matty Pearson, the addition of Turton is no thrills but undoubtedly bolsters the Huddersfield Town squad due to his experience and reliability.
While the more fancy and substantial signings are likely to come later on in the window, Turton can and will prove to be a much-needed cog in the Huddersfield Town machine and could prove to be a fundamental member of the Terriers' squad next season.