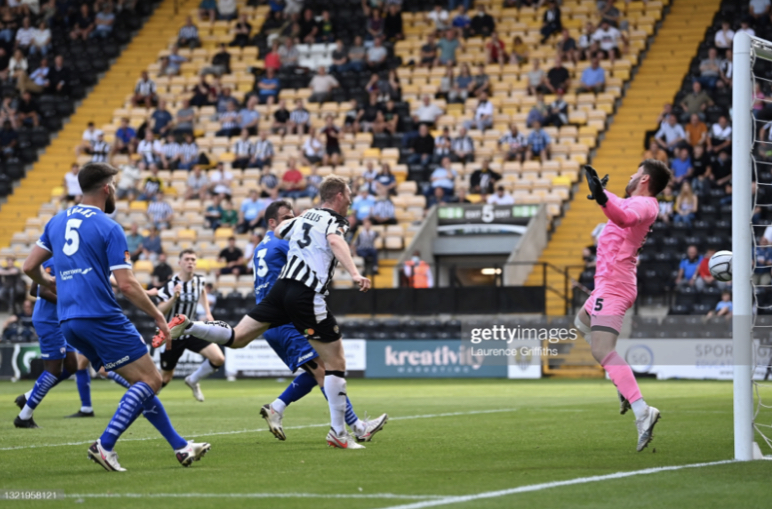 A last ditch header from defensive veteran Mark Ellis helped guide Notts County through to the Vanarama National League play-off semi-finals.
Despite the late winner, Chesterfield will feel hard done by having led in the clash twice.
The Spireites took an early lead courtesy of a Danny Rowe special, as the ferocious attacker blasted a free-kick home from 30-yards out.
Notts County equalised through one of the National League's leading goal scorers, as some intelligent work from Ruben Rodrigues ended with Kyle Wootton smashing home.
Chesterfield once again snatched back the lead through Liam Mandeville, before Wootton grasped his brace and helped the Magpies advance in the play-offs.
Notts County will now face Torquay United in the semi-finals.
The home side made a singular change, as the injured Jim O'Brien was replaced by the dangerous Enzio Boldewijn.
Notts County (4-3-3): Slocombe; Brindley, Rawlinson, Ellis, Chicksen, Miller, Reeves, Doyle, Boldewijn, Wootton, Rodrigues
Chesterfield also made just the one change, as Joel Taylor was switched for Alex Whittle.
Chesterfield (5-3-2): Montgomery; Carline, Evans, Gunning, Maguire, Whittle, Oyeleke, Weston, Clarke, Mandeville, Rowe
Ahead of kick-off, there wasn't much splitting these two sides, just one point between them both in the table, similar goal difference and they were both even geographically in a similar position.
With that being said, it was a close encounter right from the off.
Wootton nearly got Notts County off to a flying start, as he capitalised on a weak Gavin Gunning header and nearly disposed past James Montgomery, before Boldewijn bender a shot slyly wide.
But on the half an hour Mark, James Rowe's Spireites took the lead in a brilliant fashion. Danny Rowe, who has claimed a reputation of rifling home free-kicks from quite some distance after his goal against Exeter City for Oldham Athletic, rocketed home from 30-yards from a free-kick, leaving Sam Slocombe stranded in goal.
But just three minutes later, the Magpies responded through Wootton. The former Scunthorpe United striker had already managed 15 goals this season, and added to his tally as Rodrigues cleverly rounded Montgomery, before laying the ball back to Wootton who had the goal at his dispense before calmly placing it in.
Chesterfield weren't to be taken lightly however, as the Spireites regained their advantage. Despite the crowd being against them, some fantastic passing allowed Rowe to feed Aston Villa loanee Jack Clarke, who swung the ball into the path of Mandeville who disposed of the ball past Slocombe. A brilliant team goal.
Heading into the second half, Chesterfield took a major blow with Montgomery, who picked up a knock. However, with no goalkeeper on the bench, he was was forced to continue with Will Evans taking goal kicks.
This may have contributed to Chesterfield's downfall, as the Magpies restored the game back onto level terms. Rodrigues, who was involved in everything for Notts County, whipped a corner towards the back post, where Ellis waited before nodding back across goal, allowing Wootton to poke the ball into the gaping goal to snatch his brace.
Notts County's attacking philosophy for this match was nearly punished however, as former Magpie Nathan Tyson beat the offside trap and raced through on goal, and despite the time he had, Slocombe was able to parry his golden chance.
And Tyson would be made to rue that chance in the penultimate minutes, as Notts County stole the victory. Rodrigues earned a free-kick in a frightening position, before delivering a teasing cross into the path of Ellis, who attacked the ball and bolted his header past a fatigued Montgomery, sending the fans into raptures as Notts County advanced through the knockout stage and to the Vanarama National League semi-finals.
A deserved applaud for Chesterfield
Despite leaving Meadow Lane empty handed, Rowe's Chesterfield can be proud of their season.
Once sat third from bottom and with their fans in disagreement with the entire board, the appointment of Rowe has unified the club and helped redirect the Spireites in the right direction. With the correct signings and a similar run of form, Chesterfield could potentially have a title charge next season.
Notts Never-die attitude
The resistance of Notts County helped inspire a memorable victory at Meadow Lane.
The noise the fans made, the passion shown on and off of the pitch was inspiring, and it's everything expected of a football league club. After last year's disappointment in the final, Notts County will be desperate to right their wrongs and finally return to the EFL this season.
​​​​​​​Ruben Rodrigues
An awesome performance from the Portuguese, who was involved with every goal for Notts County and helped to inspire the victory.