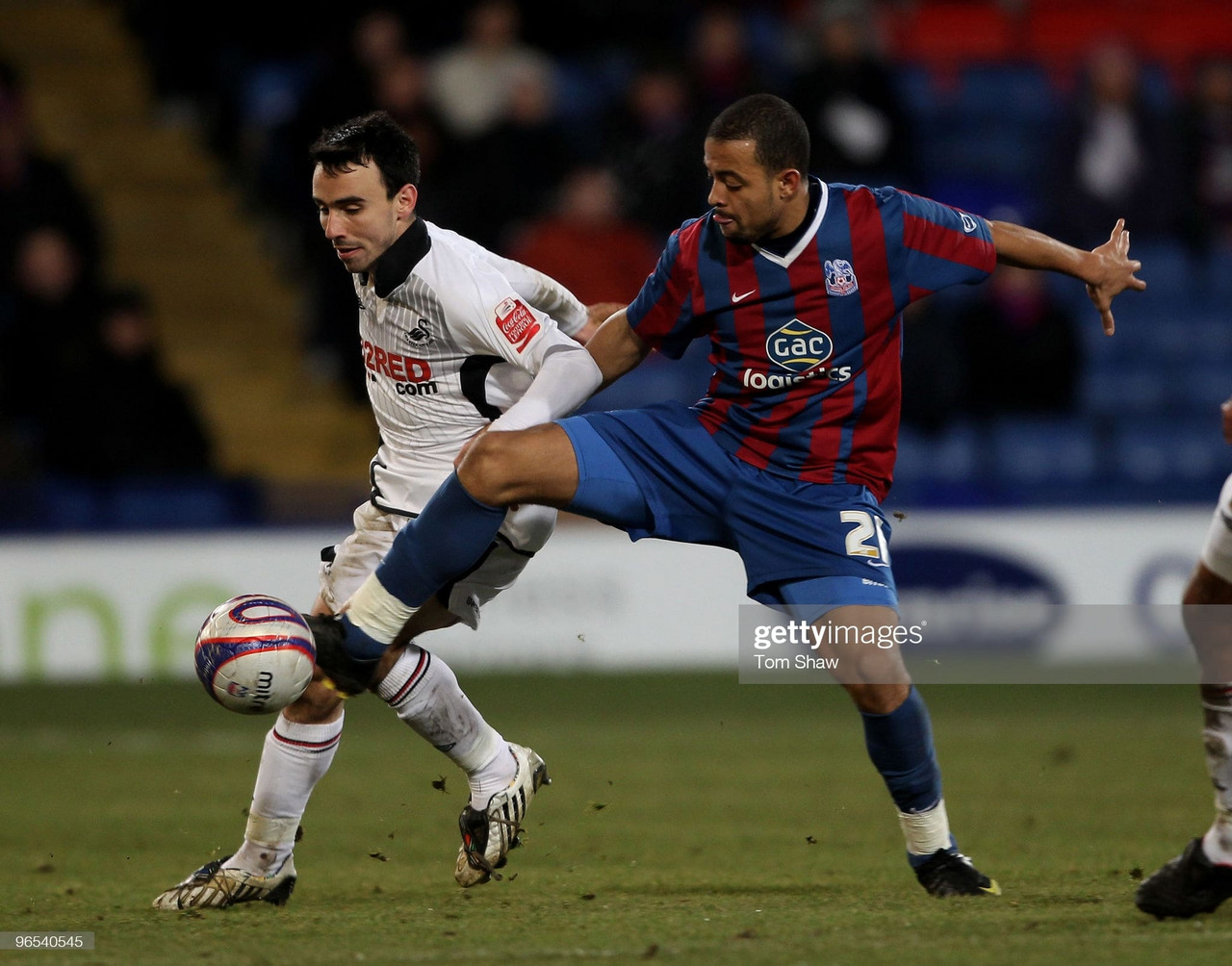 George Burley, who had been tasked with rebuilding the decimated ruins around him, needed to assemble a whole new squad on a limited budget, as the warriors from the season prior either departed in search of financial security, or were auctioned off, sometimes to the lowest bidders, to stop the club hemorrhaging money on their slow suffocation to liquidation.
However, with CPFC 2010 saving the south Londoners from its perilous collapse, there would be a proud aspect of the club which remained the crux of Crystal Palace's rebuild, the academy.
Palace's academy was one of the most vital aspects of keeping the club alive during the bleak period of being hawked to potential suitors such as Puff Daddy and numerous mysterious businessmen.
The sale of graduate and future Premier League winner, Victor Moses, to Wigan Athletic for the nominal fee of £2.5 million, allowed the dim lights to continue to flicker on at Selhurst Park.
In a new season, manager, ownership, decade and era, the academy personnel, which had ebbed and flowed through the first team during uncertain periods by both Neil Warnock and Paul Hart, was set to be the foundations of a new identity to resuscitate the Eagles back to life.
Kieran Djilali, who had a taste for first team football, was one of the talented youngsters ready to showcase his ability for the club he loved. This is his Crystal Palace story.
"We were all mates outside of football"
Come 2007, Crystal Palace's youth set-up was flourishing. Not only were several youth prospects touted for talented futures, but there was also a deep-rooted rapport which had been woven into the academy's identity.
"We were just a group of players who all came from the same area, and with the club struggling financially at the time, very few players were outsourced from outside of south London," says Djilali.
He continues, "You're seeing it now; south London is a hotbed for players. There is a south London mentality in terms of how you grow up. I think that helped us all, as we all understood what we wanted from each other."
Djilali explains how the unbreakable bond was noticed by others - symbolised by a time when the Soccer AM roadshow, who were challenging academies up and down the country to see what skills they could produce for the cameras, pulled up to Copers Cope.
Whilst Djilali maintains that he "Didn't want to do it and was forced by his teammates," to take on fellow academy player, Taurean Roberts, at 'Skill Skool' - after filming had finished, the Sky Sports production team told the Palace squad that they were yet to see a group of players as 'close' as they were.
"We were really together on and off the pitch. We all grew up together. We were all mates outside of football," said Djilali.
"I knew the hard work started here"
Djilali continued to impress, displaying his ability as one of the brightest Crystal's in Palace's academy. However, his performances were attracting interest from outside of south London; Manchester United came calling.
"I was just playing really, really well at Under-16 level. A lot of the time Victor Moses, Sean Scannell and even John Bostock were playing Under-18's, so I felt like within the side I had a lot of responsibility with the Under-16's," explains Djilali.
After a stunning performance against Watford, Djilali was told that Manchester United, the pinnacle of English football at that time, wanted to take him on trial and that Palace were not going to stand in his way.
With a hint of remorse, Djilali says, "The week before I was supposed to go, I rolled my ankle in training and was out for six weeks. When I did eventually go up to Manchester, I had just come back fresh from injury and I wasn't as sharp as I could have been. Although I did well when I got there, I lost some match sharpness from the injury."
Djilali has no regrets about heading up to Manchester as soon as he was able to play again. "I wish I hadn't got injured in the first place," he chuckles.
"Honestly, when a club like Manchester United show interest, at no stage can you ever turn that down. I was very confident at that age. I had so much belief in my ability and that I was good enough to earn a contract. It was still an amazing experience."
Despite things not working out at United, Palace were more than keen to welcome back their promising, rising star with open arms and were ready to further Djilali's progression.
Under-16 coaches, Micky Hazard and Colin Omogbehin, were both instrumental in Djilali's rise through the academy.
He acknowledges that Hazard helped him to believe he could take the next step by allowing him to express himself in the final third, and Omogbehin, who was a massive influence on his footballing career and continues to be a massive influence on his life.
Djilali was moved up to reserve football at just 17, where he would train alongside members of the first team, with Palace manager Neil Warnock and his assistant Mick Jones, casting a watchful eye over proceedings.
After becoming a mainstay in the reserves, Jones approached Djilali one day to tell him, 'Look, I have been watching you for quite a few weeks now, you have been doing really well. If you carry on with this kind of form, you will play in the first team next year.'
Djilali says, "I couldn't stop smiling, but Jones told me, 'Don't let it go to your head.' I knew the hard work started here."
Invited by Warnock on pre-season tour with the first team, Djilali was beginning to get a taste for first team football. He would work on his game with Nick Carle or Calvin Andrew after training, as he was determined to break into Warnock's plans and become a recognised first team player.
His hard work, extra hours on the training field, dedication and sacrifices would be rewarded three games into the new season.
Warnock, who said Djilali was "playing better than anyone at the club" prior to the game, honoured the winger with a momentous, life defining, 10-minute impressive cameo against Burnley.
The then Palace boss then entrusted Djilali with 70 minutes against Swansea, where the winger held his own amongst a defence that consisted of future Premier League and Wales captain, Ashley Williams.
Djilali followed this up with an impressive performance against Wolves, where the winger picked up his first assist in a Crystal Palace shirt. Djilali's electrifying pace and dazzling quick feet became an exhilarating sight for the Palace faithful.
Djilali says that Warnock was, "Brilliant with the youngsters." He continues, "The perception was, when Warnock first arrived, that he wasn't going to play any of the academy players. I don't know where it had come from, but that was the feeling we were almost resigned to. He ended up giving so many of us a chance."
Warnock would hand debuts to over a dozen academy graduates, in the shape of Kieran Djilali, Sean Scannell, Lee Hills, John Bostock, Victor Moses and Nathaniel Clyne, a time which is now recognised as Palace's golden age.
"When we were playing, Warnock never berated us. He never ripped into us. He understood that younger players needed time. More importantly, he was never afraid to give us a chance.
"At that age, you're a bit naïve. I used to get nervous before games, but once you get across the pitch, it's just another game of football."
Although Djilali would remain on the fringes of first team football, frustratingly oscillating his way in and out of the brink of a starting spot, he would continue to excel at the higher level of the reserves.
But towards the end of 2009, aged now 18, he had tasted professional football and was desperate to feed his hunger. As a result, Djilali was loaned out to Chesterfield, where he became a significant part of John Sheridan's side to help The Spireites in their push for promotion.
Djilali came back to Palace with a point to prove.
"I knew I had the capabilities to break into the first team and help the club in such a difficult period"
In January 2010, when Djilali arrived back at Palace from his short loan spell at Chesterfield, he noticed that the club was starting to drown in the deluge of administration.
However, when asked if he wanted to go back to Chesterfield, who were extremely interested in taking Djilali back for the second half of that season, he refused, adamant that he wanted to stay and help Palace through the herculean effort that was needed; it would be this, and many other examples of loyalty, that would become the cornerstone of Palace's relegation battle.
When asked, in a remarkable situation, if the financial pressure, which created the great fire sale of players, helped Djilali get his Palace career back on track, he said, "Most definitely. I had done really well at Chesterfield, but when I was asked if I wanted to go back to Chesterfield, I turned it down, because I knew I had the capabilities to break into the first team and help the club in such a difficult period."
Djilali would score his first goal that season during a 1-1 draw away at Doncaster Rovers. Palace would survive the daunting relegation by goal difference, with moments throughout that campaign, such as Djilali's, catalysts which brought the group closer together and made the squad believe they could drag the Eagles into a new dawn.
George Burley's reign
George Burley gave youth a chance. His first Crystal Palace squad consisted of four academy products, including Clyne, Djilali, Kieron Cadogan and a certain Wilfried Zaha.
Despite the fact Palace were still debt-ridden and had just survived near extinction, Burley's exciting young squad offered some assurance that the future of Crystal Palace would be from within; a beacon of hope that would guide the club into the unknown.
Against Portsmouth, it finally clicked, as the Eagles romped home to a 4-1 win, with Djilali's performance making the league stand up and take notice of him.
At Fratton Park, with Djilali down one wing, Cadogan on the other, Palace fans marvelled in awe of their academy players who had committed everything to be in this position.
On the night, Djilali would showcase his sublime first touch, his ability to confound a defender with ease and a terrifying directness that would frighten the opposition.
Djilali says that discussions before and after games with Palace player turned coach, Dean Austin, who look after the youth players in the first team, would help him elevate his game to the next level.
"I had this mentality of comparing myself to the best players in the world at that time." Djilali speaks of his admiration for Pedro, who was the unsung hero of Pep Guardiola's Barcelona revolution.
He added, "I never looked at the boys around me (Zaha, Cadogan & Scannell) as direct competition. We all had our own strengths and slight differences, which made us the players that we were. But because we grew up together, when the boys were playing well and I wasn't playing, I was happy, so happy for them."
Playing alongside Edgar Davids
One player, who perhaps best represents the chaotic, unpredictable first season where the new owners were still finding their feet, was the arrival of Edgar Davids.
The former Barcelona, Juventus and Inter Milan player, who was now 37, was convinced to swap his two years of retirement for a place in the Eagles' midfield alongside Andy Dorman.
"When we first heard, everyone brushed it off, thinking, 'Which paper has got hold of this,' said Djilali.
He continued, "Before we knew it, Edgar Davids was walking into the training room and everyone's jaws hit the floor. The managers, teams and players he has played with; you were in awe.
"He was quite a reclusive character off the field, but on the field, he was very demanding. I imagine that came from his previous level of experiences of playing in the Champions League and on the international stage.
Davids, who burst onto the scene in 1991 as an 18-year-old, having been tutored by the prestigious Ajax academy, knew at Palace almost 20-years later, that he still had a responsibility to impart his knowledge to Burley's young squad.
"His standards were also ridiculously high, which wasn't a bad thing, but you would just soak all that up as a young player; he would do some amazing things. If you managed to get to talk to him, or ask him things around the training ground, he wouldn't shy away from telling you. Even at that stage of his career, he had those same demands of himself, and that was the main thing that was really good about him."
Dougie Freedman's introduction
Davids' arrival failed to spark a Hollywood story, and although the club was just emerging from the shadow of administration, results were not going in favour of George Burley.
With the pressure mounting on Burley, following a dismal start of only six wins in 24 games, a 3-0 thrashing away at Millwall on New Year's Day, courtesy of a Jason Puncheon hat-trick, signalled the first sacking of the CPFC 2010 era.
Dougie Freedman, who was Burley's assistant and a club icon, was thrown into his first managerial job, becoming manager until the end of the season.
With the Eagles fully immersed in a relegation battle, the youthful exuberance that George Burley had built as the new identity for Crystal Palace, was placed to one side by Freedman, who opted for experience in a bid to survive relegation to League One.
This would bring to a close not only Djilali's run in the first team, but his Crystal Palace career as a whole.
"That season, when I was playing every week, although that Portsmouth game was probably my highlight, there were many moments throughout that season which I still think about regularly.
"I remember when we played QPR and I was up against Kyle Walker. I thought I did really well against him, and he has gone on to have a tremendous career, playing for Manchester City, representing his country on numerous occasions, and winning the Premier League. I really held my own against him. That season I was probably at my best and was able to show my true ability."
Looking back and looking forward
"The fans were amazing, and Palace was such an incredible place for me to start my career. It doesn't matter how old you were, the fans just got behind you, no matter what, as one of their own. I would come out the stadium, and even if I hadn't played particularly well, I was still getting mobbed by the younger fans, or people wanted a picture or something signed. I love the club."
When asked if Freedman ever explained why he banished him from first team duties, Djilali said, "To be honest, no. When George Burley was there, and I forced my way into the team, playing consistently, I felt like a regular in the team. But we played a game against Swansea, I missed a chance, and I was subbed straight away.
"The team was struggling, picking up the odd win here and there but we were never stringing results together. I kind of understood why the manager decided that to turn it around and why he would have to pick more experienced players. But for myself personally, I felt as if I was playing well, creating chances, but I just needed to add goals.
"I think I showed in the games that I played, that I was more than capable of playing championship football. Mangers decide to go in different ways; that's just part of football.
"The players around me went on to do much bigger and better things in their careers, and the focus has probably been more on their success, such as Clyne, Wilf and Victor. We all showed promise at a certain stage, they just managed to carry on."
Djilali called time on his professional career in 2015, in his mid 20's. But in spite of his short-lived professional career, Djilali still has unfinished business with football.
He is now Head of Coaching and Player Development at Junior Elite, a grassroots football club that has nurtured some of the Premier League's biggest stars, from Palace's very own Aaron Wan-Bissaka, to Arsenal playmaker, Emile Smith Rowe.
"There are so many players, who started their careers with us, that are playing in the professional game as of now. That's our main aim, to try and produce good, young professional footballers.
"I liked to be judged now on my coaching rather than on my time playing," said Djilali.
"Now I'm on the opposite side of the touchline, I see everything from a coach's point of view and try to help the young players out that way."
"I think the most important thing is to be a man manager. Your players are human beings at the end of the day; you have to remember that they're not robots, they're human beings with feelings and emotions."
He has a determined work ethic and a passion for his new managerial and player development role, with the now 30-year-old excited for what the future holds. "If I do get to the levels I want to get to, maybe I might become the first team manager of Crystal Palace one day. I'm so ambitious.
"I want to progress my coaching and develop into the professional game. I want to coach and manage at the highest level my ability will take me. I have high ambitions, the same way I did as a player."