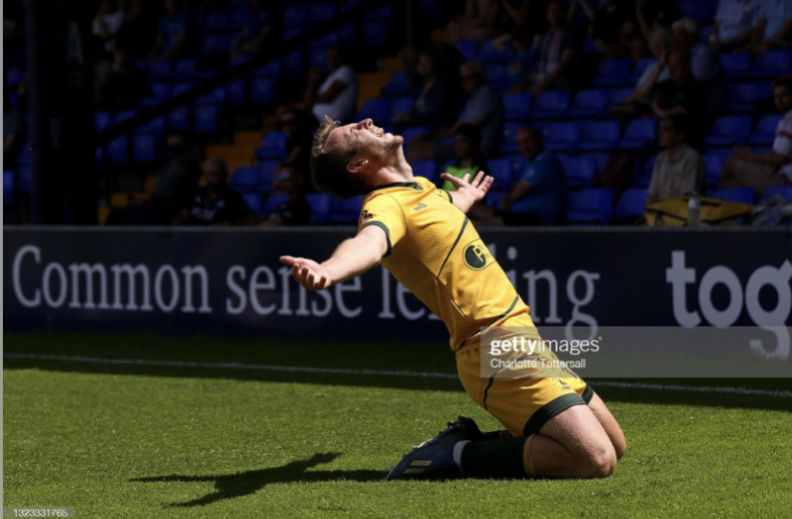 Torquay United and Hartlepool United will lock horns at Ashton Gate this coming Sunday at 14:00 BST, with the winner earning promotion to the Football League.
Either the Poolies or the Gulls will be joining Sutton United in plying their trade in Sky Bet League Two next season, as a campaign corrupted by a pandemic, financial difficulties and a board controversy comes to an end in Bristol.
Torquay will be the favourites for the fixture, due to their higher league finish. Finishing as the runners up behind Sutton, Gary Johnson's side were just four points adrift of the title. A victory over Notts County in extra-time helped guide the Gulls to the final.
Their opponents had a slightly harder and longer run into the final, having to best Bromley in the elimination rounds and Stockport County in the semi-finals to reach this position, after finishing fourth in the final table.
Johnson's team selection should look similar to the semi-finals, with no fresh injury or suspension concerns.
Jake Andrews and former Sunderland starlet Benjamin Kimpioka may push for starts after coming off of the bench on Saturday.
All eyes will be on the dangerous pairing of Rhys Oates and Luke Armstrong for Sunday's clash, with the pair looking unstoppable in the play-offs so far.
Bradley James' loan spell from Middlesbrough will come to an end following the final whistle, so it could be the young goalkeepers final appearance for the Pools.
Torquay United: Covolan; Lewis, Wynter, Cameron, Moxey, Hall, Little, Randell, Sherring, Lemonheigh-Evans, Wright.
Hartlepool United: James; Sterry, Odusina, Liddle, Johnson, Ferguson, Featherstone, Shelton, Holohan, Armstrong, Oates.
Danny Wright
Following his epic performance against Notts County in the semi-finals, it's hard to ignore the threat of veteran striker Wright.
Despite being 37 years old, Wright showed the talents of a younger man against the Pies, with a brilliant brace to give Torquay a huge helping hand in reaching the final. The former Cheltenham Town forward has managed 11 goals this season, but spent a large portion of it injured, so his return could be the key Torquay need to clinch promotion.
Rhys Oates
Perhaps one of the most dangerous attackers in the league and the player of the play-offs, Oates has been inspired this season.
With 18 goals this season, the former Morecambe striker has been excellent for the Pools this season and a key player in their run to the play-offs. With three goals in Hartlepool's two play-off games so far, Oates is receiving interest from a few EFL clubs, with his excellence being recognised. His partnership with Armstrong could prove pivotal.
Last ten:
Torquay United: W5 D5 L0
Hartlepool United: W7 D0 L3
​​​​​​​These two outfits have of course already faced one another this season twice, but in their seven ever meetings Torquay have only ever won once; which came in October, as the Gulls hammered Hartlepool 5-0. In March, Dave Challinor's Pools got some form of revenge, as they bested Torquay 1-0.
​​​​​​​
The match will be available for viewing via BT Sport.