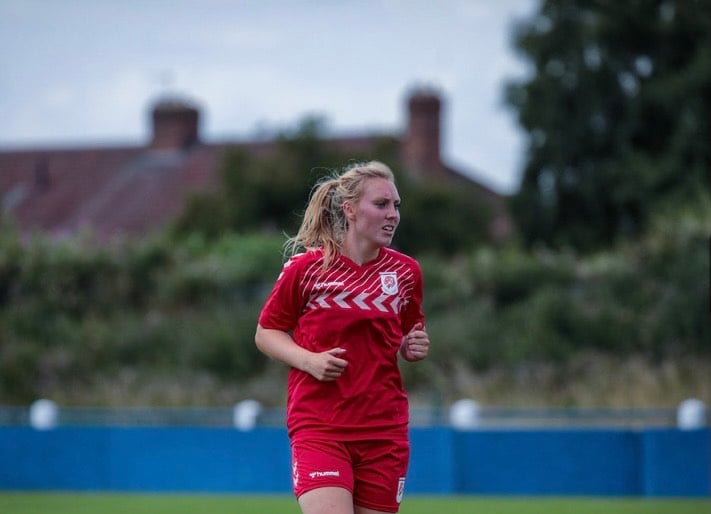 Born in York, supporting Derby County and playing for Middlesbrough Women, midfielder Molly Holder is heading into her sixth season as a footballer aged just 22. After joining Huddersfield Women at the age of 16, she spent a year with the Terriers before departing for Durham Women for a further four seasons. Since 2020 she has represented Middlesbrough Women, who play in the FA Women's National League North, the same as Derby County Women.
How does pre-season work?
When you think pre-season, most people instantly just think fitness. Is that true or is there more to it than that?
"There is a lot of running, but there is also a lot of technical ball work," said Holder.
"The majority of the first few weeks are spent doing those sorts of things, then later into pre season more tactical work is completed, especially when friendlies come around."
You mentioned technical ball work, specifically, what sort of ball work do you do?
"It's more about getting the basics right again, as in the gap from the end of the season to the start of pre-season, it's very easy to lose your sharpness! There are a lot of passing-recieving small sided games so people get lots of touches of the ball, as well as 2v3s and 3v3s just to make sure everyone gets the basics right and gets their sharpness back."
Talk us through the more tactical elements closer to the season, how do the training sessions change to adapt to the tactical coaching?
"We focus more on our style of play later in pre-season. We get given a document on how the manager wants us to set up in possession and out of possession, as well the transition between them," she said.
"Then, as you'll have seen at Derby, 11v11 games are played which allow us to practice full match tactics and specific phases of play. This allows coaches to focus on specific scenarios and how the team will look depending on the position of the ball.
"A typical training session consists of a warm up, small possession practice games and then go big for the rest of the session. It really allows us to have a good mix of everything."
A lot of modern football clubs employ an analyst to help identify and rectify issues on the pitch. How does data analysis help you during pre-season?
"All our games are recorded using a technology called 'Veo', allowing us to access full clips from each game we play. This can help to identify and improve weaknesses both individually and in the team overall."
Of course pre-season is synonymous with incredibly challenging workouts, what would you describe as the hardest activity you've had to do as a player?
"I actually don't mind pre-season running that much, but some of the sprint work at Boro can be incredibly tough. The hardest one involved six 15 second sprints the length of the entire pitch, and we had to do that at least three times. As you can imagine, it wasn't fun!"
How trialists affect preparation
In your six years of football you must have experienced your fair share of trialists and new signings. How, if at all, do they affect pre-season preparation?
"I actually think they affect it in a really positive way," said Holder.
"Trialists add new challenges to team training and can help push and improve the players already at the club. In terms of pre-season, nothing changes when trialists arrive, they just slot straight into the preparations.
"At Boro, everyone who has come in has been of real quality so it has helped us massively as a team."
To finish things off, what are your predictions for both Middlesbrough Women and Derby County this season?
"In terms of us at Boro, I think we have a real oppotrunity to show what we can do in this league. We have some quality players and a strong enough team to challenge the best in the division.
"The new signings have really added to the squad, and we feel well prepared for the start of the season," she said.
"People may see us as one of the weaker sides in the league, but we have full belief that we can prove them wrong and build from previous seasons.
However Derby is a different story. We still have time to recruit some quality, but with so little time until the start of the season I can't say I'm looking to it! But no matter who is on the pitch, all the lads will still get my full support!"
Thank you to Molly Holder and Middlesbrough Women for this interview, we wish both her and the team the best of luck for the 2021/2022 season.