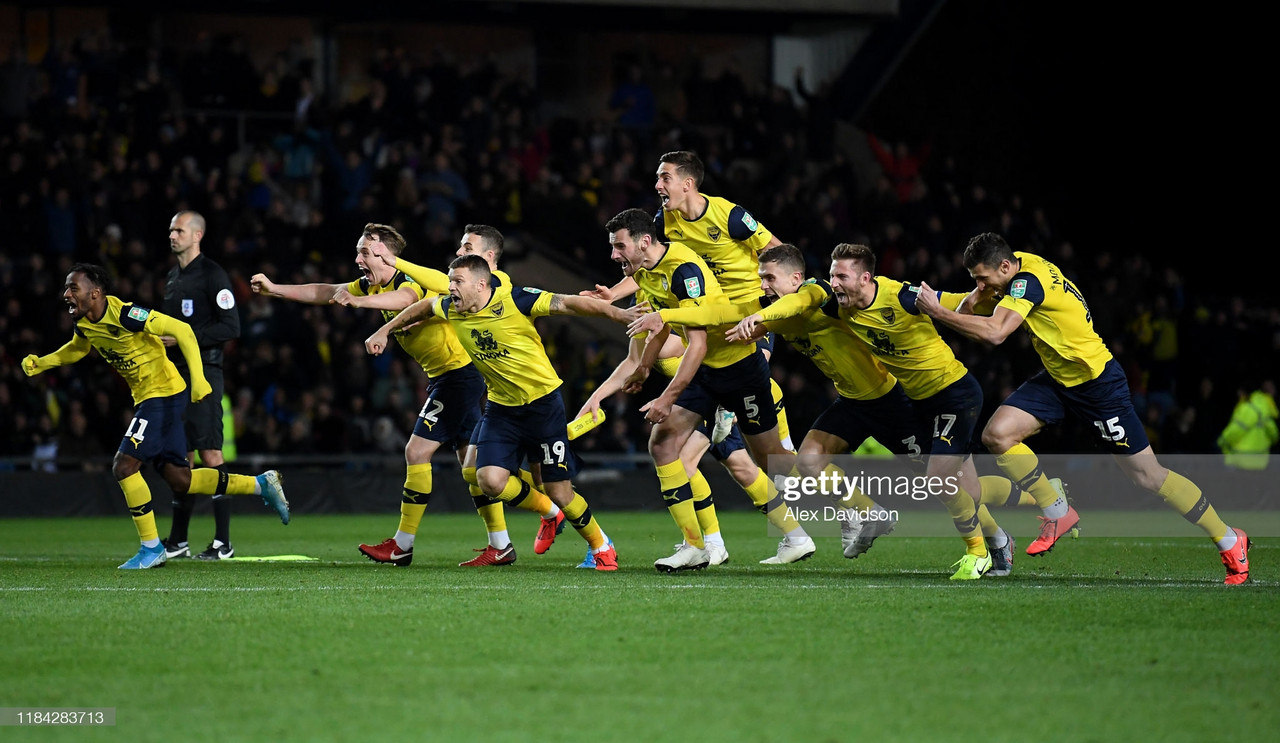 Oxford United qualified for the second round of the EFL Cup at the Pirelli Stadium, beating Burton Albion on penalties after a 1-1 draw.
A deadlocked game was bought to life in the 85th minute when the away side took the lead through Nathan Holland, who thought he had secured the winner as he tapped in a late opener.
However, in the 95th minute of the game and in the last phase of play, Burton skipper John Brayford once again got on the score sheet as he scrambled home Tom Hamer's throw.
Their efforts didn't amount to much though as Simon Eastwood saved the first penalty before Burton hit the bar and went on to lose in the shootout.
Haaselbaink remained optimistic about the performance and stressed the quality of his players within the 90 minutes. He said:
"The performance was really good we need to do a bit better in the final third but take nothing away from the boys.
"We have had two balls cleared off the line which should have been a goal, we look dangerous going forward but that final bit that we are looking for we need to get better at.
"Let's not forget we are playing a striker that is a wide player and he's doing a really good job, did we deserve to win? Yes I think we did."
Burton dominated the chances created having 20 shots, three on target and five blocked. They looked comfortable throughout the majority of the game and if one of their disallowed goals had been given, it's likely they would have gone on to win the tie.
Burton's first ruled out goal was Brayford's attempt that they thought had crossed the line, Haasselbaink expressed his view:
"The referee said no, we had looked at it we can't see it properly apparently it hit the line and that was it."
Their second saw Omar Patrick get in the way of another Brayford attempt that was heading towards goal.
"I'm happy we are putting ourselves there and having those chances, we need to keep on doing it. If we didn't have any opportunities I would have been worried but we have had opportunities", he said.
"Shaughnessy should score, the header from the corner Brayford should score but I'm happy with the performance."
With both Kane Hemmings ad Louis Moult both out injured, the Brewers lack fire power upfront and it showed in the game tonight despite Patrick's best efforts.
With not long left of the window, the proposition of a new striker joining the club looks farfetched but Hasselbaink remains hopeful.
"We are busy with one, we are really trying hard if it is up to me yes he would sign. It's a loan we are trying to get and the team we are trying to loan him off are not that forthcoming at the moment.
"It's hard you know, but we don't just want a body for a body. We want to try and get the right one that is going to improve us. We have identified him and we have to wait but hopefully, fingers crossed he comes soon."
Adedeji Oshilaja was brought off in the game after picking up an injury. The 28-year-old has been a key component in Haasselbaink's side so far and a long absence could really worry the manager.
When asked about the nature of the injury and the seriousness, Hasselbaink looked deflated and concerned at the possibility of losing a key squad player.
"I'm concerned as well after seeing him on crutches afterwards, he tried to run it off but it's his ankle and his knee so that's a really big one for us."
Terry Taylor came on as a substitute and played well but if Oshilaja is to be out for a long time, the Brewers may have to delve into the market late into the transfer window.