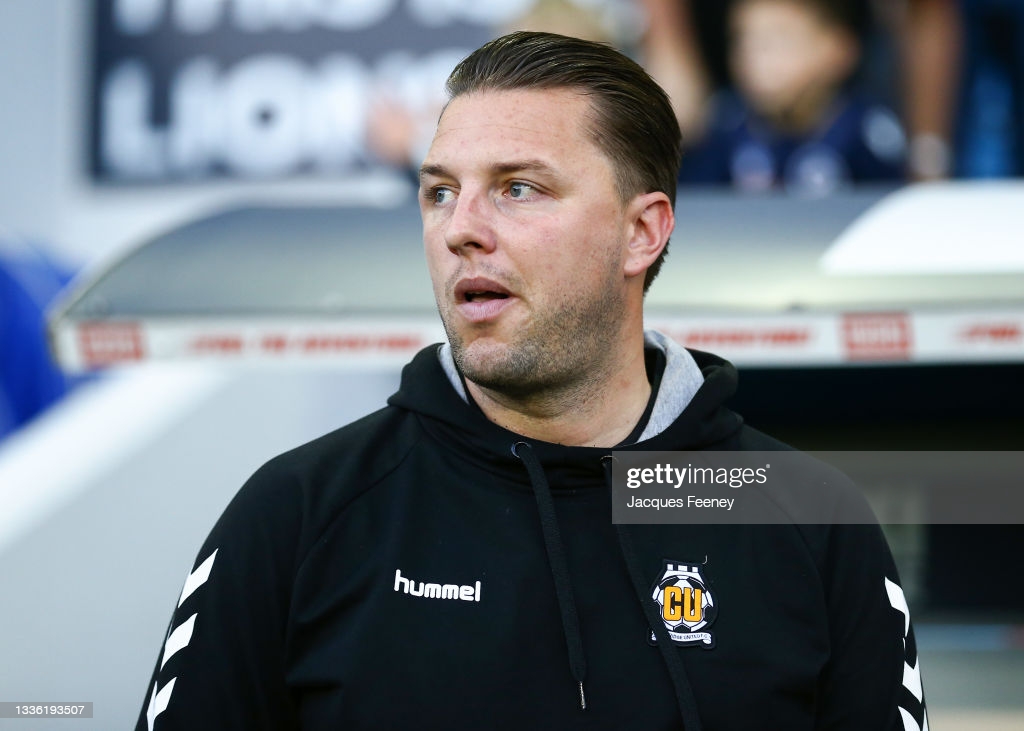 Cambridge United manager Mark Bonner spoke to the press ahead of the U's match against Bolton Wanderers at the Abbey Stadium.
Among the topics discussed were Saturday's opponents, the upcoming international break, the status of currently injured players and the challenge of playing in the third tier.
On facing Bolton
The Whites have made a bright start to the season with two wins and two draws and while Bonner knows how strong they are, he's also focused on what his side must do to emerge with all three points.
"They have got a lot of players that can create chances and score goals. They have had a good robustness about them defensively in the last couple of games so there is good balance," he said.
"We will have to be the best version of ourselves with and without the ball to be competitive in the game, but we know what they are and we know what they are. We want to keep the momentum up this weekend."
On the upcoming international break
Following this match, there will be a two-week pause to the season for World Cup qualifiers. Cambridge get extra time off as their September 4 fixture against Doncaster Rovers was postponed.
"When you are playing well and have a bit of momentum you want to keep playing, but at the same time we have had a busy spell so a bit of time to prepare for the Lincoln [City] game will be nice.
"It does give us an opportunity to rest and recharge after a busy spell, but it does also allow us to get some training days in because we have not had too many of those because of the fixture congestion."
On injuries
Bonner updated the status of defenders Jubril Odekina and Lloyd Jones, goalkeeper Kai McKenzie-Lyle and midfielders Jack Lankester and Harrison Dunk.
"Jubril should be out running this week so we will see how he responds to that. If Lincoln comes too soon, he will have to sit out of that, but we will keep an eye on him.
"Dunk is back running, but was not able to train earlier in the week because of an issue with his back. He has been seen today but with a bit of luck, he will be available on Saturday.
"Lloyd Jones has a little issue that we are managing through. We just need to get him through this weekend and then the international break will be really well-timed for him.

"Kai is back training and hopefully with a little more training he will be back ready to compete for that number one spot. We hope Jack can start soon, but he missed the entirety of the preseason so he has to get up to speed."
On Liam O'Neill
One of the most important players for the U's is midfielder Liam O'Neill and the midfielder has turned in excellent performances as he makes the transition to League One.
"Touch wood he is in the best physical condition he has been in and he has put together 90 minutes consecutively for the first time in a long time - he has got himself in really good shape.
"I think his impact on the team last season was really big and he has started this season well. His performances have been good so far and hopefully the performances continue to improve."
On the challenge of League One
With Cambridge playing in the third tier for the first time since the 2001/02 season, the manager feels a few more games will give better opinion on the club, but he is pleased with how they've started.
"I'm sure after ten games, we will learn more but there is a lot of clubs that will certainly have that expectation to be pushing for the play-offs and the top end of the league.
"It is too early to evaluate the bigger picture, to spot trends with the league and us. I think, at the moment, we are still adjusting, but we are pleased with where we are at - but we want to keep improving."