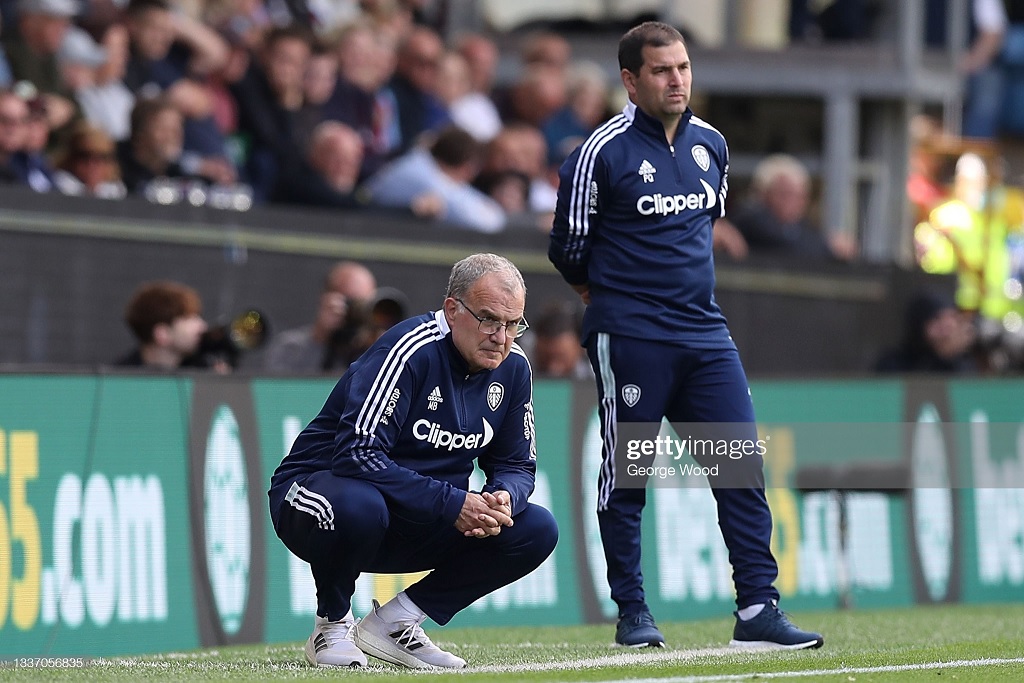 Leeds United and Burnley played out a battling 1-1 draw at Turf Moor on Sunday afternoon.
The result saw the Whites move upto 15th in the Premier League table, and still awaiting their first victory of the season.
What made Burnley hard to break down today?
Fresh from his England call-up, Patrick Bamford got Leeds' equaliser with four minutes to go after former United striker Chris Wood gave Burnley the lead turning home Matthew Lowton's goal-bound effort.
After the game, Bielsa spoke to the media and discussed how hard it was to break down the Clarets on Sunday.
"The game apart from two segments in the middle of each half, we managed to manage it," he said.
"The situations we created at goal were a lot but for them as well. The difference is that for us to play well we need our creative players to be on top of their game - and in the case of our opponent today, [they were] similar to Everton, but today in a more marked way." he continued.
"They had three resources that were important, the capacity to force errors through their two CFs, the management of the set-pieces and they have a very distinct style of play.
Their style of play means it doesn't demand that their players shine. This is something of value when you're describing a team."
Did you feel your team gave possession away more frequently today which invited more pressure?
A number of times the Whites kept giving the ball away during the game than what they normally do and it invited more pressure on the United defence and thats what lead to the opening goal of the game and Bielsa was asked if he felt that was to be the case.
"The same thing that you said, you can say in another way. In the virtues that I mentioned of Burnley, they provoked errors and took advantage of them," the Argentine explained.
"We say the same thing but in a different manner. You link that more to something bad that we did rather than the virtues of our opponent. Perhaps you're right but perhaps your judgement rather than mine, is taking away [inaudible] but it's something that's very true.
"A lot of the chances at goal that are created through that aspect, it doesn't come from their creative play, it comes from being facilitated for them. For our game, the opposite happened." he expressed.
"We need to be on top of our game to attack well but at the same time the styles, it has their risks to have so much time on the ball. If you look for example the amount of touches our players had on the ball, you will see they had double the touches of the opponent's players in the same position.
That increases the chances of making mistakes. It favours the opponent if they want to recover the ball from us."
How disruptive were the COVID results for Klich and Firpo?
Leeds United were dealt a blow prior to kick-off when defender Junior Firpo and midfielder Mateusz Klich announced on social media that they had tested positive for the virus that's been around for over a year and the media asked Bielsa how disruptive were the positive results ahead of the game with the Clarets.
"They were going to play but we always have two players in each position ready to play," he revealed.
"If Firpo doesn't play then [Stuart] Dallas does, it's a substitution of a similar level and the same [for] Klich in respect to Tyler [Roberts] and Rodrigo."
Have you spoken to Bamford about what a great week it's been for him?
It's been a superb week for Bamford who signed a new five-year contract with the club then earning a first senior England call-up for last season's top scorer and Bielsa was asked if he had spoke to Bamford about what a great week it had been for him.
"No I've just congratulated him on the club extending his contract, it's something that they did right," he said.
"I think also on his part to be called up to the national team is something very important and very deserved."
Can we expected anymore incomings during the transfer window?
The summer transfer window will come to an end at 11pm on Tuesday evening and some of the clubs supporters believe the club needs a new midfielder to come into the squad, however, when he was asked about if he plans to strengthen before the window closes Bielsa said: "We think not."