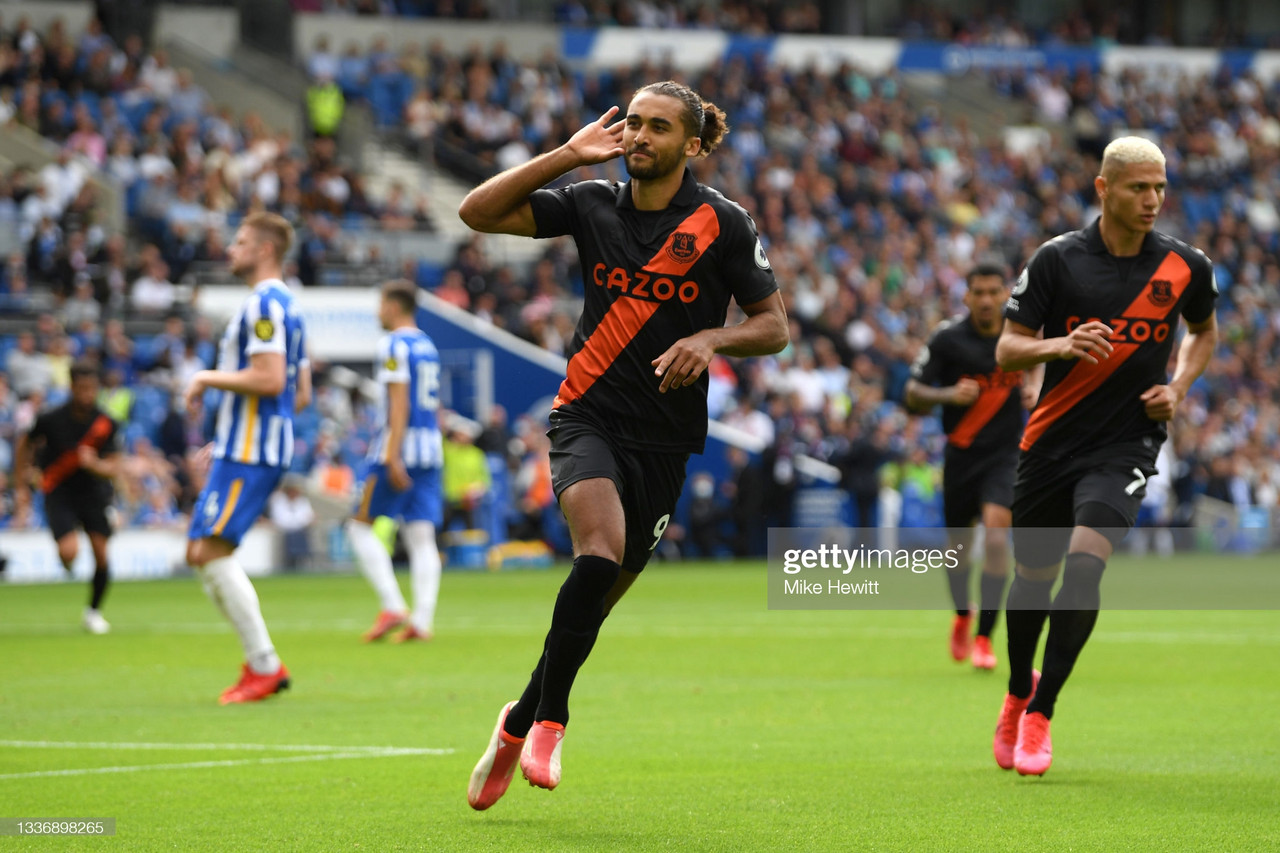 Everton striker Dominic Calvert-Lewin has enjoyed a prolific start to the new Premier League campaign, netting three times in the Toffees' first three fixtures of the season as he looks to improve on last year's tally of 16 top-flight goals.
As well as earning him a spot in England's EURO 2020 squad for the summer tournament and helping Everton to a tenth-place finish, those 16 goals in the last campaign also took Calvert-Lewin into the Toffees' history books in a roundabout way.
In front of the net, Calvert-Lewin had one of the best Premier League seasons ever experienced by anyone in an Everton shirt. In fact, only one man has ever scored more than 16 in one top-flight campaign for the Goodison Park outfit since the beginning of the Premier League in 1992.
Unsurprisingly, that man is Romelu Lukaku, who has recently re-signed for the Champions League holders Chelsea from Italian giants Inter Milan. Ever-impressive, the Belgian flourished during his time with Everton and beat Calvert-Lewin's tally not once but twice in consecutive campaigns.
He scored 18 in the league over the course of 2015/16 before going on to bag a whopping 25 the following season (2016/17) and then ultimately earning himself a move to Manchester United.
As for Calvert-Lewin however, that's it in terms of any Toffees' player being more prolific over the course of a Premier League season than he was last time around. Tony Cottee – with the Blues between 1988 and 1994 – did also score 16 in 1993/94 so he and DCL are on level terms.
Joint third in that respective list isn't bad going, however, and former Sheffield United man Calvert-Lewin will be hoping to perform even better this year, despite the upheaval with a management change over the summer.
Now under the guidance of Rafa Benitez as opposed to Carlo Ancelotti, the 24-year-old has already netted against Southampton, Leeds United and Brighton prior to the international break.
Those three goals have helped the Toffees into sixth-place looking at the league table, claiming seven points from a possible nine in the early stages of the new campaign.
Benitez's side have also progressed through into Round three of the Carabao Cup - where they will play Championship side Queen's Park Rangers - courtesy of a 2-1 victory away against another second-tier side in Huddersfield Town, though Calvert-Lewin did not feature at all in that game.
Calvert-Lewin had been called up to Gareth Southgate's England squad once more for the upcoming triple-header of World Cup qualifiers. The Three Lions play Hungary in Budapest on Thursday – September 2 – before hosting Andorra at Wembley on Sunday – September 5 and conclude their matches with a trip over to Poland next Wednesday – September 8.
Calvert-Lewin will no longer be involved in those three international fixtures however after he withdrew from the squad to continue his treatment at Everton for a broken toe and thigh strain.
Benitez's side are next in action on September 13 as they welcome Burnley to Goodison Park, and all of a Blues persuasion will be hoping that their star man can regain his fitness in time for that one to continue what has been a red-hot start to the new season.
For those interested, the full list of Everton's top scorers in the Premier League by season are listed below.
1992/93 - Tony Cottee (12)
1993/94 - Tony Cottee (16)
1994/95 - Paul Rideout (14)
1995/96 - Andrei Kanchelskis (15)
1996/97 - Duncan Ferguson (10)
1997/98 - Duncan Ferguson (11)
1998/99 - Kevin Campbell (9)
1999/00 - Kevin Campbell (12)
2000/01 - Kevin Campbell (9)
2001/02 - Duncan Ferguson (6)
2002/03 - Tomasz Radzinski (11)
2003/04 - Wayne Rooney (9)
2004/05 - Tim Cahill (11)
2005/06 - James Beattie (10)
2006/07 - Andrew Johnson (11)
2007/08 - Yakubu (15)
2008/09 - Tim Cahill (8)
2009/10 - Louis Saha (13)
2010/11 - Tim Cahill (9)
2011/12 - Nikica Jelavic (9)
2012/13 - Marouane Fellaini (11)
2013/14 - Romelu Lukaku (15)
2014/15 - Romelu Lukaku (10)
2015/16 - Romelu Lukaku (18)
2016/17 - Romelu Lukaku (25)
2017/18 - Wayne Rooney (10)
2018/19 - Richarlison and Gylfi Sigurdsson (13)
2019/20 – Dominic Calvert-Lewin and Richarlison (13)
2020/21 – Dominic Calvert-Lewin (16)