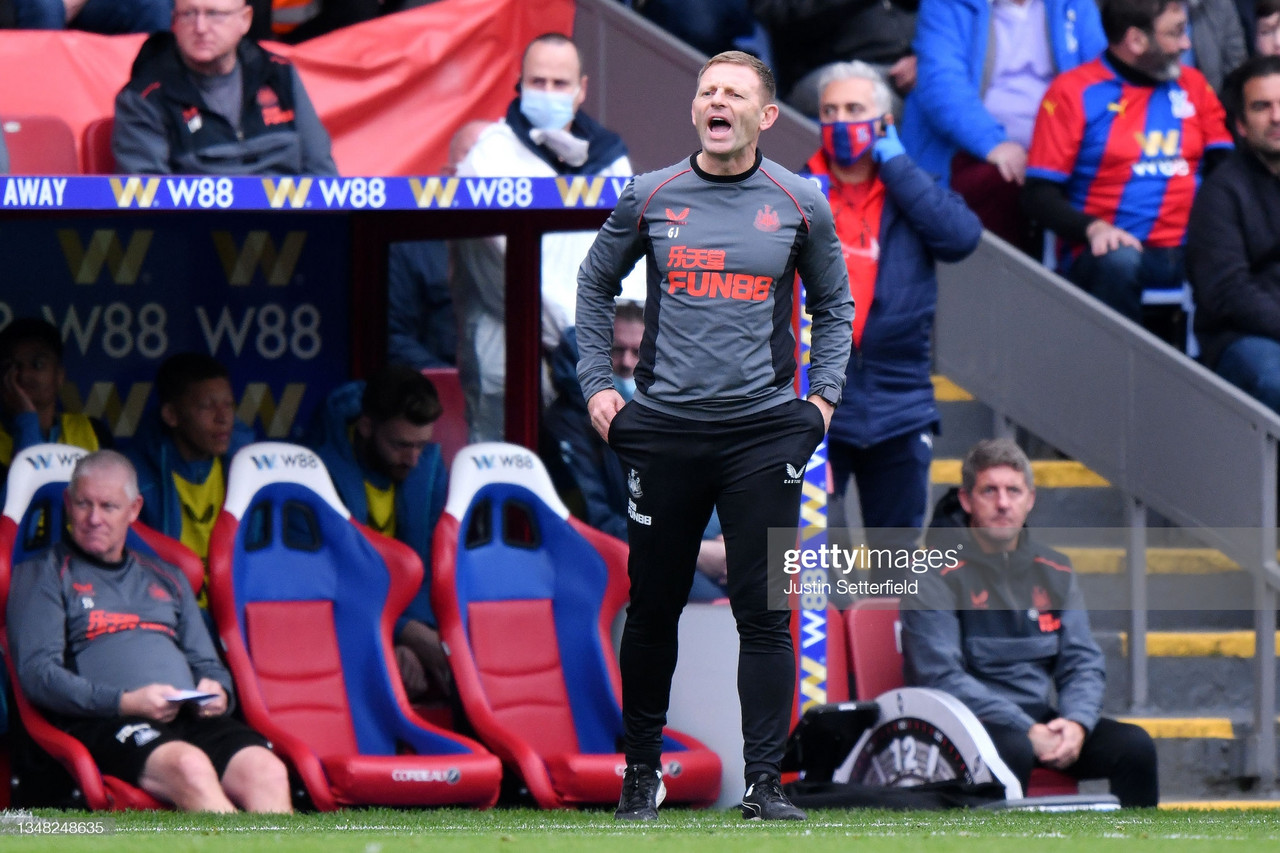 Without a win in nine league matches, all games are crucial for Newcastle United but they have a tough task on their hands tomorrow as they welcome the champions of Europe to St. James' Park.
United weren't a great deal better against Crystal Palace last time out, put the point gained on the road will no doubt be something to build on for Graeme Jones and his team.
Speaking ahead of his second and possibly final game in temporary charge of the Magpies, Jones talked a range of topics ahead of Chelsea's visit to the North East.
In the press briefing, Jones discussed injuries and availability, he spoke about Chelsea and what his side must hope for in order to get a result amongst other things.
Injury latest
The press conference started with a positive injury update. When asked about his side, Jones informed the press that there was no new injuries to the side and the Paul Dummett and Elliot Anderson are the only two remaining injured.
"Paul Dummett is still missing and Elliot Anderson. But I am happy with that, we've had some good training."
He also confirmed that the players trained for five days, which comes as a welcome change to many fans following reports of the training schedule under previous Head Coach Steve Bruce.
He also gave positive news regarding goalkeeper Martin Dubravka who is now fit and available although it seems more likely that Karl Darlow will keep his spot between the sticks for Saturday's game.
On Chelsea
Chelsea currently top the Premier League table as well as boasting to be the current holders of the UEFA Champions League.
Last week, the blues despatched one of United's relegation rivals Norwich City 7-0 and Jones is well aware of the threat poised by the opposition.
"It's what football is about, that's the challenge. We know what's coming.
"Chelsea are a well-oiled machine, current Premier League leaders and Champions League winners four months ago."
He continued to say: "The beauty about football is you never know, there's going to have to be a lot of things to go our way tomorrow and lots of things that Chelsea will have to be slightly off on and we'll need the 52,000 (fans) behind us, which I know they will be."
Putting emotion to one side
Unlike a certain previous manager, the love that Jones has for the club is clear to see when he speaks but he again insisted the importance of remaining professional in his approach.
He talked about how it is vital to leave emotion at the door when leading his boyhood club into battle.
"You can't go there emotionally, it's my football club and first game at St James' Park but I've got a job to do and I've got to do it to the best of my ability."
This will no doubt be music to the ears of the Geordie faithful, who will be looking forward to seeing the difference a busy week on the training ground can make.
Contact with the new owners
Communication at all levels of the football club seems to have improved tenfold since the takeover was completed just over two weeks ago.
And this is further shown by the interim boss' answers when quizzed about the contact that he has had with the new owners.
"I seen them yesterday." Jones said before further saying:
"Nothing more than my remit is the Chelsea game. I've been in regular contact with them, nothing's changed there."
Previously, Mike Ashley gave a wide birth and communication was not good enough so this will doubt be a further positive note of the new regime.
The next boss?
Jones sounds like a man who knows his time as temporary Head Coach is limited.
He did state that his future was secure at the club in some capacity and spoke about the importance of what he will inevitably hand over to the next man in the dugout.
"Our job is to make this football club as united as it possibly can be for the next manager that's coming in."
Jones was again impressive in the way that he handled the press and it is good news that he will be involved within some capacity at the football club even after a new boss is brought in.