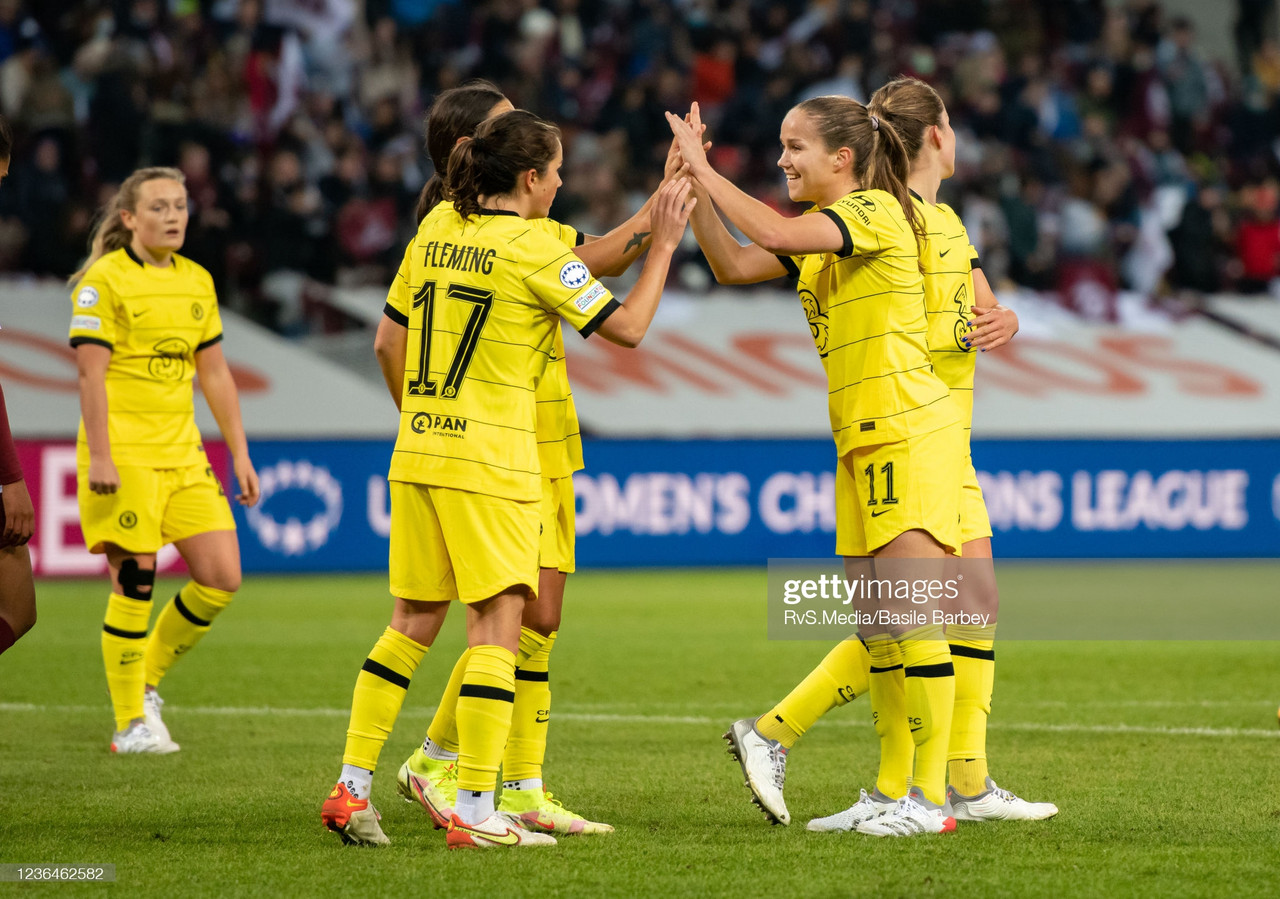 Chelsea Women scored seven in Geneva as they dismantled Women's Champions League Group A opponents Servette FCCF in spectacular fashion during the early evening kick off on Tuesday night.
Right from the outset it was clear Emma Hayes' side were ready to show off the gulf in class between the two clubs, with an early chance for Fran Kirby being uncharacteristically squandered by the forward.
The visitors got the opening goal eight minutes in, when Millie Bright played a smart ball over the Servette defence, where Melanie Leupolz took an excellent touch inside the defender, before firing home a cracking finish.
WHAT A START! 😍

🟣 0-1 🟡 [8'] #CFCW #UWCL pic.twitter.com/w62NNz6Xsd

— Chelsea FC Women (@ChelseaFCW) November 9, 2021
A second, then a third, and then a fourth followed in a frenetic five minutes just over a quarter of an hour in, with a smart Drew Spence back heel flick on playing the ball into the path of Kirby to score her first.
Sam Kerr than got her first of the game less than two minutes later, tapping home with ease, before the Australian got her brace another 120 seconds after that, again with a comfortable finish.
Just six minutes after the fourth, the aforementioned Kirby got her second of the match, combining an audacious, bordering on arrogant touch just yards out, before skilfully chipping home past Ines Pereira.
CHELSEA ARE RELENTLESS AND REITEN MAKES IT SEVEN 🔥

🎙🏴󠁧󠁢󠁥󠁮󠁧󠁿👉 https://t.co/w3c1mLxNV1
🎙🇫🇷👉 https://t.co/6UEMUOgMfW pic.twitter.com/bWmXsQSOtz

— DAZN Football (@DAZNFootball) November 9, 2021
With a little over five minutes to go until the break, Jessie Fleming notched up the sixth goal for the away team with a striker-esque finish from a remarkably tight angle, putting the Blues in cruise control at the interval.
Not long after the break, Guro Reiten added a seventh and, while they could've quite easily scored many more, that was the number that the English outfit chose to settle at for the evening.
The result, thanks in part to Juventus Women and Wolfsburg Women drawing a few hours later, means that Chelsea go top of their group, two points clear of the German club whom they play on the final match day of the group stage.
Servette shouldn't be too disheartened
Coming off of the back of a devastating 7-0 defeat, it may seem counterintuitive, and bordering on illogical, to suggest that a team should not be frustrated with either their performance or indeed the result.
After all, no matter the gulf in class in opposition, nobody wants to be embarrassed, particularly when you have such a large crowd present (which was one of the few positives for the home side from this fixture).
🚨 1⃣2⃣'7⃣8⃣2⃣ 🚨

Record d'affluence pour un match de football féminin en Suisse ! 🇨🇭#FromGenevaToEurope pic.twitter.com/nWdUAJw8PV

— Servette FCCF (@ServetteFCCF) November 9, 2021
That said, it speaks volumes that most people would agree many players in the Servette squad didn't have particularly bad games, including the likes of goalkeeper Ines Pereira, who, if anything, made some good saves throughout.
Of course, that's not to say there shouldn't be any questions asked whatsoever of the defensive plan that was evidently not put into action in the way Eric Severac would have been hoping for when giving his team talk before the game.
The simplicity of the goals may seem to suggest that there were multiple failures at the back, via either miscommunication, or misunderstanding of positions and responsibilities by individuals unable to work together.
But, if anything, that points more to the huge difference in quality, not only in personnel, but also in tactical preparation, between the teams, none of which can be specifically pinned on anyone at the club.
After all, the Geneva-based side were only promoted to the top flight in their country a few years ago and had to go all the way through qualifying rounds to even be in this position in the group stage, which itself is a massive achievement.
Effectively, the message is that Servette were likely never expecting to get anything from these six group games and, while it may be disappointing to lose by such a margin, just having the experience of playing one of Europe's best sides will serve them all well in the future.
Chelsea can compete with the very best
While many people would've already known this prior to the game getting underway in Switzerland, such a dominant performance will show Chelsea Women's closest rivals just what they are all about this season.
The result itself is also a factor - while the opposition evidently have to be taken into account when seeing such a scoreline, the ruthlessness with which they dispatched their opposition ought to be taken as a warning to anybody else they might face later in the campaign.
Nothing but praise from the Blues boss! 😁#CFCW #UWCL pic.twitter.com/uWUqX1QkK7

— Chelsea FC Women (@ChelseaFCW) November 9, 2021
As anybody who saw the game would tell you, 7-0 doesn't tell the full story of quite how in control and on top Hayes' side were, consistently able to break through what was, in all honesty, a fairly disorganised defence.
But, the fact they were 6-0 up after just 45 minutes of football ought to strike fear into the hearts of any team preparing to face the Blues, no matter the calibre of the squad they might have themselves.
There were plenty of players that could be picked out from what was an excellent team performance all round, but it's the attackers who deserve the most praise for the consistency with which they opened up the back line to create chance after chance.
Fran Kirby in particular deserves enormous credit, with the 28-year-old getting on the scoresheet twice in just over 10 minutes, during an almost unbelievable spell of goalscoring action in Europe for the Kingsmeadow-based side.
Not only that, but she also directly assisted two of her teammates goal and linked up fluidly with strike partner Sam Kerr all evening long, terrorising Servette defenders the entire game.
This, of course, will be far from the hardest game that Chelsea Women will have to play all season - the coaching staff, the players and the fans know that - but to be able to draw on the confidence such a result brings could be invaluable in the latter stages of the campaign as they hope to compete on almost every front possible.