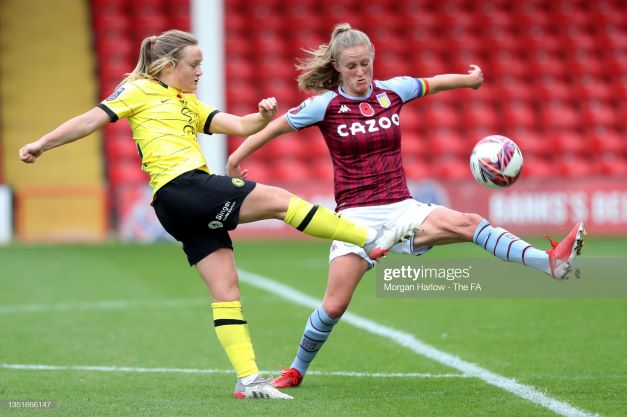 Aston Villa Women fell to their third consecutive loss with a spirited 1-0 defeat to Chelsea.
The reigning Women's Super League champions could only claim a narrow win over the Villans, but they were totally dominant throughout the match.
There were many positives for Villa as they put in a much-improved defensive performance, but it wasn't enough to claim a point.
Story of the match
It was a fairly turgid first half, but it was almost exactly what Carla Ward would have wanted.
Villa's defensive five held their low line with a bank of four midfielders in front of them and simply crowded Chelsea out. However, once they transitioned into attack, they were able to push their wingbacks up and look threatening.
The hosts had a few half chances in the opening ten minutes. Maz Pacheco had a shot blocked on the edge of the box while a few lofted balls into the path of Alisha Lehmann gave the Chelsea defenders some headaches. However, the first chance of the game fell to and was converted by the visitors.
It came on the 23rd minute, just as Villa were beginning to shade the half. Ji So-Yun lofted a ball into the path of Jessie Fleming that should have been a routine clearance for Villa. However, Elisha N'Dow lost track of the ball and Fleming, leaving the Canadian with an easy task to finish.
From here, Chelsea began to dominate. However, they didn't have many clear chances. They came the closest from a long-range shot from Ji.
Villa surrendered possession far too easily, gifting the ball to the South Korean maestro. Ji cut inside and arrowed a near-perfect shot towards goal, but it clattered off the bar.
Again, Villa nearly gifted Chelsea a cheap second goal. A misfired cross was looped towards Hannah Hampton which should have been a simple save. However, the England 'keeper tipped it onto the crossbar.
Beth England had the final chance of the half. The Blues launched a rapid counterattack, catching the Villa defence off guard. England was left with the freedom of the box, but she shanked her effort into Hampton's gloves.
The second half started much as the first ended – with Chelsea dominating. They had two chances before the hour mark with the first being presented on a plate by their old employee.
Anita Asante was given a short goal kick and tried to take it around Erin Cuthbert. However, she lost the ball and Cuthbert slotted in England. Asante's blushes were spared as Hampton made a sharp save to deny the striker.
Chelsea's second chance came from a free-kick right on the edge of the Villa box. Ji took the shot and arrowed a near-perfect shot towards Hampton's left. Unfortunately for her, it went narrowly wide and the score stayed at just one.
There were no more major chances left in the game, despite both Sam Kerr and Fran Kirby coming off the bench. It was a battling defensive performance from Villa as they bounced back from their humbling defeat to Reading last time out.
As for Chelsea, Emma Hayes will be grateful that her side didn't give up any more ground to Arsenal as they bid to retain their WSL title. While it was a rotated side and they did dominate the match, their finishing was sub-par.
Chelsea continue their title charge away to Manchester City next while Villa take on local rivals Birmingham City.
Takeaways from the match
Villa are learning
While it was another defeat to one of the big guns of the division, Villa already look far better than their dismal showings last season. Barring N'Dow's lapse that led to the goal, Villa looked calm and composed in defence. If they can find a consistent source of goals, they could have a very strong season.
Arsenal won't have it all their own way
Even with a rotated front line, Chelsea were still able to get the job done. The strength in depth Emma Hayes displayed shows that Arsenal will have a fight on their hands if they want to take the title.
Stars of the match
From a Villa perspective, Sarah Mayling was far and away their best player. Alongside Meaghan Sargeant, they locked the right side down and kept Chelsea at bay all day.
Yet again, Ji So-yun put in a five-star display in midfield for Chelsea. She set up the goal and was deeply unlucky not to have a goal of her own. Everything Chelsea did went through her and Villa simply couldn't contain her.