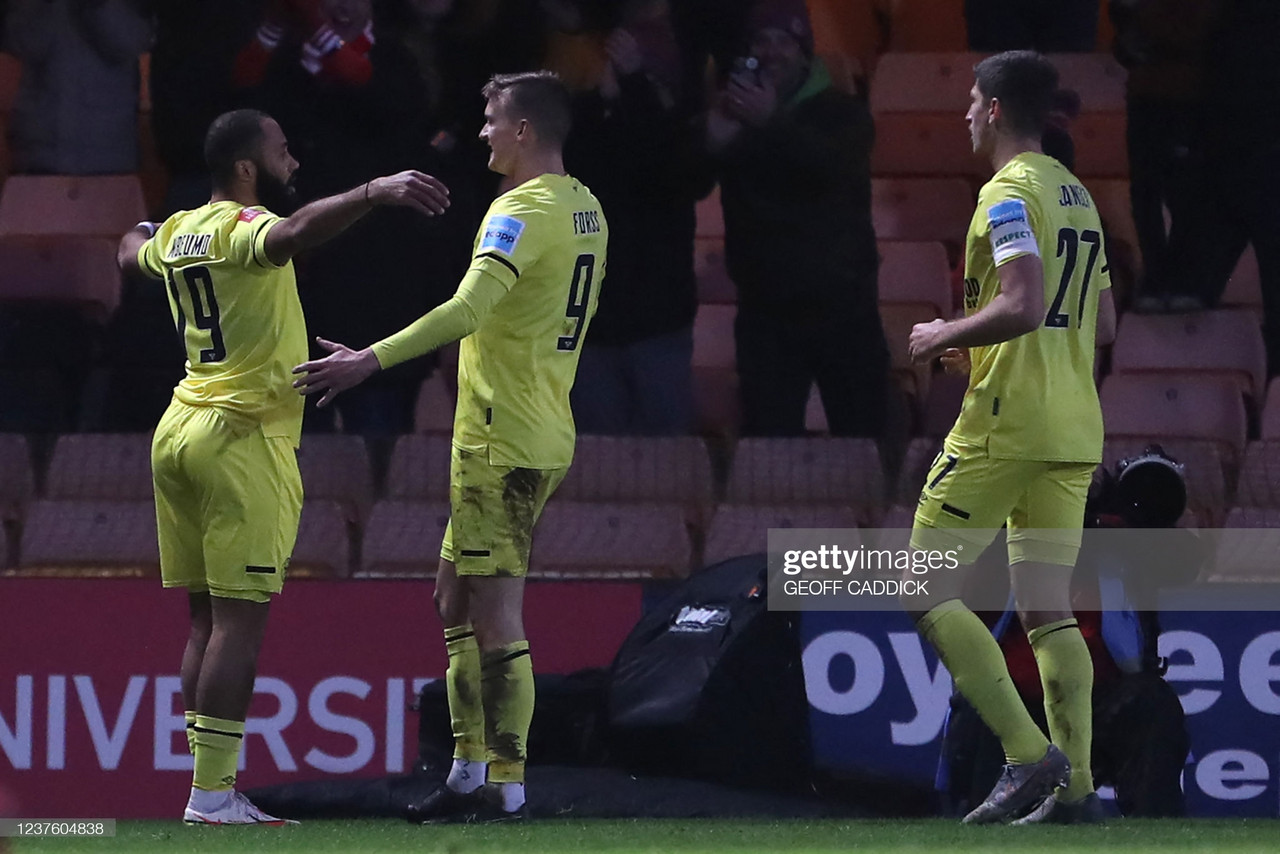 Thomas Frank was full of praise for Bryan Mbeumo after the Frenchman scored his first career hat-trick in Brentford's 4-1 win at Port Vale.
The score perhaps isn't a true reflection of the match as Port Vale defended resolutely in the first half, limiting the Bees to one goal that was scored by Marcus Forss, before putting in an excellent second half performance.
Mbeumo's introduction in the 62nd-minute proved to be game-changing as within four minutes of his arrival he extended the visitor's lead against the run of play.
After continued waves of pressure throughout the half from the Valiants, which saw them pull one back through debutant Kian Harratt before being denied an equaliser by a mixture of Jonas Lössl and the post, Mbeumo grabbed his second by curling a shot in off the post in the 76th-minute.
Ivan Toney then won a penalty with less than five minutes to spare and gifted his teammate the chance to make it a momentous occasion.
"He just come to me and he just said 'do you want to shoot' and I said 'yeah, why not'. I am happy and thanks to him," Mbeumo told the club reporter.
The former France Under-21 international is now the club's leading scorer this season with seven goals to his name. Frank spoke highly of him after the match.
"He's done very well for us so far this season. Today he showed the quality we know he's got. [They were] three really good finishes. Composed, calm, and just passing it in."
The Dane was happy with Brentford's performance and expressed his love for his team.
"I thought we were brilliant first half. Especially in terms of the attitude, and I said that attitude, intensity, tempo, that is the three buzzwords for today. Fantastic in [the] first half, very good on the counter-pressing, scored a fantastic goal from Marcus Forss.
"Then went into the second half where I thought we started slow and Port Vale came a bit after us. Then we scored the two-nil goal and I think 'now game done', but this is the FA Cup.
"They scored a good goal against us, and for a spell of 10-15 minutes, there was this real FA Cup atmosphere but the good thing is we brought Bryan on the pitch."
"I must say, I love my team because it's not easy to go here and play and have a top mentality. That's something we've built, and I love it for that."
The Bees progress to the fourth round of the competition for the fourth consecutive season, the first time the club has achieved this since 1949.