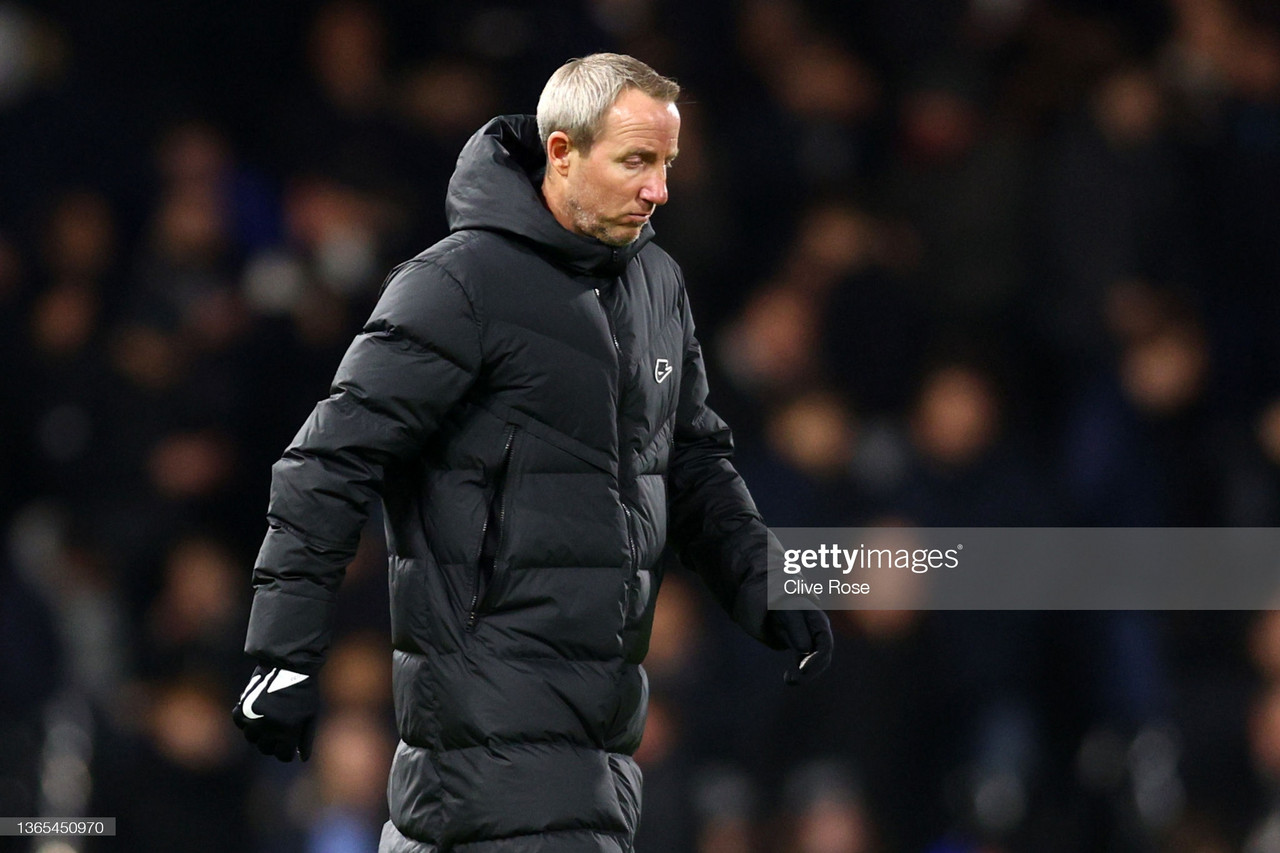 Birmingham City's winless run has now been extended to six Championship matches following their gruelling 6-2 defeat at the hands of pace-setters Fulham.
The visitors at Craven Cottage shot themselves in the foot with Marc Roberts' own-goal just ten minutes into the contest, but the floodgates opened at the end of the first-half as Neeskens Kebano, Fabio Carvalho and Tom Cairney all scored for the hosts before Ivan Sunjic added a consolation.
And Birmingham clawed the deficit back to just two goals in the 74th minute thanks to a well-taken goal from Gary Gardner, but Fulham reimposed their dominance through Carvalho and Antonee Robinson to secure their second 6-2 victory in a row with their visitors helpless to resist.
Blues head coach Lee Bowyer addressed the media after the match — these were his most noteworthy quotes.
On the floodgates opening
Truth be told, until the 35th minute and excluding Roberts' unfortunate early own-goal, Birmingham were doing a pretty remarkable job of keeping their formidable opponents at bay — but they found Fulham's eight-minute triple salvo at the end of the first-half simply uncontainable.
Bowyer believes the floodgates of his side's defence opened largely due to lapses of concentration and, perhaps, frustration at falling behind early and in such a manner.
"First-half, I thought we started okay, we looked solid," he said. "They didn't really get near our goal until the first goal. Then once we conceded from a lapse of concentration they hurt and punished us every time they went forward."
On switching it up
Having conceded four in the opening 45 minutes, it was no surprise to see Bowyer shuffle his pack at the break. He held off from making substitutions just yet, but capitalised on the flexibility of his players to shift to a back-four, a system in which his players looked much more defensively organised and more dangerous on the counter-attack.
Sure enough, the second 45 was much more encouraging for the visitors despite giving up another two goals. It was a frustrating result and scoreline for the visitors, particularly seeing as they weren't all that awful for the most part, but Bowyer was keen to stress that evenings such as these won't define the fortunes of his side this campaign.
"Half-time I had to change it and we went to a four," said the head coach. "We did better second-half. The only positives we can take are the two goals. But games like tonight aren't going to define our season or where we finish in the league. Sometimes you just have to hold your hands up and say they are better than you."
On the quality of the opposition
As much as he was keen to emphasise areas where his side could have done better on the night, Bowyer was also appreciative of the fact that most Championship sides are liable to be put to the sword against a side of Fulham's quality, and didn't seem all that surprised with how the game panned out.
It was an unfortunate evening for Birmingham but it shouldn't be a demoralising one against such formidable opposition — plus, the Blues have bigger fish to fry, with a meeting against bottom-of-the-table Barnsley to come on the weekend.
"Obviously we're all disappointed because we've just conceded six goals and lost a game, but my team is hardworking and honest, and we just couldn't even get close enough to affect them. You have to give the players of Fulham credit."