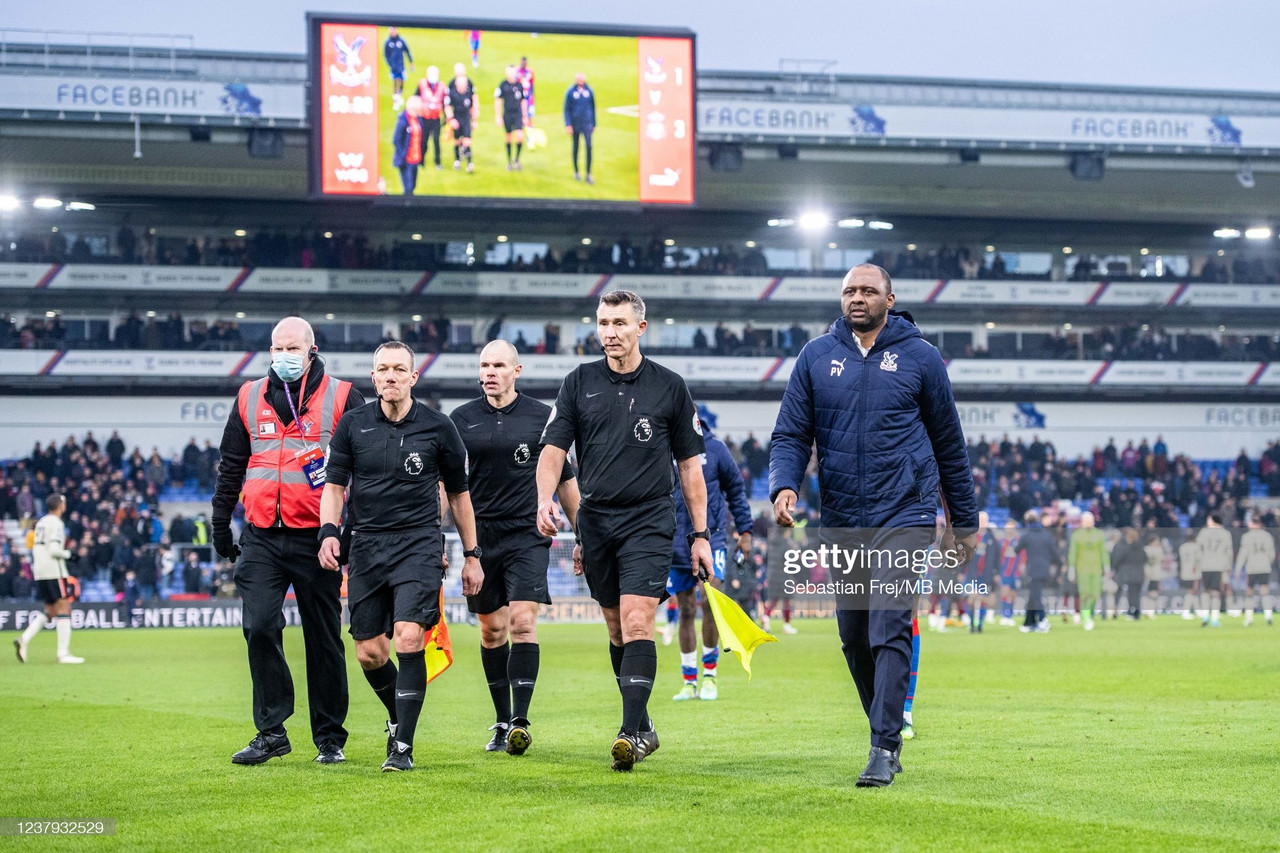 Questions were raised again over the standard of refereeing and VAR after Crystal Palace felt hard done by following their 1-3 loss to Liverpool at Selhurst Park on Sunday.
Two Andrew Robertson assists in the second half meant that the Eagles were handed a steep, upward battle from the offset of the second half, but an Odsonne Edouard goal gave the home crowd an injection of optimism on the hour mark.
The hope of a leveller fizzled out of existence, though, when Kevin Friend, the referee for the game, controversially gave Liverpool a penalty after checking the VAR monitor for a foul from Vicente Guaita on Diogo Jota, just when momentum was in Palace's favour.
After the game, claims were made that Roberto Firmino was offside in the buildup to Liverpool's second goal, while rage amongst the Crystal Palace backroom still filtered around the stadium over the late penalty call.
Asked about the decision, Vieira lamented: "Possible offside is a word that isn't acceptable in our world – he is offside, or he is not offside.
"He either has an impact on the game, or he doesn't have an impact on the game. He had an impact on the situation, so he must be offside.
"On the penalty, I don't even want to talk about it because I don't want to be disrespectful to the referee today.
"I can't understand how he managed to award that penalty – I looked at every single angle, and I still don't understand how that can be a penalty.
"That decision took our hope away to get back into the game and to get a point. That was a really poor decision by the referee."
Jota was smart, but contact is part of the sport
Continuing his focus on the refereeing decisions made within the game on Sunday, Vieira went into detail as to why he felt Liverpool's penalty was soft.
The Frenchman reinstated: "The reason behind that was having those meetings with the referees and them explaining to coaches that contact is part of the game.
"If there was a situation such as that, where it's not an obvious contact, there wasn't going to be any penalties awarded.
"I believe when you're looking at Jota, who I believe was quite smart, at the same time, the referee or the VAR was quite naive.
"There was no way that Jota could get the ball back and try to score."