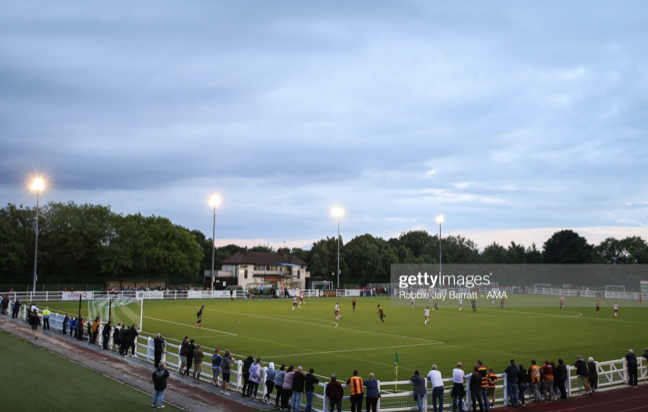 An early spell of quality from Bradford (Park Avenue) saw Mark Bower's side clinch a crucial three points over Leamington.
The home team had a fantastic start just three minutes in when Brad Dockerty tapped home from close-range.
Captain Luca Havern piled on the misery when bundling the ball home from a crowded corner, before a second half header from Leamington captain Joe Edwards snatched a consolation for the Brakes.
Bradford (Park Avenue): Sykes-Kenworthy; Ross, Havern, Lund, Clee, Fielding, Hopper, Richman, Dockerty, Knight, Johnson
Leamington: Weaver; Meredith, Morley, Gittings, Morrison, Lane, Turner, Walker, Mooney, Edwards, Kelly-Evans
Bradford had gotten off to a poor start previously to York City, conceding in just 20 minutes, so Bower will be pleased to see his side come out fighting.
The Avenue got off to the perfect start just three minutes in, as former Norwich City attacker Oli Johnson skipped through three men before squaring to the in-form Dockerty, who calmly slotted home and grasped his eighth of the season.
Bower's side would double their lead in quick succession, as consecutive corners ended with club captain Havern bundling the ball home through a crowd of bodies to put Bradford clearly in the driving seat.
Leamington looked to immediately respond through their captain Edwards, but the midfielder couldn't keep his strike down and it sailed over the bar.
Just over the half an hour mark Bradford looked to add a third, as Notts County loanee Lewis Knight beat the offside trap and raced through on goal, only to see his low effort parried by Weaver.
Heading into the second half, former Scunthorpe United youngster Kelsey Mooney looked to build on his brace he produced last week, as he forced numerous saves in quick succession from Avenue goalkeeper George Sykes-Kenworthy.
But with the Brakes dominating and keeping Sykes-Kenworthy, the breakthrough was found through Edwards, as the experienced midfielder glanced a close-ranged header into the far corner.
With the clock ticking down and time running out for Leamington, Nicky Clee tested Weaver one last time before the referee brought the entertainment to an end.
-
An early spell of quality from Bradford (Park Avenue) saw Mark Bower's side clinch a crucial three points over Leamington.
Bower can only be delighted with his side's first half performance, which saw the Avenue dominate possession and head into the half with a two goal lead.
Whilst the second half wasn't on par, Bower will expect his players to carry this result and performance into the next Saturday's match, especially with the impressive form of the attackers.
Leamington might have needed a stern word from Paul Holleran at the break, the Brakes looked controlling in the second half.
In terms of improvement and perhaps a late push for the play-offs, Leamington just need to find their stride and utilise their midfield more, which struggled with creativity tonight.
A towering presence in defensive midfield, Fielding controlled the tempo of the game and consistently broke up attacks.