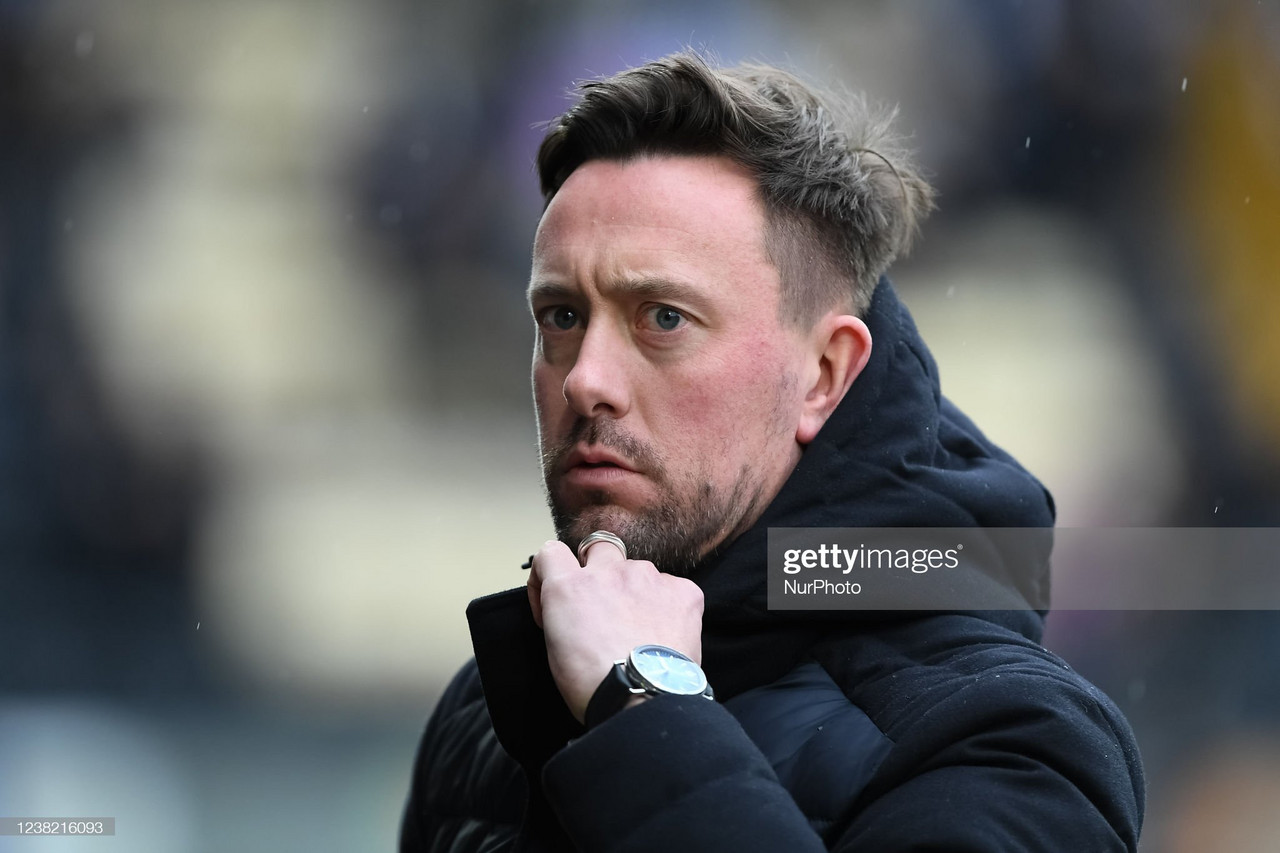 Notts County will look to break into the Vanarma National League play-offs tomorrow night, as Ian Burchnall's side welcome FC Halifax Town to Meadow Lane.
The Pies find themselves in good form ahead of tomorrow's match, with three consecutive victories on the bounce and ten goals scored in their last three matches, including a thumping 6-1 victory over a lowly Barnet side.
Burchnall remains optimistic with his side, and was full of individual and team praise for his impressive Notts County side.
Burchanll addressed the press this afternoon, and was full of individual praise for his players:
"I think every team needs different personalities and different types of players and different skillsets, somebody like Brinds (Richard Brindley) kind of sets the platform for Jayden (Richardson) and Cal (Roberts) on that right hand side. Without Brinds being able to cover the space that he covers, being able to defend high up the pitch with a lot of space you probably wouldn't get the attacking license from those two, so it comes hand in hand.
"You have to kind of find the right balance between the players, that's important, and having different skillsets, like Cal recently with his fantastic form has been doing some brilliant individual things that of course everybody likes to see, but he can't do it without the security of the other players around him and the support. I think it's really important to have that balance.
"I think when Cal is playing how he's playing at the moment he's huge for us because he creates so much, he can beat players one-on-one and he attracts players over there to stop him and it opens space for other players, of course we need him to play well but we also know that teams are going to try and stop him, and if they are successful in that then other players need to be able to create for us, it'll be a collective effort. But yeah, if Cal can continue to produce the form that he has it'll be great for us."
Another player Burchnall has been impressed with is midfielder Matty Palmer, who is the only player in the National League to have played every minute: "Physically it's not so easy, especially when games come thick and fast although they haven't come that thick and fast as of lately, but we have had periods where we played Torquay and Wrexham with only one game in between, so getting through those games is a testament to him and to the level he has performed, he's been outstanding really. I knew when we were signing Matty, we spoke quite a lot before he signed, I'd seen the skillset that he'd got and he's been hugely valuable to us."
"This game is the most important game of the season. But then once it's finished, we're going to say exactly the same about the Woking game, that it is the most important game of the season so far. And I'm pretty sure in a week's time when we play Chesterfield that's exactly what we're going to say again. I'm sure we're going to say this a lot with it being an important game, but we could say the most important game of the season was the Eastleigh game, so that's gone now and now we have a new one. I think every game from now on is pretty big and we just focus on each one at a time, try to produce a really good performance in it and that's the best opportunity for the game.
"Obviously if you can win and prevent the teams around you from winning points then it's a double bubble, but the most important thing for me is that we put a good performance on and try to take three points, and then we go from there."
"Halifax have had a great season so far, we've played them twice and both have been very close games, quite entertaining games I think, quite open games, they'll pose a very different threat attack wise compared to what Eastleigh did. We need to replicate that level, and of course it won't look that comfortable because the level we play games is going to be higher, I don't mean that against Eastleigh because obviously Halifax are there in the league for a reason. We have to be able to replicate that level of performance to give ourselves a good opportunity against a strong team."
Notts County faced Halifax just two weeks ago in the FA Trophy, which saw the Pies nick a 2-1 victory:
"I thought it was quite an even game there, I mean we changed seven or eight players prior to the game so we've rotated quite a lot, I don't think they've rotated too much so I'd imagine they've got a fairly similar setup."
​​​​​​​"It's good, it hasn't really dropped all season. Even though we've had a couple of spells were results dipped a little bit, in general the lads have been very focused and they haven't got too down when we've had a couple of bad results and they haven't got too high like right now. The mood has been pretty consistent throughout the season, and the lads are well focused. We're just looking forward now to getting into a good run of games."
Burchnall also has no fresh injury concerns, claiming: "Nope, everyone came through the game well and everyone got through training okay so that's a positive."