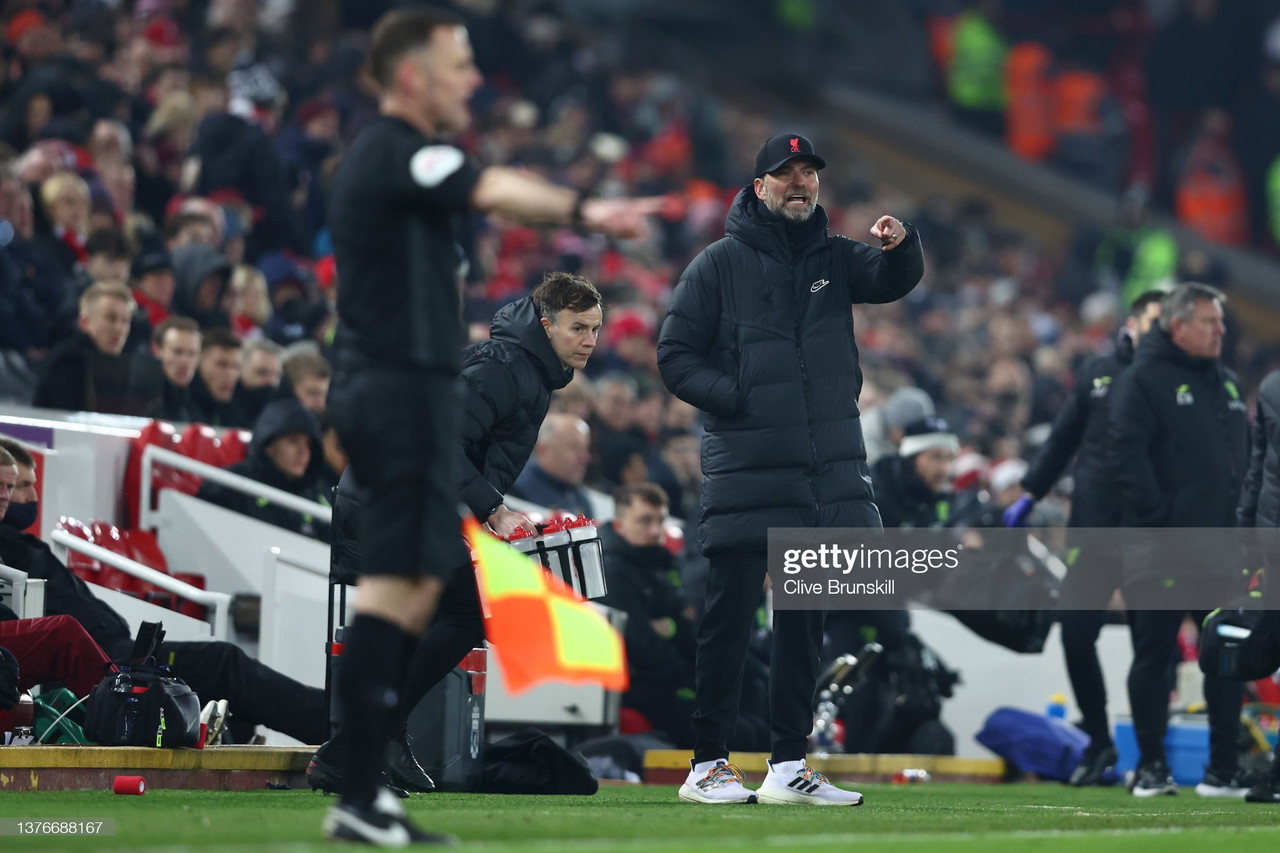 Liverpool manager Jurgen Klopp spoke to the media following the Reds' 2-1 victory over Norwich City in the FA Cup fifth round.
Takumi Minamino fired a first-half double to send Klopp's men into cruise control and on the way to their first FA Cup quarter-final since 2015, but Lukas Rupp's strike with 15 minutes remaining ensured it would be a tight finish to proceedings at Anfield.
The Liverpool manager spoke about an array of topics in his post-match media duties, including the showing of Minamino and the injury sustained by Curtis Jones.
On the performance
After the elation of Sunday afternoon's Wembley triumph, Klopp made ten changes for the tie.
It was never going to be an easy evening's work for the Reds as the whole squad appeared to be on a comedown, but dragging themselves over the line - especially in the last 15 minutes - is something that pleased Klopp post-match.
"We made 10 changes, it was an exhausting night on Sunday, mentally and physically. From a specific moment on, we controlled the game tonight and played like we had to. Simple passes to find the gaps and from there we caused problems."
The Minamino show
It was arguably the Japan international's best showing since he moved to Merseyside. As well as getting his brace inside the opening 40 minutes, he looked as strong as he ever has, as well the most confident - something that will only boost Klopp's selection pool between now and the end of May.
His two well-taken finishes marked his seventh domestic cup goal of the season, in just his eighth outing.
"It was obvious with two goals, but also top football moments. He [Minamino] was mobile, quick and technically incredible. All really good. I am not surprised but he showed the public tonight.
Curtis Jones injury update
It promised to be another important night for midfielder Jones after he was left out of the squad for Sunday's League Cup final.
The 21-year-old seemed desperate to make up for a lost time as clipped the top of the crossbar with a sublime effort inside 10 minutes.
However, the England youth international Harvey Elliott at half-time, to the bemusement of many supporters at half-time, but his manager confirmed he had felt his thigh muscle during the interval.
"We took Curtis off because he felt the thigh slightly, not serious."