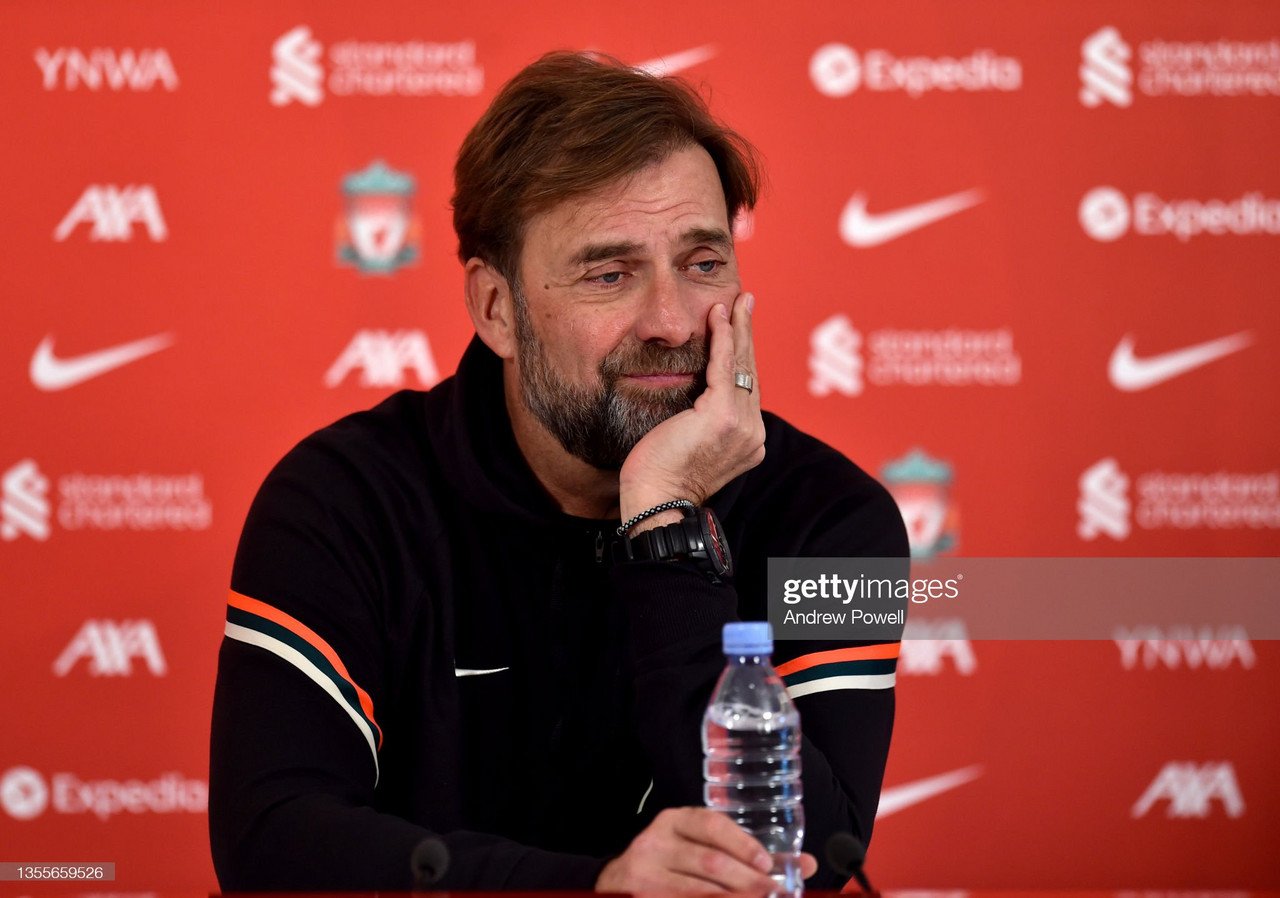 Liverpool host Leeds United as Jurgen Klopp aims to close the gap to Premier League leaders, Manchester City.
Ahead of Wednesday nights fixture, Klopp spoke to the media about Tottenham Hotspurs' weekend win, Leeds' threat, Luis Diaz's first goal and a potential title race.
What Spurs' victory means for Liverpool
Everything went Liverpool's way this weekend, as Spurs won 3-2 at the Etihad Stadium to put Klopp's side within 6 points of leaders Manchester City, with a game in hand.
A win against Leeds will put Liverpool three points behind The Citizens.
"But I think you can expect that [Man City will win all their remaining games], or we expect that. Historically, it happens more often than not that they win pretty much all their games. OK, we play them once and that's one game we want to win as well, definitely. So, of course if it would be 12 points or 15 points or whatever, it would be a completely different situation.
But for the game now, it does not change too much. Nothing changed actually, and that's why we have to be 100 per cent focused on just this one game because we cannot win the game and the league and everything in one game. We just have to try to make sure we win a very difficult Premier League game."
The threat that Leeds pose
After a successful return to the Premier League last season, Bielsa's side have failed to replicate the same form during the current campaign.
Leeds are 15th in the league, five points above the relegation zone. The Whites are also without a win in their last four league games - claiming just one point of a possible 12.
Despite this, Klopp is still expecting a tough test from the visitors.
"You saw all the faces of Leeds United on Sunday, with very brave and very exciting offensively and going with everything they have. And then defensively, yes, you can cause them problems – but it is difficult as well because of the man-marking system all over the pitch. It makes it really tricky if you are not really in the game, then they will eat you just like that. That's why it is so important we are ready for the next very intense game.
I think Leeds are pretty much leading in three of the decisive running stats in the Premier League, not all over, but then high-speed running, high-intense runs and all these kind of things. It's Leeds and you have to be ready for these kind of runs all of the time, and they never give up on top of that. They had really spectacular results – high scores and all these kind of things, both directions. We have to make sure that we are 100 per cent spot on."
Harry Kane's late winner against Manchester City has renewed Liverpool fans' title hopes.
Despite this, Klopp has played down any suggestion of going toe to toe with Pep Guardiola for the Premier League season.
"How I said, what do you mean with a title race? We have so many games to play and, yes, if we could win them all, it's a title race. If not, maybe it's not a title race. I don't know exactly. I understand 100 per cent that people get excited about it – good, good – because they are not completely out of reach anymore, but it's anyway a really tricky situation. I never prepare for press conferences, I have to say, but for today I can tell you I did not think for a second about the title race. I just thought about Leeds when I came in here – what you could ask about them.
Yeah, usually you don't ask about the opponent, we talk about all the other stuff, but I am obviously naive enough to still think about the next opponent and I have nothing to say about it [the title race], really. I am really happy about the results we had in the last few weeks. They obviously brought us some points, some confidence as well in different competitions – that's really good. But a minute after the Norwich game it's over and we just have to think about Leeds."
Luis Diaz's first Liverpool goal
Luis Diaz opened his Liverpool account with a brilliant chipped finish, scoring Liverpool's third goal of the match.
Jordan Henderson picked out the Colombian with a defence splitting pass, rounding off a 34-pass move.
Despite Henderson and Diaz taking the praise for their direct involvement in goal, it was the build up which Klopp was most impressed with.
"Very satisfying but it is a sign for something else as well. The two goals we scored before opened up the game for us, an obvious knock for Norwich, a proper boost for us. These moments are really rare because you have to work so hard to get any advantage in a football game. But if you have it, then we are obviously able to do some really, really nice stuff. With the 33 passes before, I loved each of them, but the last one of Hendo was pretty special.
But what you saw then, how the formation of the opponent looked all the other times during the game really well organised, but in that moment obviously, with all respect, they were a little bit all over the park because there was no last line and there was a big gap in the centre, which Luis used. It was because of the movements of all other players – that's how football can look, unfortunately [it] doesn't look that often because of the quality of opponent. Norwich made this mistake exactly once in the game, we used it then but in all other situations they defended us much better."