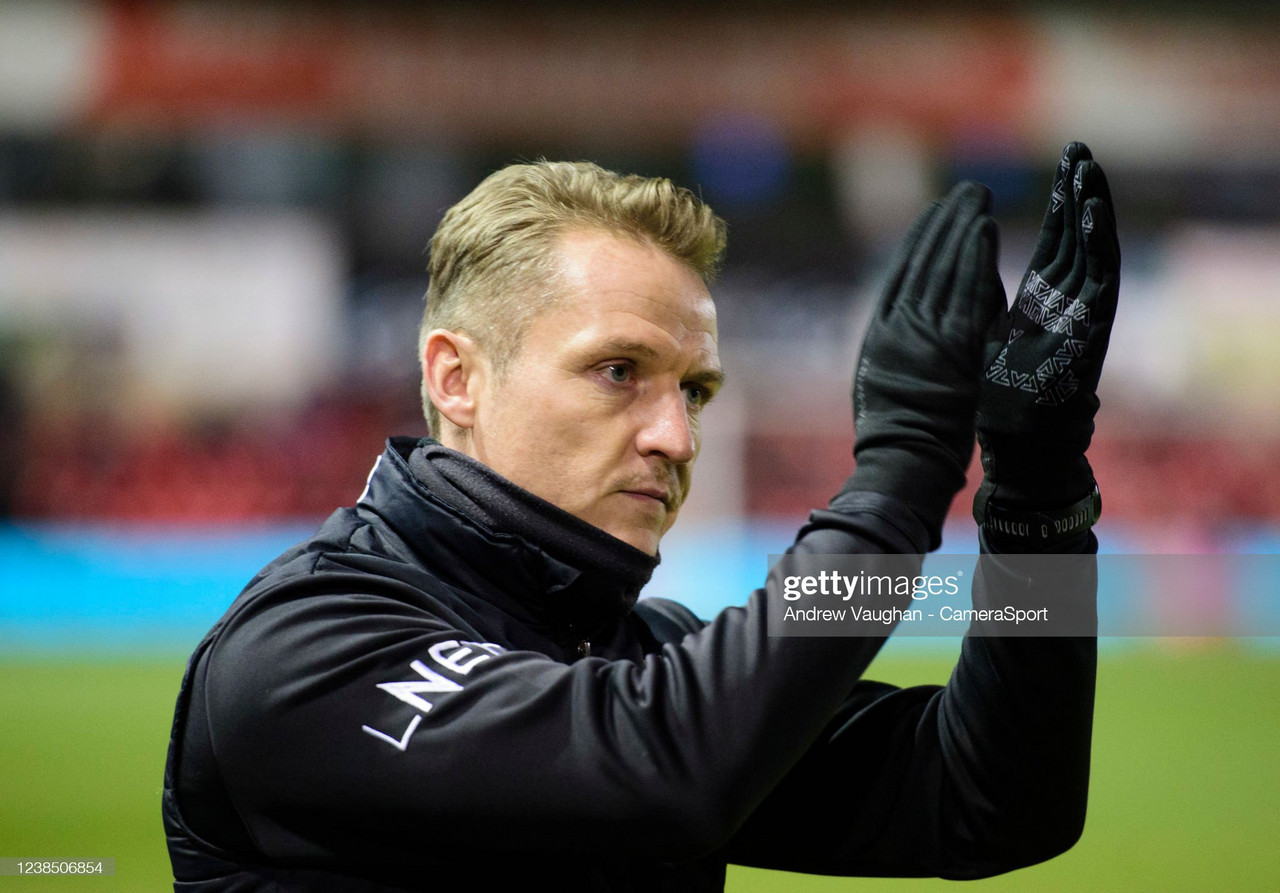 Doncaster Rovers manager Gary McSheffrey said that his side could still stay up after a disappointing 0-1 loss against Charlton Athletic at the Eco-Power Stadium.
Rovers, who are four points adrift of safety, were fortunate to only lose by one and are sitting in 23rd place in the League One relegation zone.
It was Jayden Stockley's 68th minute winner that defeated Doncaster on the day.
Following the game, McSheffrey faced the media and spoke about Rovers' performance, their chances of survival, hesitancy in the squad, Doncaster's level of ability and their response to going behind.
"We were lucky to be in the game at half time, we could have gone in probably 4-0 in the first half.
"[In the] second half we made a game of it, created a couple of chances and got a bit of momentum but ultimately we gave a cheap goal away again from an unforced error."
McSheffrey said that his side were lucky not to have seen their individual errors in the first half punished, and that it was thanks to Jonathan Mitchell that they were able to stay in the game.
Rovers' keeper guessed right to deny Conor Washington from the penalty spot in the 15th minute of the game.
He also made some important stops on the day, but it was not enough for the hosts to take a point from the game.
McSheffrey's comments about unforced errors from the Doncaster defence were hard to argue with, as on many occasions the Charlton strikers failed to capitalise on mistakes in the first half.
It was very surprising that the game was goalless at the break given the shaky defending.
Up front, Rovers were very muted, with their first shot on target in the game coming from Tommy Rowe one of the final kicks of the game.
The South Yorkshire side will need to produce much better performances and fast should they want to survive in League One.
On Doncaster's chances of staying in League One
"Obviously Gillingham getting a win has put a gap there, but ultimately it's not mathematically done is it?
"We keep having to try and be positive and believe that we can win the next game and that's all we can keep doing."
McSheffrey said that his side would fight until the end in their battle to survive in League One.
It will be an tough ask for his side now, who are four points of safety with six games left to play.
Rovers have only picked up 30 points from the 40 games they have played so far this season and will need to produce a run of form that they have not been capable of all campaign to avoid the drop.
Having not scored a goal for the entire month of March, finding a goal scorer to keep them up within the squad.
The task of finding a goal scorer will be even harder given their injury list up front which Kieran Agard became a part of last week.
McSheffrey also said that his side had earmarked the games in the month as winnable for his side, so to not score at all is a major disappointment.
On the hesitancy in the Doncaster squad
"They're a bit nervous and they're trying to get rid of the ball too soon instead of being composed on it and that was the difference today.
"We want them to be braver on the ball and move the ball about but we look a bit too direct and panicky and you're hoping for a goal rather than creating good opportunities."
As mentioned earlier by the Rovers boss, there were many individual errors made by his side on Saturday afternoon, and he put that down to nervousness in the team.
Given that every game has a huge impact on Doncaster's future in League One, it is perhaps easier to understand why the players would be nervous going into games.
The fact that they have now failed to win in March, the first time they have gone through a whole month without a win since August, will be far from helpful for the players' confidence.
McSheffrey will hope his team can find a winning formula which allows the players to feel more confident in the system they are playing in.
On the standard of Doncaster's squad
"Some of them are definitely good enough, but you need to make better decisions out there and be more comfortable on the ball and composed.
"We want to deliver good football for these fans because they're good fans and they're used to it, at the minute we minute we need players that can take the ball better, be a bit braver and believe in themselves more."
The January transfer window saw Rovers sign five players and it was expected that the club would improve significantly as a result.
However, results have not improved and the squad has not changed all that much despite all the additions to the team.
Time is certainly running out for Rovers to save their season and secure survival, but with few goals and a struggling defence, it would take a real upturn in Rovers' fortunes to turn their season around.
McSheffrey will hope that he can make that happen with a better style of football, but with players that he said cannot replicate how they play in training in a match, it will be a big ask of the former player at the club to turn the tide at Doncaster.
On the response to going behind
"Joe's [Joe Dodoo's] won quite a few first contacts, we've got in and around it, we've kept it alive and won second balls.
"We've huffed and puffed, Rowey's [Tommy Rowe's] had the shot at the end and the goalie's saved it, I thought we had a bit of momentum."
Rovers have picked up just three points from losing positions all season in the league, so many Doncaster fans will have been expecting to see their side lose as soon as Stockley's effort hit the back of the net.
The hosts did improve as the game went on, creating more chances and competing up front more, however their attacking threat was very muted and it was not until the final stages that they looked like scoring.
In truth, better finishing from their opponents on Saturday afternoon would have seen them out of sight by then.
McSheffrey was also disappointed with some of the decisions from referee Sam Allison on the day, which broke up a lot of the play.
The home crowd were far from pleased with the referee's performance by full time.
McSheffrey was at least pleased by his team's efforts after going a goal behind, and will hope that they can show the character he saw combined with more quality in the run-in as the season approaches its conclusion.