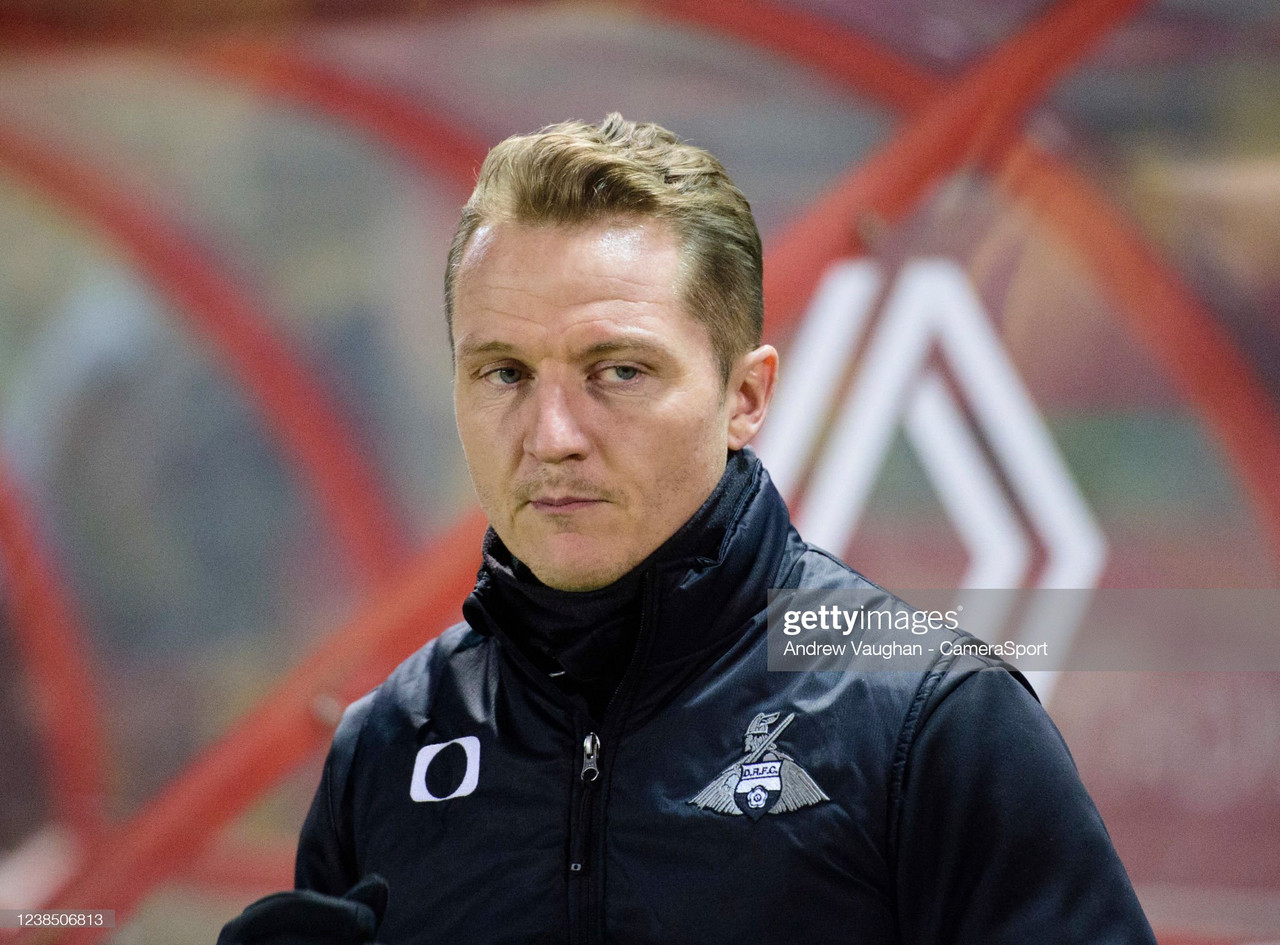 Gary McSheffrey said fitness issues and poor decision making proved costly for his Doncaster Rovers side in their 1-3 loss against Sheffield Wednesday.
Rovers led the game until the 69th minute thanks to Dan Gardner's penalty on the stroke of half time, but goals from Callum Paterson, Saido Berahino and Barry Bannan saw the visitors take all three points at the Eco Power Stadium.
After the game, McSheffrey spoke to the media about his side's performance, the final 20 minutes of the game, Rovers' form in front of goal, Rowe's fitness and his tenure at the club so far.
On his side's perfomance:
"For 70 minutes it was a roll your sleeves up kind of performance, we got stuck in and we created a few chances.
"We had a massive chance at 1-0 to make it two, I think that changes the game, that got them buzzing and they looked like they were at it."
McSheffrey referenced the chance that Joseph Olowu had early on in the second half when Doncaster were in control of the game, which the defender really should have taken from within six yards.
He did however miss, which, combined with some excellent substitutions by Wednesday manager Darren Moore was enough to alter the momentum of the tie and see The Owls steal all three points in the final 20 minutes.
On the final 20 minutes of the game:
"I think we just ran out of steam. When you do that you get tired minds that don't make good decisions in split seconds.
"Fitness level shone through at the end, [Sheffield Wednesday's] players were running past our players and the quality goals from three former top players were the difference today."
McSheffrey spoke highly of goal scorers Paterson, Berahino and Bannan, all of whom have experience playing in the Premier League.
With Paterson and Berahino coming off the bench at half time, McSheffrey agreed that it would have been hard for Rovers to compete with such a high level of experience and ability.
As for his own team however, the Doncaster boss once again highlighting his squad's lack of match sharpness as an issue may be concerning to fans as Rovers look to climb out of the relegation zone with time running out to do so.
McSheffrey highlighted Reo Griffiths, a recent arrival from Lyon, Dan Gardner and Ro-Shaun Williams as players who are still gaining match sharpness and are struggling to play past the hour mark.
On Rovers failing to take their chances:
"We need to go two goals up when we have that big chance. We've missed key chances in big games quite a few times and gone on to lose.
"You have to draw a line under it because there's a big game on Tuesday."
McSheffrey was keen to move on from another bad day in front of goal for his team. Doncaster have hit the back of the net just 14 times since McSheffrey was appointed, averaging less than a goal a game.
To make matters worse, three of those goals came in a 4-3 loss against Morecambe, proving that even when his side are able to produce in front of goal, the defending at the Eco Power Stadium has often let Rovers down too.
For Rovers to stay up, they will need to be more clinical in front of goal and will have to prevent themselves from conceding goals in batches as they did on Saturday against The Owls.
"[Tommy Rowe had a] dead leg that he couldn't run off, so he had to come off.
"It's disappointing to lose Tommy [Rowe] so early, but that's football and you have to deal with it."
Rowe's four goals from midfield this term makes him the top goal scorer at the club in the league, meaning losing him to injury after 23 minutes was a blow to McSheffrey and his team.
The captain's leadership was missed in the remainder of the game and the final 20 minutes of the game did expose the lack of leadership on the pitch to prevent the goals flying in against a tired Rovers team.
In more positive news, McSheffrey said that Rowe normally recovers from injuries relatively quickly and he hopes he will be fit for their game on Tuesday night against Accrington Stanley.
On the current situation at Rovers and his assessment since becoming manager:
"I've stepped out my comfort zone to be in this position [Doncaster Rovers manager] and I'm enjoying the role, but I'm not naïve, I knew it wasn't going to be easy.
"In the 15 games we've faced, we've probably played 10 or 11 of the top 12, I just think [we need] perspective."
Having taken the job at the club he once played for back as caretaker manager on the 2nd of December 2021, which became permanent after four games, it has been a difficult start to life as a manager for McSheffrey.
His Rovers side sit 23rd in League One, with the club six points from safety despite playing two more games than AFC Wimbledon in 20th.
It has been challenging for the former winger to have a positive impact on Rovers from the dugout, as he has won just four of his first 15 in charge, losing all of the 11 games in which he has not won.
McSheffrey's call for perspective amongst fans suggests that he knows his team is unlikely to take many points off teams in the top half, but will be hoping to make up ground in the fight for League One survival by getting wins against relegation rivals.