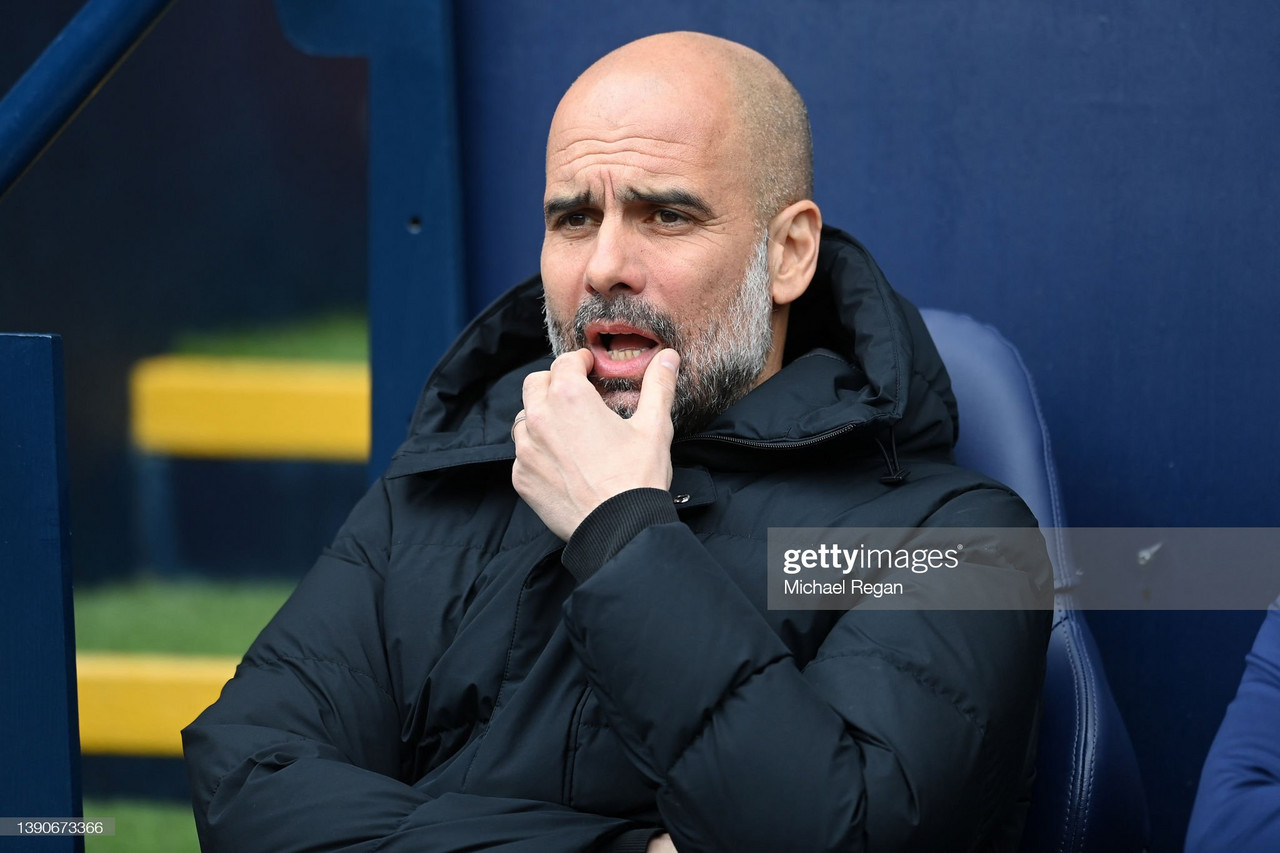 Manchester City retained their one-point advantage at the top of the Premier League on Sunday afternoon, as they battled to a 2-2 draw with Liverpool at the Etihad.
Pep Guardiola addressed the press following the result. Here is what the Spaniard had to say.
On Missed Opportunity
"It was a fantastic game from both sides. Both teams try to win every game in all competitions. I have the feeling we missed opportunities to beat them, a feeling that we left them alive.

"Heads up I said to the team after the game, I don't want one second sad so I went in and told everyone how good they have done and how proud we are [of them].

"I think it was a good game for fans around the world. I am so happy with how we played. Normally when you do many many good things, you can understand why the sadness is there. I said forget about it. We were ourselves. We perform incredibly well. Unfortunately we could not win but this is football, it happens and that is all."

Embed from Getty Images
"Every week we are here in the

Premier League

and we watch Liverpool in the

Premier League

and in Europe the last four or five years and we know exactly what they do every single day in chances created and how they concede.
"We concede so few but it is impossible that we don't concede and we create a lot against them. Maybe the last action we don't do it but in general it was a good performance. I'm so happy and glad and proud for my team."
On Lacking A Final Pass
"Tomorrow I'll watch and I'll pause the game and ask why they didn't pass. But in football, they move. In the final third in the box is the most difficult position. The important thing is we created chances and we have to be confident for the final we have on Wednesday."
On The Title Race
"I had the feeling before that winning, losing or draw that [the title race] is not at the end.

"Of course both teams know that today was massively important to create that distance and we played for that. The performance that we did was great.

"We know that against this opponent [Liverpool] we cannot expect differently, to not fight until the end. This is what is going to happen.

"We know that right now, one game dropped and we will not be the champions. We have two competitions in the meantime [UEFA Champions League and FA Cup] but after we start again against Brighton and Watford.

"We know that one game if we draw then we will not be champions. We have the opportunity to get results and maybe make something. We know this. Will it be easy? Absolutely not, it will be difficult but for them [Liverpool] too."