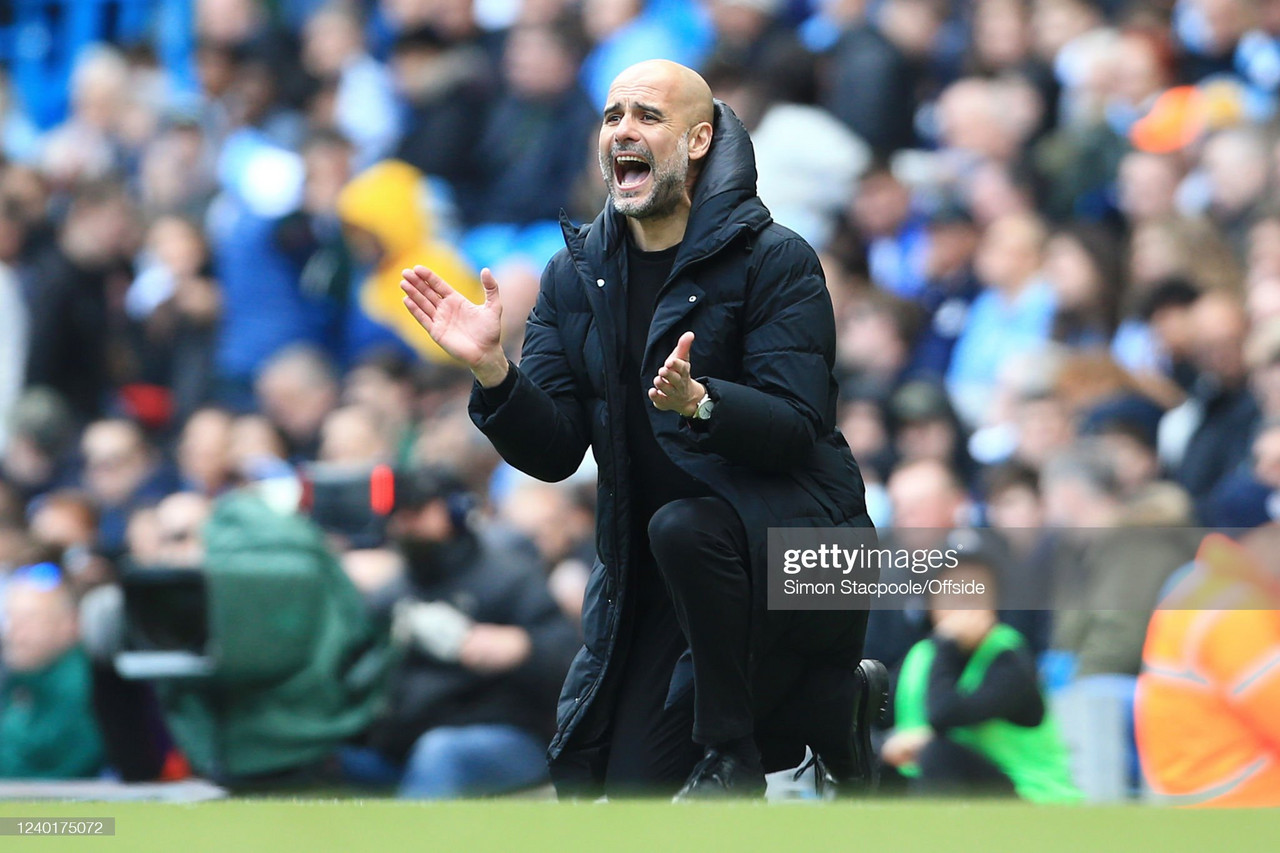 Manchester City opened up a four-point advantage at the top of the Premier League on Saturday afternoon, as a Gabriel Jesus masterclass helped the Citizens to a 5-1 victory over Watford.
Pep Guardiola spoke to the press following the victory. Here is what he had to say about Jesus, Oleksandr Zinchenko and Manchester City's defensive struggles.
"Man of the Match? Possibly.

"I've said it before if there is one in the world of football that deserves nights like Gabriel had then it is him. I am pretty sure there is not one person in the teammates, the staff, the backroom staff all the people who know him that today was not happy for him.

"He always has chances the stats in terms of goals and assists and a lot of people have realised what he is capable of doing without the ball. It doesn't matter his position, whether he is striker, winger, centre. We are delighted for him and he helps us. He helps us a lot to win this game and because of course the assists from Oleks [Zinchenko] and the assist from Kevin [De Bruyne] were fantastic but he has to be there.

Embed from Getty Images

"When you behave in a positive way then in the end life, football will reward you."
"I want to tell you something. Gabriel [Jesus] is a player of ours and I don't know what is going to happen but he belongs to Manchester City.

"Gabriel doesn't need to perform like today, he doesn't need to score four goals for us to know exactly what to do. Against Liverpool in the FA Cup he had two chances and he missed it but always he is there. The goal which Jack [Grealish] scored, he gave it to him.

"Gabriel has this ability. He is always thinking what is best for the team. Especially when he had nights like today I am the happiest man in the world because always he is there.

"That is why he will have a long career, he will have a successful career because he is incredibly positive in his mind and always for the team. Good things are going to happen thats for sure. I am older than him and I know what I am talking about"
"What we have done this season we have done with Gabriel. Gabriel is one of the best. When a player is happy here they want to play all the time 90 minutes every game and at the end of the season maybe they say I won't extend the contract and we convince them to stay but maybe they decide no I want more minutes I want to leave.

"We have seven games potentially eight games until the end of the season. We have less than one month maybe a few weeks and a few days. That is all, my only concern.

"I know that all the players that played today, all the players that played against Brighton are going to do everything to play and to try to win. Nobody knows what is going to happen. Nobody knows. That is why it is not a big problem."
"Again [he was] exceptional.

"We don't have many options, we don't have fullbacks. I don't know if Kyle [Walker] will arrive [for Real Madrid], Joao [Cancelo] is out and John [Stones] will be difficult to get to but we will see.

"Oleks is another player who is so reliable so Oleks we will never forget what he has done these last three or four years playing in a position that is not his natural position.

Embed from Getty Images

"When you don't play your natural position you are going to play one game or two games but playing seasons not in your natural position you have to be so strong in your head and in your mind.

"You are an incredible journalist and one day we ask you to be a photographer and you say yes you will do it but being a photographer for three years will be a problem. But he will do it every single day.

"But above that it is not an easy period for Oleks, what happened in his country and what happened with his loved ones, the citizens. People forgot what happened, we don't talk about it anymore. There is no more flags for Ukraine but the world unfortunately is still there. It was a tough tough period for him personally.

"Oleks is so reliable because he is always focus he is always concentrating. I can say that because I am there so it is incredibly appreciated in the locker room."
On Defence
"Defence it about attitude. It is not about talent it is about attitude and Oleks is always there.

"He is not the fastest one but it is always because his focus is there. This is the most important thing and today, defensively, the back four was not good enough. We were not focused.

Embed from Getty Images

"The people talk about talent and you are thinking about Kevin [De Bruyne] and Jack [Grealish] about Phil Foden but to defend well is talent. To defend well is to have an incredible talent and I like when the players, my defenders especially enjoy defending and winning duels.

"It was with [Carles] Puyol in my period in Barcelona, he knows his qualities as a defender. He wants to win that duel he wants to commit for my mates how important what he has to do for the benefit of the team and today it was not like this.

"But it is good, winning 5-1 and knowing that for the future games it will be important."