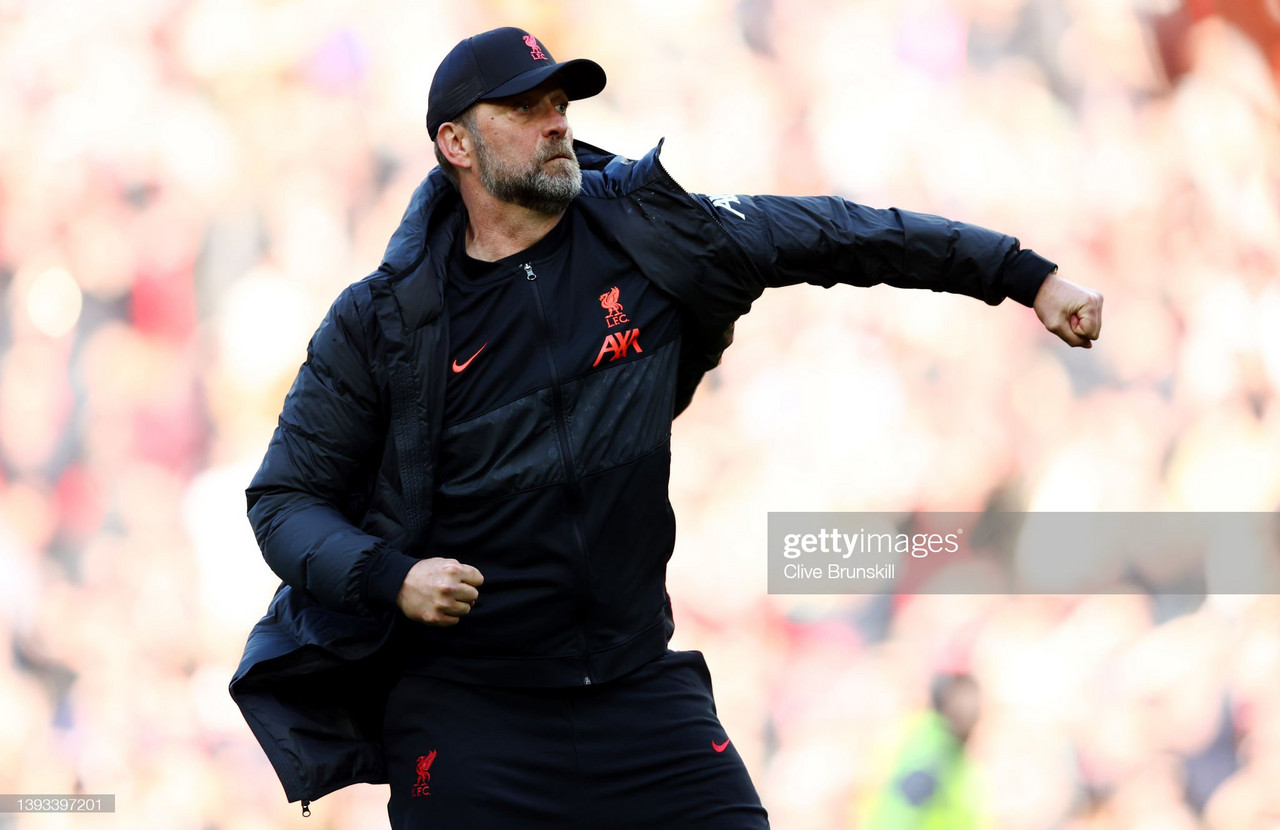 Goals from Andy Robertson and Divock Origi helped pile the pressure back onto Manchester City as Liverpool defeated Everton 2-0 at Anfield.
It was a far from the routine performance from Jurgen Klopp's side, who had to endure the desperate attempts of time-wasting from Frank Lampard's side right from the first whistle.
The Reds huffed and puffed but were unable to break down the Toffees' low, compact defensive shape as Diogo Jota, Sadio Mane and Mohamed Salah were limited to a sparse amount of openings between them in the first half.
But Klopp's decision to introduce the Belgian striker, alongside Luis Diaz, after an hour, helped fuel Liverpool's second wind which ultimately culminated in them securing a vital three points.
Here are Vavel's key takeaways.
They always find a way
Despite it being parallels apart from Tuesday evening's performance against Manchester United, in terms of quality and control, the Reds once again proved they are becoming a swiss-army knife of a team and have the capabilities to win in numerous ways.
A gritty showing in the middle of the park, caused Klopp's men to step away from the usual free-flowing brand of football as Everton attempted to disrupt the flow of the game at any given opportunity, whether that be through fouls or time wasting.
Robertson finally made the breakthrough with just under half-an-hour left, and from that moment on there only looked like one winner as the Reds began to have more space behind the Everton defence to target.
At this stage of the season, and while fighting on many different fronts, Klopp won't care how his side secures the three points. Well, that's at least what his message to the Kop appeared to say after the final whistle as he treated supporters to a trio of his famed fist punches.
Divock's still the man
Steven Gerrard. Robbie Folwer. Divock Origi.
That's some company the Belgian's derby-day strikes have taken him alongside, as his 85th-minute header moved him alongside 'God' in the leading scorings for this fixture in the Premier League era.
Though, it isn't just in this fixture where Origi has been able to make his mark in recent seasons. There have been highly decisive strikes in both the semi-finals and final of Europe's premier competition, the Champions League.
Prior to his 30-minute cameo this afternoon, Origi had only racked up 70 minutes of action for the Reds in the Premier League, yet somehow managed to score two goals.
When the dust settles and his career at Anfield is analysed in full, his name will be permanently etched into the Reds' history books - as well as arguably having the strangest career supporters have ever seen.
Nine games from glory
Surprisingly, Klopp wasn't quizzed about his side's chances of completing an unprecedented quadruple following their victory over Everton.
And even though the German would be quick to downplay the chances of achieving the remarkable feat, he and his players will know that they have cleared one of their toughest tests of the season on Sunday afternoon.
They have five Premier League games remaining, as well as potentially a further three in the Champions League, in addition to their date at Wembley to face Chelsea in the FA Cup.
That's nine wins away from completing a feat no European side has ever achieved.