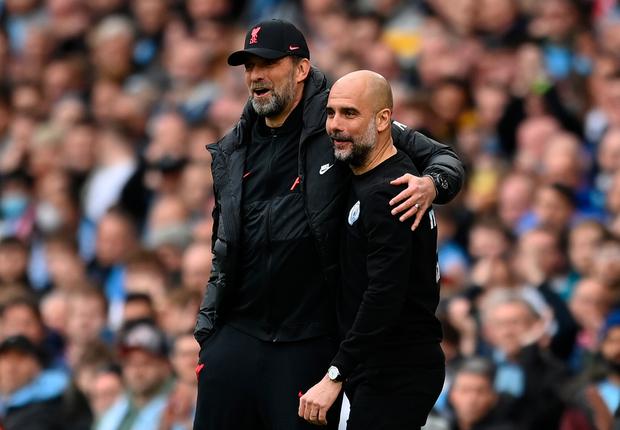 Liverpool and Manchester City will both make the journey down the M6 for their FA Cup semi-final clash on Saturday.
The two sides played out an entertaining 2-2 draw at the Etihad Stadium last week, as both teams continue to battle it out for the Premier League Title.
Injury Updates
Jurgen Klopp provided an update on any potential injury scares ahead of the Reds' trip to the capital on Saturday.
Speaking on the matter, Diogo Jota is Liverpool's only concern ahead of the weekend.
Klopp said: "Diogo has a slight knock but there is a good chance he will be all right - but we need to have a closer look tomorrow. That is it."
If the forward is to sit out of Saturday's game, Klopp has more than enough firepower to call upon in the Portuguese's absence.
Klopp was full of praise for Manchester City once again as he isn't blind to the threat they carry and acknowledges that he wants a better performance from his side at Wembley on Saturday.
Klopp said: "We know their quality - we have to win the decisive challenges.
"City were really strong last week and we were not at our best. I'd like to see a game when we are at our best - that would be nice eh?!"
Liverpool's talisman Mohamed Salah has been a revelation for the Reds since he arrived five years ago. But even he can't start every game and Jurgen Klopp justified why he rested the Egyptian in mid-week as Liverpool qualified for the Champions League Semi-Final.
He said: "Even he is just a human being and there'll be games where he can't start or is taken off and he hates that - that's clear!
"The reason for Mo not starting is easy. We have 12 games hopefully left, when we have the opportunity to change, we want to change."
Tight Schedule
Jurgen Klopp has raised the issue that he doesn't understand why his side has to travel to St James' Park for a 12:30pm kick off on the Saturday after their first meeting with Villareal in the Champions league a few days earlier.
Klopp stated: "I don't understand it. I can understand that people want to see a football match between Liverpool and Newcastle but I don't see why any team should have an advantage or a disadvantage.
"The league and the broadcaster really have to try at least to help. We will see. I haven't heard anything yet. Nobody from BT contacted me yet. But I'd say common sense would tell you that it's probably the right thing to do to move the game slightly backwards."