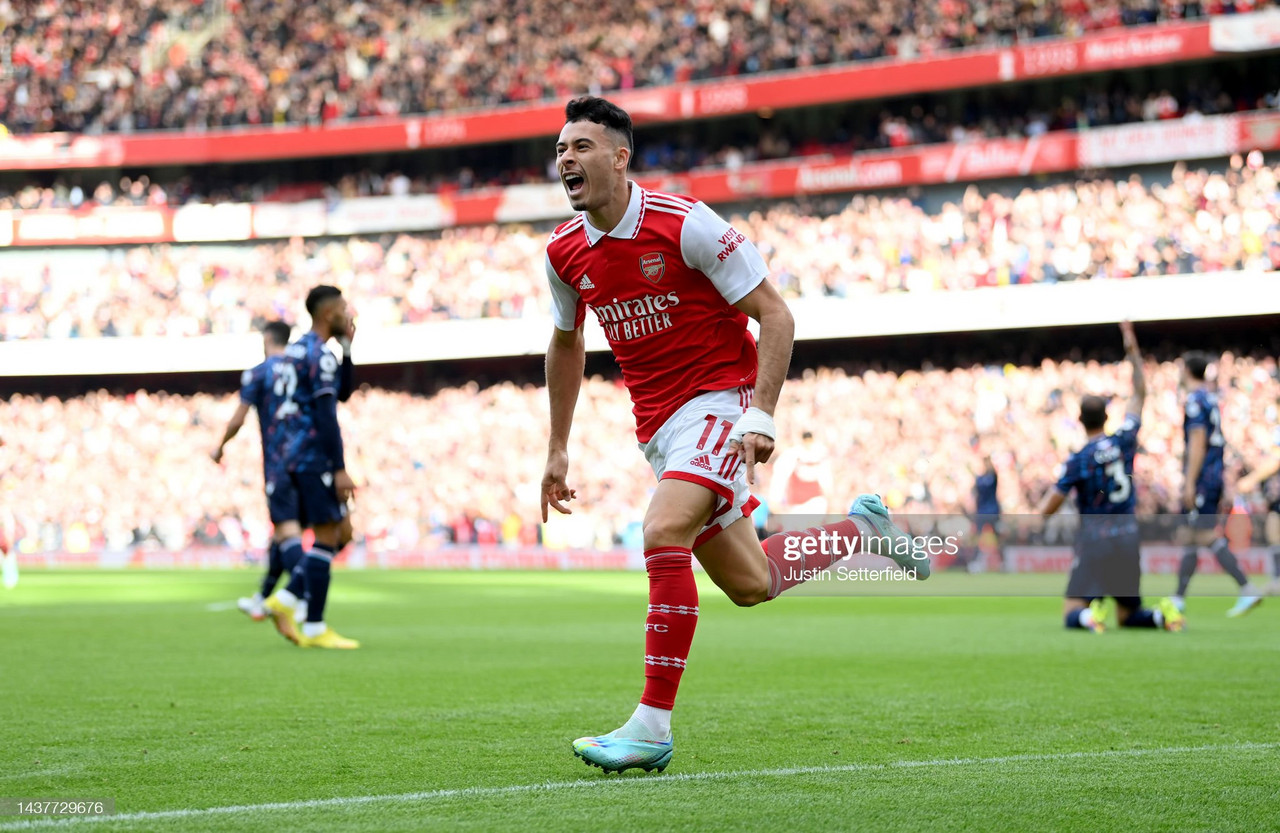 Arsenal's Brazilian forward Gabriel Martinelli is making quite the impression in North London, scoring 23 goals and 15 assists already in his Arsenal career.
Self evaluation
The Arsenal number 11 has been having a brilliant season already, scoring five goals and getting two assists, tearing apart defences across the Premier League and Europe.
Ahead of Thursday night's tie against FC Zurich, Martinelli spoke exclusively to VAVEL UK, outlining just where he feels he has improved his game overall in the past year.
"I haven't thought about it too much," He said.
"I would say demanding the most from myself in all aspects and not giving away the ball as much."
Arsenal signed Martinelli from Brazilian side Ituano in the summer of 2019 for a fee of just over £6m (Transfermarkt). The forward then went on to impress in the 2019 pre season, on tour in America with coach at the time Unai Emery.
With the winger having gone from strength to strength in north London over the past three years, he is now a regular starter in Mikel Arteta's side, in the starting line-up for all 12 of Arsenal's Premier League games so far this season.
Contract situation
With Martinelli being a key player in Arteta's side this campaign, and very much in the long term plan of the club, Arsenal will be keen to tie him down to a new long term deal with his current agreement expiring in the summer of 2024.
When questioned on this at the press conference on Wednesday afternoon, the Brazilian sent a strong message to the Arsenal fan base about where he saw his future.
"They just need to get me a pen!" He laughed.
"I'm very happy at Arsenal, this is my club, I love to be here, I love the city and I love everything about Arsenal so I want to stay."
A future playing centre-forward?
Despite being a left winger for Arsenal at the moment, there are plenty who feel Martinelli could have a future as a centre-forward. At the weekend against Nottingham Forest, the Gunners' first goal was due to Martinelli cutting inside off the left-wing and making a bursting run into the box to head the ball into the back of Dean Henderson's net.
It's not just his electric pace and quick feet that make him a good candidate to play down the middle, Martinelli is more than capable in the air, scoring some inspiring headers earlier on in his Arsenal career in the Europa League.
When asked on this at the press conference however, Martinelli made it clear where he wants to play right now.
"I prefer to play on the wing," He shared
"but of course I can play as a number nine, who knows, in a few years time maybe I can play as a number nine as well."
Arsenal's Brazilian superstar will be looking forward to their Premier League clash on Sunday when they visit Stamford Bridge to take on a Chelsea side that have only won twice in their last five games.
One of Martinelli's most iconic moments came when he ran almost the length of the Chelsea pitch to slot home and stand cross armed and straight faced in front of thousands of delirious Arsenal fans when the Gunners drew against Chelsea 2-2 in January 2020.
After his side have undertaken their European challenge in midweek, south west London awaits for a London derby to look forward to.